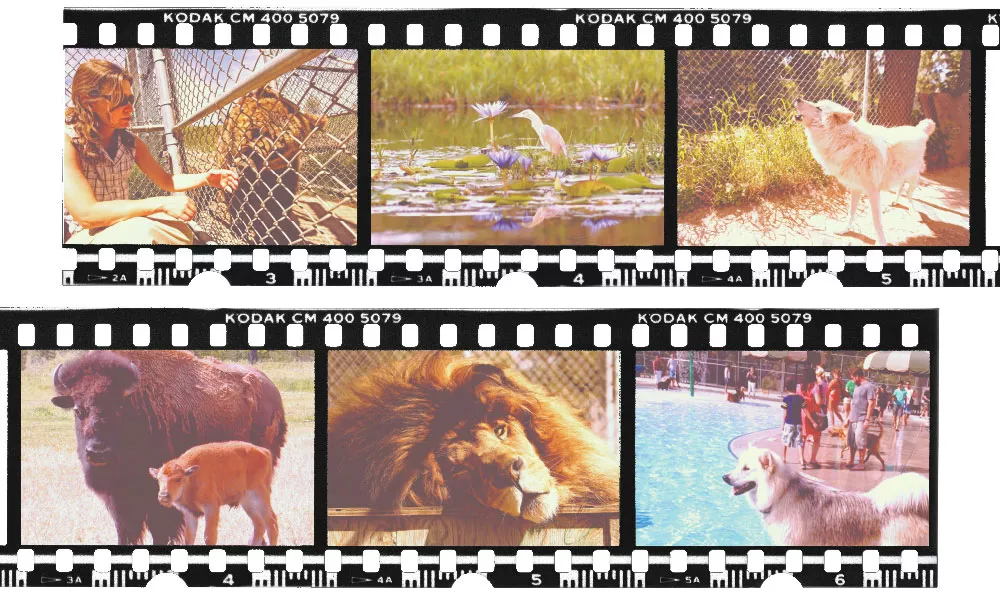 LIONS, TIGERS AND BEARS
Depending on how you look at it, the Inland Northwest is sort of lacking when it comes to broader zoological experiences. The infamous Manito Park Zoo closed in 1932. In the late 1960s, Spokane city leaders planned for but failed to build a proposed zoo in High Bridge Park. This wasn't necessarily a bad thing — for a mid-sized city like Spokane, supporting a successful zoo would likely prove challenging. Yet there are still many opportunities here to see and learn about wild animals of many species.
As many locals know, the closest to a traditional zoo-like experience our region offers is at Cat Tales Zoological Park in Mead (open Tue-Sun from 10 am-6 pm; $5-$10). The nonprofit sanctuary and zoological training center's resident tigers, leopards, cougars, bobcats and other felids (it also has two resident bears) all were rescued from dire circumstances — but it's not the only place to see wild creatures.
Depending on the time of day, a careful listener with the windows rolled down, driving along Highway 95 about 12 miles south of Sandpoint, may hear a lowing howl off in the distance. It's no coyote or dog, but one or more of the canis lupus residents of Wolf People. Founded 20 years ago, the North Idaho wolf sanctuary and education center is home to a pack of 23 timber and Arctic wolves and their hybrid offspring.
Wolf People founder Nancy Taylor strives to make the public aware of wolves' oft-exaggerated stereotype as vicious, wild killers by letting them see its semidomesticated residents up close. While her wolves are still wild by definition, they live in massive, secure enclosures and interact with humans daily. Many hang out in Wolf People's visitor center and store, and travel for education outreach at local schools and businesses. During the summer, Wolf People offers daily tours of its facilities at 10 am and 2 pm ($10/adults, $8/seniors and children ages 3-12).
Cat Tales is home to lions, tigers and bears, but bears also can be seen on the Palouse, at Washington State University's Bear Research, Education and Conservation Center on the west side of the Pullman campus. While WSU currently doesn't host formal tours of the bear center, the sloped hillside of the habitat makes it easy to view the bears from the center's parking lot, says center director Charlie Robbins. Sometimes the lumbering giants come within 3 feet of people beyond the center's fence, and can also be observed playing, taking a dip in their bear pool or simply lounging around. The ultimate goal is to someday expand WSU's center into what would be the National Bear Center, broadening its focuses in both research and public education.
Furry brown giants, though not bears, also roam Eastern Washington outside of the rural town of Springdale at the Win-Tur Bison Farm. This summer is the first that the bison ranch is offering public tours and the chance to meet and feed members of its buffalo herd, which just added another member last week when one of its heifers, Poppy, gave birth, says ranch owner Jessie Turney. Win-Tur's herd now has 16 members including its newest, and as of this writing is still expecting three more calves to be born this summer. This year's babies will remain visibly small and covered in their "baby fur" through the summer, Turney says.
Turney and her husband Drew Winter moved to the Springdale area about 2½ years ago to found the farm after spending several years helping raise bison on Turney's mother's 900-acre ranch in Wisconsin. The Win-Tur ranch is significantly smaller, at 26 acres, and Turney says for now their main focus is agritourism as the herd continues to grow. Visitors can take tours of the ranch and shop at a small gift store, but the highlight is getting to meet and feed the bison.
"People just love that," she says.
PAWS IN THE POOL
As the last days of August shorten and the kids prepare to head back to school, attention at the City of Spokane's pools turns from the two-legged to the four-legged. Before the water drains for winter, several local pools will go to the dogs for the 4th Annual Doggie Dip, benefiting SpokAnimal and the Spokane Parks and Recreation Foundation. For $10, owners can bring their well-behaved dogs to the pools for a splash in the water. Proceeds in past years went toward a year-round, dog-friendly locale — SpokAnimal's High Bridge Dog Park.
This year's Doggie Dip also benefits the shelter in another way, as it wraps up summer-long participation in the nationwide ASPCA Rachael Ray $100K Challenge. SpokAnimal will celebrate a "Lifesavers" theme all summer as it works to place almost 2,000 pets to qualify for the $100,000 grand prize. Along with that, the shelter — which transitioned to a fully donation- and grant-supported nonprofit at the beginning of the year — is competing with 49 other U.S. shelters to win a $25,000 community engagement grant. Shelters earn points toward that prize by using specific social media hashtags.
"[The social media aspect] is a big deal, and we're trying to do as many outreach events as we can," says SpokAnimal director of development Shelley Sharp.
At all four Doggie Dip events, local pet lovers can participate in games, photo ops and the chance to win prizes, all while helping nudge SpokAnimal closer to winning the engagement grant, she says.
Preregister for Doggie Dip through Spokane Parks & Rec, or pay at the event. Don't forget: Dogs that attend must have proof with them of an up-to-date rabies vaccination. Doggie Dip dates: Comstock, Aug. 24; Shadle, Aug. 25; Hillyard, Aug. 26; A.M. Cannon, Aug. 27.
ROAD TO REGIONAL
After many years in the making, the new Spokane County Regional Animal Protection Services animal shelter on East Trent Avenue is finally ready to start filling its kennels with local pets in need of homes. A grand opening celebration and building dedication for the new facility at 6815 E. Trent, a former motorcycle dealership, takes place Saturday, June 21, from 10 am-2 pm. Activities planned include self-guided tours, dog training seminars, kids crafts, pet adoptions and even tips on grooming your pet and how to make easy, pet-friendly treats at home. And ... free cake.
The shelter's official "leash-cutting" ceremony is set for 9:45 am that morning, and through the day, SCRAPS also will host booths for local animal rescue groups and nonprofits it partners with to help place many of the animals that come through its doors, says development and public relations director Janet Dixon.
"We work long and hard with these groups — particularly this time of year it's kittens needing to be bottle-fed, and we rely on these groups to help us do these things. We couldn't handle them all on our own," Dixon says.
The new SCRAPS facility is now the main hub for Spokane County residents who need to license their pet, as well as look for lost pets.
BIRD'S THE WORD
Proof that the slogan "Near Nature, Near Perfect" rings true about the Inland Northwest is evident in the hundreds of bird species that call our region home. Most of us can identify the common robin, and we know an owl or an eagle when we see one, but if you've ever wanted to learn more about native birds from local experts, consider a birding field trip with the Spokane Audubon Society. Field trips scheduled throughout the summer are free to attend and open to the public. Before showing up to an event, SAS member Joyce Alonso recommends contacting the trip leader to reserve a spot.
Upcoming day excursions that are beginning-bird-watcher-friendly include a June 22 trip to the Indian Canyon area in West Spokane, and a June 28 trip to Mt. Spokane to view subalpine forest species. On Aug. 23, SAS hosts a biking bird trip along the Trail of the Coeur d'Alenes. Full details and trip leader contact info is listed at spokaneaudubon.org.
SADDLE UP
Most often it's by foot or bike, maybe also watercraft, that we explore the region's awe-inspiring landscapes. This summer, add horseback as a mode of transportation for nature exploration.
Close to the city, Spokane Trail Rides (spokanetrailrides.com) is a full-service horse ranch that offers many animal and nature encounters, including its private, two-hour trail rides through the James T. Slavin Conservation Area southwest of the city, just west of Highway 195. Ranch owners Jennifer and Jared Hatch have 20 horses in their stables, including gentle, easy-riding draft horses and Blazer horses that are ideal for first-time riders (minimum rider age: 13). Book a two-hour ride ($90/person) any day of the week, and don't forget your camera. The ranch also offers riding lessons for kids and adults.
Farther north, experience scenic views up on Schweitzer Mountain from the saddle via Mountain Horse Adventures (mountainhorseadventures.com), whose guides take riders (minimum age: 8) across the mountain on cross-country ski trails, offering gorgeous views of Lake Pend Oreille and later in the season, huckleberry picking. Two-and-a-half-hour rides ($65/person) are offered twice daily, at 9 am and 1 pm, and reservations are strongly recommended. ♦