In this week's issue, we look back at the biggest
news
and
culture
stories from 2014. But just because we write 'em, doesn't mean you read 'em (sigh). Here, dear readers, are the stories you clicked on the most. From zombies to Bigfoot,
Dr. Who
to Adam Morrison, rediscover our 10 most popular stories from the past year:
10.
On the menu at the Spokane Downtown Daiquiri Factory: 'Date Grape Koolaid'
Last January, former
Inlander
reporter Heidi Groover broke news about about a distastefully named beverage at what was once Spokane's most notorious downtown bar. The controversy, which was covered by
TIME
,
Jezebe
l and
Cosmopolitan,
sparked
protests
, a menu
change
and an eventual
eviction
.
9.
In defense of Steven Moffat, Doctor Who's controversial showrunner

In an insightful analysis of
Doctor Who
writer Steven Moffat's career, the
Inlander's
resident TV expert Daniel Walters defends Moffat against his critics. "
Doctor Who
is a show about the wonder and terror of time as well the wonder and terror of space," Walters writes. "Moffat understands that, using time travel as a tool to explore the horror of old age and loneliness, to examine the redemptive power, not of love, but of memory."
8.
We all watched "Z Nation" and here's what we thought
In September, the
Inlander
staff gathered 'round pizza and diet soda and watched the first episode of
Z Nation,
the
Spokane-shot, post-apocalyptic, definitely-not-
The-Walking-Dead
SyFy series about zombies taking over the world. Our critical take: "not
that
bad" and for the love of God, no more zombie babies.
7.
Dawn of the Donut to close next week
A little over a year after it opened, Spokane's favorite zombie-themed,
art-stealing
donut shop took to Facebook to announce its unexpected closure. The shop
rose from the dead
(see what I did there?) under new ownership and a new name a month later.
6.
Full Circle
Last March, Mike Bookey profiled Gonzaga basketball legend Adam Morrison, eight years after he led the nation in scoring, and his new career as a college hoops coach.
5.
Not One More
Survivors of the 1994 mass shooting at Fairchild Air Force Base remember the day that changed their lives forever.

4.
Why we're still afraid of Godzilla
At the heels of the May release of
the latest
Godzilla
reboot, former intern Paul Sell writes about what makes the classic monster so scary after all these years.
3. WEED WEDNESDAY: An update on Spokane's stores and the first ever marijuana market study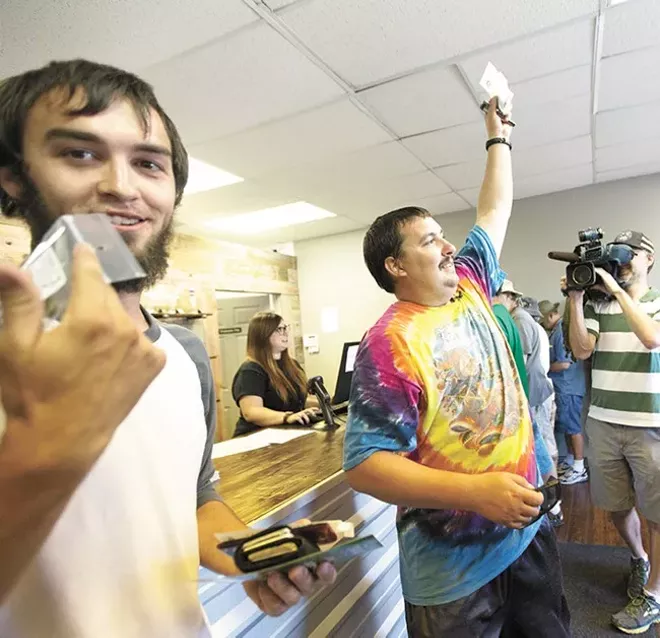 A week after the first recreational pot shops opened in Washington this July, Groover recapped the big headlines from the reefer world. (Remember that dude who was supposedly fired for being Spokane's first legal pot buyer? He got his job back!) Read all our Weed Wednesday posts
here
.
2.
On Bigfoot's Trail
"Never hold a staring contest with a Sasquatch," plus everything else I learned while searching for the Pacific Northwest's most infamous hairy biped with some of the biggest names from the Bigfoot-research world this past summer.

1. Calling all Spokane-area zombie extras for a new TV show
Far and away our popular story in 2014 was an April blog post announcing
Z Nation's
casting call for Spokane-area extras. Dang, you people really do love your zombies.