BEST LIVE MUSIC VENUE
Knitting Factory
The Spokane music scene did more ebbing than flowing this year. So it's no surprise the Knitting Factory — which has been sweeping this category for the past seven years — would take the trophy again for the best live music venue. Last year the Melvins, Against Me!, Silversun Pickups, Josh Ritter and Ghostland Observatory (among many others) played the Knit stage. We hosted our first-ever Volume showcase there. And this year, the venue added lots of local shows, too. Thanks, Knit. We can't wait to continue losing our hearing with you. (LS)
2nd PLACE: Zola; 3rd PLACE: Bluz at the Bend; NORTH IDAHO'S BEST: Big Al's Stateline
---
BEST HAPPY HOUR
Zola
It's always nice when a happy hour doesn't make you feel, you know, cheap. At Zola, they match low happy-hour prices with truly delicious food and drinks. The menu is the same one you'd find during regular hours — the only thing cut is price, not portion size or quality. The entrancing atmosphere, with its personal booths, benches and alcoves, ties the whole thing together in such a way that it almost feels like cheating. Welcome to the glorious loophole that is Zola's happy hour. (TH)
2nd PLACE: Clinkerdagger; 3rd PLACE: Twigs; NORTH IDAHO'S BEST: The Iron Horse
---
BEST PLACE TO PLAY BAR GAMES | BEST BEER BAR
The Viking
What makes a bar game great is the harmony of skill and dumb luck required to succeed at it. Shuffleboard employs both perfectly as you slide your way from skill (sobriety) into dumb luck (non-sobriety) and the Viking is the place to find it, along with all your other bar game standbys, like pool. For those who "play better drunk," the Viking also features a vast beer selection to help you along, reaching far beyond bottled domestics. Choices are a beautiful thing. (TH)
BEST PLACE TO PLAY BAR GAMES 2nd PLACE: The Swinging Doors; 3rd PLACE: Far West Billiards
BEST BEER BAR 2nd PLACE: The Elk; 3rd PLACE (TIE): Post St. Ale House, Waddell's; NORTH IDAHO'S BEST: Capone's
---
BEST KARAOKE
Monterey Cafe
Nothing says a good time like pizza, Hawaiian beer and a crummy Neil Diamond cover blasting through the speakers. Monterey Café has created such an insanely popular karaoke niche for itself that there's no turning back — and Spokane's all the better for it. Inside Monterey's tiny hula-hut walls, no judgment is passed. Good singers are praised. Bad singers are worshipped. And the karaoke gods always go home drunk and happy. (JB)
2nd PLACE: Studio K; 3rd PLACE: Peking Palace; NORTH IDAHO'S BEST: The Corner Bar, CdA
---
BEST CASINO
Northern Quest Casino
If you were stranded on a desert island and had nothing but the Northern Quest Resort & Casino, you certainly wouldn't get bored, or hungry. At night you'd bed down in a cush hotel, in a room decked out with flat panel HD TVs, 350-thread count linens and free gourmet coffee. During the day, the biggest problem would be picking from the huge selection of restaurants, from Fai's Noodle House (Chinese/Vietnamese) and Masselow's (fine dining) to Fatburger (as in fat, yummy burgers) and the list goes on and on.
Fully fed, you could then stop at Current Spa & Salon for a little pampering before hitting the casino floor, which has 2,000 machines and 37 table games. And finally, as the sun went down, you'd have to choose among the 14 bars and restaurants, hopping from Legends of Fire for a cigar to The Q for some sports and then to Impulse for some booty shaking.
It's not hard to understand why Inlander readers have voted it Best Casino for 10 years, boosting Northern Quest into the rarified air of our Hall of Fame. But what is hard to imagine is that this sprawling resort and casino started at the end of 2000 with only a little bar and one buffet.
"I've been here from Day One," says General Manager Phil Haugen, "and it's been pretty exciting seeing five major expansions. … Each time we expanded, we've tried to add different amenities — attracting not just the gamer, but the non-gamer."
Haugen credits the staff, which has grown from 360 employees to 1,700, for making the casino so welcoming and popular with out-oftowners and locals alike. "Our employees like working here, and I think that's the main thing."
Of course, the casino not only benefits employees but has brought prosperity to the whole Kalispel Tribe. Where, in 1998, the tribe was considering bankruptcy, they're now able to fund a day care center, police and fire departments, social services and a wellness center, which is open to non-tribal members as well.
"Most of the tribe was living in poverty," says Haugen, a member. "Now our tribal members are getting their education because of the casino."
What the next 10 years hold is not entirely clear. Haugen says the Tribe is permitted to have gaming on only 40 acres — but they have another 250 acres around the casino and Highway 2, where they could build retail and convention space, hotels and … who knows?
"We could have stayed the same size," Haugen says. "But we've had the vision to keep growing." (JF)
2nd PLACE: Coeur d'Alene Casino; 3rd PLACE: Hugo's
---
BEST DANCE CLUB
The MarQuee Lounge
The MarQuee Lounge is where the pretty people bump and grind (on the dance floor, that is) and mingle with Spokane's most eligible elite. The music is loud, the bar is nearby and the dance floor feels intentionally small — which makes it easier to find a partner. And don't worry, everyone is way too classy to mention the broke-ass moves you may have busted out the night before. (JB)
2nd PLACE: Dempsey's; 3rd PLACE: Impulse Lounge at Northern Quest; NORTH IDAHO'S BEST: Icon, CdA
---
BEST SPORTS BAR
The Swinging Doors
When you're a sports bar, you basically need three things: 1.) hella TVs, 2.) hella-large portions, and 3.) Golden Tee. No. 3 is common in, like, every bar in America, and Swinging Doors certainly has No. 2 in spades. It's No. 1, though, that makes the Swinging Doors Spokane's sport-watching treasure. These dudes have like 60 TVs. If you can find an angle from which you can view less than two TVs simultaneously, alert management. I'm sure they'll want to know. (LB)
2nd PLACE: Heroes & Legends; 3rd PLACE: The Q at Northern Quest; NORTH IDAHO'S BEST: Capone's
---
BEST BOWLING CENTER
Lilac Lanes
You can tell when a place is run by people who love what they do. Lilac Lanes is a bowling alley by bowlers, for bowlers. It's an equal-opportunity establishment, with activities for both league and leisure players alike, and with nightly specials seven days a week, there's always something going on. (TH)
2nd PLACE: Hugo's; 3rd PLACE: North Bowl; NORTH IDAHO'S BEST: Sunset Bowl, Coeur d'Alene
---
NORTH IDAHO'S BEST KARAOKE
The Corner Bar
The Corner Bar is a great place to go if you're a lousy singer — and not because you're likely to remain anonymous in this midtown Lake City locale. On the contrary. It's because Coeur d'Alene's unofficial karaoke coach, Marj Hopkins of KaraokeByMarj, is in the house and she's got your number … 10,000 of them.
Her playlist is five inches thick, spanning from the 1920s to today. And she'll gladly reward you for every song you sing: $1 for the usual, $2 for new songs and $3 if you "go kamikaze" — meaning you let Hopkins pick the song, which you should do because she has a great ear and boy, can she sing. It's not real money, but "karaoke bucks" redeemable for prizes at auctions she holds every now and again.
How does she know what you sang last week? She knows what you sang last year because she writes it down. And alphabetizes your playlist, filing it in tubs she carts to the Wednesday-through-Friday sing-a-long she's been hosting for nearly a decade.
"There are a lot more technologically savvy shows than mine," said Hopkins, who spent nearly six years as a devotee before starting her own business in 2001. "But you won't get better service."
Customers like Steve Salois and Sue Rogers, whose playlists date back eight years, agree. When Salois, who has some difficulty hearing, steps up to sing "Cherokee Woman," Hopkins accompanies him, guiding him back to the correct key. She'll also help you pick songs, whisper the words into your ear if you forget them (or can't see the screen), and she'll lob a well-placed putdown to any rowdies razzing the singers.
"She's really good about helping people," adds bartender Jen Parant, zipping out from behind the bar to sing Eminem's "Without Me."
Call it Coeur d'Alene's version of Cheers, only less pretentious. And a place where you can be anyone you want, at least while they're playing your song. (CS)
---
BEST MOVIE THEATER
AMC River Park Square
From Justin Beiber to Black Swan to Biutiful, AMC doesn't just offer the normal Hollywood fare. It serves up a good number of independents to complement whatever the Magic Lantern doesn't get. But it's also got the IMAX and 3D screens to show next year's version of Avatar. It's also right next to the mall food court, so you can nosh on ice cream and pizza before you even get to the popcorn stand. (CF)
2nd PLACE: The Garland Theater; 3rd PLACE: The Magic Lantern; NORTH IDAHO'S BEST: Regal Riverstone
---
BEST COCKTAILS
Twigs
"A good drink," says cocktail expert Jonathan Kaye, "transforms you into a better version of yourself." Thank Twigs, then, for making us all a little wittier, friendlier, carefree and better looking than we actually are. Whether it's a classic Well-Mannered Dirty Martini, a localflavor Huckleberry Lemon Drop, or a spicy Jalapeno Cilantro Margatini, kudos to the citrusmuddling, basil-chopping, martini-shaking bartenders at Twigs for consistently making better versions of us, and of our favorite drinks. (AV)
2nd PLACE: Bistango; 3rd PLACE: The Peacock Room at the Davenport Hotel; NORTH IDAHO'S BEST: The Iron Horse
---
BEST NEW NIGHTSPOT
Nyne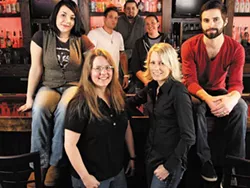 They wanted a clean slate. Something they could make their own. Kitty Kane and Marcine McLaughlin wanted to open a bar, but didn't want to inherit someone else's vision.
When they finally settled on renovating a long-forgotten auto-shop space, they realized it was going to be a long haul before bellying up for a drink at their dream bar.
"When we came in here, there was still grease, oil and tar on the ground," Kane says. But today you wouldn't know it. Their bar, nYne — an airy yet rustic space filled with leather couches and flat screen televisions — has become one of Spokane's most beloved nightspots and one of the classiest joints in the east end of downtown Spokane. The owners wanted to build a sports bar — and they did. But Kane and McLaughlin redefine what a sports bar can be with nYne. You won't find deep-fried food here — instead, they offer bistrostyle fare. You'll find the big games — hell, the Zags's women's team has been known to stop by post-game — but also lots of offbeat sports and women's games on the screens.
And it's got a leg up on every other sports bar in town: It's one of the rare places where you can play sports while you have a pint. Right in the middle of nYne is a small basketball court, open to anyone who wants to shoot hoops.
But we think nYne swept this category because it appeals to almost everyone. Sports types. Dance-club types. Families. (They let kiddos run on the b-ball court 'til 9 pm.) The after-work crowd. Politicians. (Last weekend, they hosted a town hall event with Senate Majority Leader Lisa Brown.)
And grown-ups. Kane says they've actually heard their bar described as a place "for grown-ups" — attracting more of the crowd that would go to Zola than a sports bar.
But it hasn't been easy — the two women have worked nonstop since they opened last June to make nYne what it is. Kane says their philosophy was just to run a bar that they would want to spend time at.
So when she and McLaughlin found out that Inlander readers chose them to win the trophy for Best New Nightspot, they couldn't believe their eyes.
"I just read it and re-read it," Kane says. She was thrilled that people enjoy the bar they've built. "I was just doing what I thought worked!"
Well, it is working. And we're thrilled to see it developing another part of downtown. (LS)
2nd PLACE: The Spotlight Lounge; 3rd PLACE: Jones Radiator
---
GOOD ANSWERS
Cristopher Lucas
Reader Cristopher Lucas, a local singer-songwriter, nominated Zola for Best Happy Hour, and seeing as how he's lived in cities across the country, he has a pretty good perspective.
"Truthfully, the first time I ever walked into this place, about two years ago, I stepped in, looked around and said, 'This could be the coolest bar in any city in the world,' and I've been around," says Lucas.
Lucas describes himself as an "aesthetics kinda guy." He's into how things look and feel, and Zola's mild lighting and décor — which was salvaged from demolition sites around downtown Spokane and includes seating made out of 1940s tilt-a-whirl booths — create a unique, eclectic environment that is still cozy and warm. Beyond that, Lucas says he really appreciates how Zola doesn't have a single television. There's no opportunity for people to be distracted in conversation by the glow of a television, he says.
"Who needs to go out to stare at a TV," says Lucas. "Even if you're not trying to be rude, you find yourself staring at a TV when they're telling you something about themselves."
Lucas likes how, instead, people at Zola are there for each other and the music with no other distractions.
Lucas has been playing at Zola every Thursday for about a year and a half. In his spare time, he cares for his family ranch in Rathdrum, Idaho. He's a mellow person and says when he does go out, it's important to pick a bar that gives off the vibe you want. His other favorites include the Swamp, Bon Bon and Latah Bistro. They are places that take the time to think about how customers should feel.
"I like it when bar owners and staff really make an effort to be different and be special," he says. "Treat people better, treat each other better, and think that they are making a difference with just little things."
In his opinion, Zola is the perfect example of that. (TH)