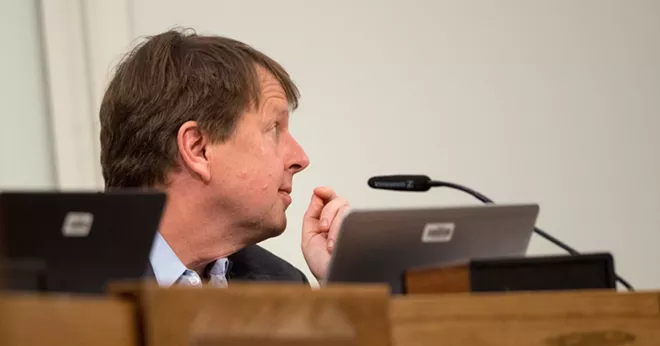 A
fter seven years as City Council President
, Ben Stuckart is aiming to be mayor. And Councilman Breean Beggs — who was just re-elected to City Council last year — is aiming to replace him.
In one sense, Beggs is arguably more ideologically to the left than Stuckart.
Sure, both have been repeatedly willing to raise the specter of at least
floating
controversial taxes. Two years ago, Stuckart voted to take an
ordinance restricting oil trains
off the ballot, citing legal concerns. But Beggs, a lawyer himself, charged ahead.
And while Stuckart has come to support the
sit-lie
ordinance that some activists argue criminalizes homelessness, Beggs has called for it to be rewritten and reinvented.
Yet ideology isn't the only metric by which a politician can be measured — and at the local level, it isn't even necessarily the most important one. The biggest difference between Stuckart and Beggs is more about leadership style and tone. Both are sometimes willing to compromise. But the
way
they compromise is different. Stuckart is aggressive; Beggs is soft-spoken.
Stuckart is
passionate and hard-charging
, with a flair for the dramatic. He's the kind of council president who, when faced with a letter of opposition to a climate change initiative, ran down a rapid-fire point-by-point rebuttal for why their arguments weren't only wrong, but also outrageous and embarrassing.
Stuckart is willing to make I'll-scratch-your-back-if-you-scratch mine sort of deals.
"I'm definitely known as a horse trader," Stuckart says. "I'll give you this if you give on this, if you can get this done."
But make no mistake, Stuckart is a fighter. When he has the votes, he'll sometimes steam full-speed ahead, blasting the reasoning of those who disagree.
Beggs, on the other hand, is a council member who delights in seeking a third way, even when his side has enough votes to push something through.
"Ben is more transactional," Beggs says.
"I'm very interested in bringing more people along with me, not just getting things done. He will focus on just getting it done. I tend to take a longer approach. I'll keep negotiating with you until we get some common ground."
And often, they're not a traditional I-give-up-something you-give-up-something compromise. Instead, they're just as likely to be outside-the-box, sometimes intricate and
complicated
proposals, attempts to satisfy the underlying goals of each side. It's not that his ideas are always accepted — often they're not. But sometimes they succeed just by lowering the temperature between the parties.
"Some lawyers are gunslinger lawyers and other lawyers put things back together," Beggs says. "I can do both. I've done both. It's easier to train a lawyer to be a gunslinger than to train them to be a conflict-resolvers."
Beggs has partially credited his ability to seek common ground to his childhood: He grew up with one parent who was a hippie and the other an Evangelical Christian.
"If you were to design a best-seatmate, Breean's picture would be there," Councilwoman Lori Kinnear says. "He's very much a calming influence. He provides thoughtful discourse. You can go to and talk through his thoughts. He's a good listener."
"My main goal is that everyone's voice gets heard," Beggs says. "I want them to feel like they got a fair shake."
Look at the roles the two council members played during the independent investigation of the city's handling of the harassment allegations against former Spokane Police Chief Frank Straub. Stuckart repeatedly excoriated the Mayor's Office, both publicly and privately, whenever the administration seemed to
obstruct or interfere
with the investigation.
At times that eagerness got him in trouble: City attorney candidate Laura McAloon referred to him as "
toxic
" after a confrontation with her over how the investigation was handled.
But Beggs? Beggs served with McAloon on the joint committee that oversaw the investigation. When the mayor declined to provide the investigators with the unredacted documents she requested, Beggs played the role of "good cop." He proposed an intricate proposal involving hiring an additional attorney to allow the investigator to review the documents in a confidential manner.
Stuckart, on the other hand, played the more aggressive "bad cop" role, threatening to withhold funds used to defend the city against the former police chief's lawsuit, unless the investigator was able to see the documents.
"I'm more high energy and he's a calmer presence," Stuckart says about Beggs. "I don't think anyone would disagree with that. He's more level-headed."
Lately, he says, the conflict between the city administration and the City Council over a proposal to integrate the region's 911 systems has gotten to a point to some councilmembers have essentially given up talking with the mayor's office about it. But he says he's still attending meetings.

<!—————StartFragment—————>"The critique on me is that I'll hang in there and keep talking and keep negotiating even after our side has been treated badly or poorly," Beggs says. "My belief is we all have a role. My role is to hang in there and negotiate even when the council is not willing to talk with the mayor."

Mike Fagan, the sole conservative on Spokane City Council, credits both Beggs and Stuckart for being willing to work with him in the past year.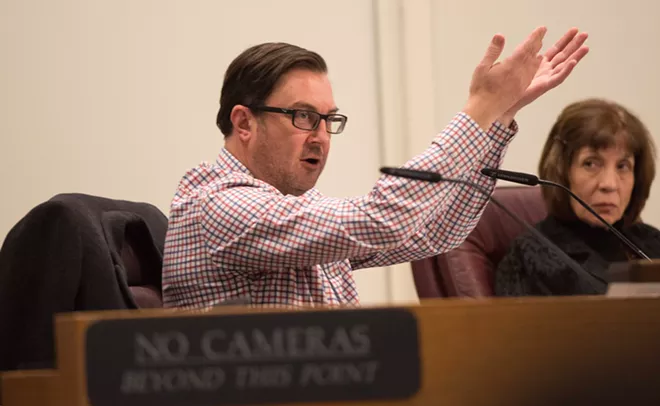 "We have our obvious ideological differences, but Councilmember Beggs is one of several council members who will take the time to listen to you intensely and then ask you follow-up questions to make sure they heard you right and understand your thought process," Fagan says.

In the case of Stuckart, Fagan says he was honored that the council president was willing to name him council president pro tem.

"Council president is reaching out to me a lot more," Fagan says. "Asking me for a blessing and using me as a soundboard. Even if it's just zooming by an office letting me know that something is coming up."

That, however, doesn't mean that Fagan is giving them his endorsement:

"At the end of the day, citizens are going to ask themselves, if this turns out to be a Stuckart-Beggs city of Spokane, what would that look like?" Fagan says laughing. "With regard to social justice issues, boy, I tell you we were going to be veering 90 degrees to the left and down the rabbit hole."

In the race for City Council president, Beggs will be facing off against community activist Phil Tyler.
In some ways, the two Spokane City Council presidential candidates are competing over the same ground: Tyler is campaigning on a platform of bipartisanship and respectful discourse.
"My campaign will set the tone for my hopeful service which will decrease the sometimes contentious City Council," Tyler said in his opening statement.
That soft image Tyler is trying to convey is complicated by the accusations
from all three of Tyler's ex-wives
that he was verbally and physically abusive.
When asked about the Tyler allegations earlier this year, Stuckart gave a straight up condemnation:
"I absolutely believe these women. Mr. Tyler has mentioned his interest in serving on the City Council. There is no place on the council for men who abuse women and especially for men who refuse to take responsibility for their actions."
But Beggs, true to form, was a lot more cautious, choosing his words with lawyerly precision.
"I believe that the women experienced abuse," Beggs told us. "My understanding is that, in at least one case, a judge case ruled after a full hearing, that domestic violence had occurred. That's been established."
He said he couldn't vouch for every detail, but says he has no reason to "disbelieve" the claims of Tyler's ex-wives.
"The majority of people who survive physical and sexual assault do not report," he explained. "I believe that anyone who has the courage to report should be welcomed and supported for their courage and to discover, if appropriate, what they need going forward."