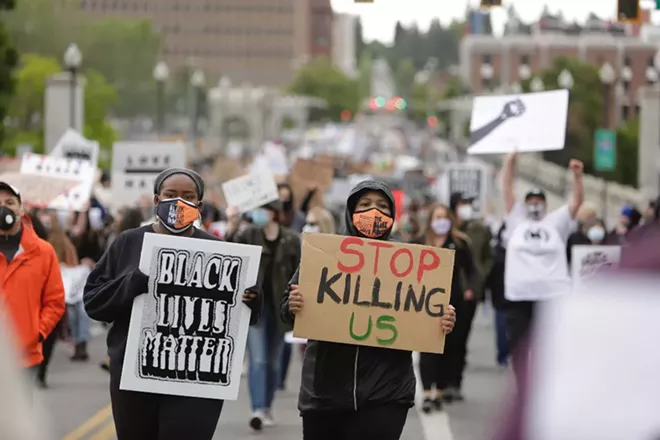 UPDATE 6:50 PM:
Many of the demonstrators have left the area, but a smaller group remained, rallying along Spokane Fall Boulevard. Men in camo and openly carrying firearms were also spotted downtown.
"Black lives matter" Spokane impromptu march now around the corner heading up Washington pic.twitter.com/LHGxlv5HeK

— Samantha Wohlfeil (@SAWohlfeil) June 8, 2020
UPDATE 4:25 PM:
Demonstrators marched over the Monroe Street Bridge to Boone Avenue and back down via Washington Street, returning to Riverfront Park.
A much smaller (but still large) group returned to Riverfront Park and stayed for more peaceful rally on #blacklivesmatter pic.twitter.com/tw94uuqZWP

— Samantha Wohlfeil (@SAWohlfeil) June 7, 2020
UPDATE 3:55 PM:
Demonstrators are leaving the Lilac Bowl and marching in the street near City Hall.
Another shot to show just how far this massive peaceful march stretches in Spokane pic.twitter.com/W5YtcRF4w5

— Samantha Wohlfeil (@SAWohlfeil) June 7, 2020
To give a sense of the size of this thousands- strong march in Spokane pic.twitter.com/UCrWy3Eid4

— Samantha Wohlfeil (@SAWohlfeil) June 7, 2020
UPDATE 3 PM:
The crowd continues to grow.
The crowd is easily a few thousand strong today in Spokane for the #blacklivesmatter protest. Focused on ending police brutality and systemic injustices against minority Americans pic.twitter.com/RAM7Y0yduf

— Samantha Wohlfeil (@SAWohlfeil) June 7, 2020
UPDATE 2:30 PM:
Kiantha Duncan, a vice president of Spokane NAACP, took a moment at the start of Sunday's protest to speak to three groups among the more than 1,000 who had gathered by 2 pm. First, for those who came to agitate, and to "get the shit kicked up," Duncan says, "I love you, and you in your heart know what is right and what is wrong," summing it up with "sit yo ass down."
Next, to those in law enforcement of any kind, she calls for them to remember the oath they took to protect the people of the United States. "It is not your job or your position to harm other people," Duncan says. "If you are in law enforcement and you are using your power as a means of brutality against black people, against brown people, against Native people, against white people, knock it off."
Lastly she thanks those there to peacefully protest and support the movement, ending with a call to remember that all lives matter, and black lives matter.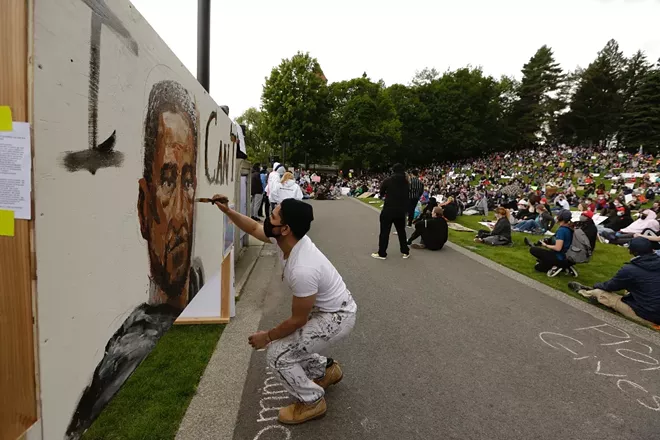 UPDATE 2:15 PM:
Throngs of demonstrators have filled the Lilac Bowl in Riverfront Park to call attention to police brutality, with early estimates suggesting more than a thousand protesters have turned out already for the rally that officially started at 2. Staff reporter Samantha Wohlfeil and staff photographer Young Kwak are on scene at the protest.
The peaceful #BlackLivesMatter tally is getting going right now in Spokane pic.twitter.com/7UXGxGA7f3

— Samantha Wohlfeil (@SAWohlfeil) June 7, 2020
Organizers of another protest in downtown Spokane today say they want everything to go peacefully, with calls for participants to respect the scheduled start and end times of 2 pm to 7 pm, before heading home.
Expected to be the largest protest since last Sunday, the afternoon event was set to continue calls for police reform in the wake of the deaths of black Americans George Floyd, Breonna Taylor and many others.
Floyd was killed two weeks ago when a Minnesota officer knelt on his neck for nearly 9 minutes, sparking protests around the world that have in the days since then. Taylor was a medical worker in Louisville, Kentucky, and was killed when police entered her home on a no-knock warrant in March, despite the fact the suspect they were looking for had been located. Their deaths reignited calls for reform to eliminate excessive police use of force, which is often used against black, Native American, Latino and other minority Americans.
Occupy Spokane, which with the Spokane NAACP organized Sunday's protest and rally at the Lilac Bowl Amphitheatre at Riverfront Park, said in a
Facebook post
that with threats against the event, an 8 pm curfew is suggested. Officials, however, have not declared a curfew for downtown Spokane, but that could change depending on events.
"We have made it noticeably clear that we will not tolerate any fringe groups infiltrating or agitators instigating violence or destruction of any kind and we have communicated that unified intent to our governing municipalities," organizers say.
At least one white supremacist in Spokane has said he plans to attend with others who support his neo-Nazi ideals, though he'd promised Spokane County Sheriff's deputies who serve on a Joint Terrorism Task Force with the FBI that he didn't plan to be violent — unless others were first. Sheriff Ozzie Knezovich confirmed earlier in the week that law enforcement had been
looking into multiple violent threats
against continued protests.
Last week, when some people started looting the Nike store downtown, police decided a day of mostly peaceful protesting had turned into a violent riot and ordered people to disperse. When people refused dispersal orders, and, according to Spokane Police Sgt. Terry Preuninger, continued throwing bottles, rocks, and improvised explosives (like Molotov cocktails) at officers, they made the call to use less-lethal munitions to get people to leave.
Law enforcement and organizers alike hoped today's event would go smoothly and avoid a repeat of last week's use of tear gas, smoke, and foam, sponge and rubber munitions used to clear crowds.