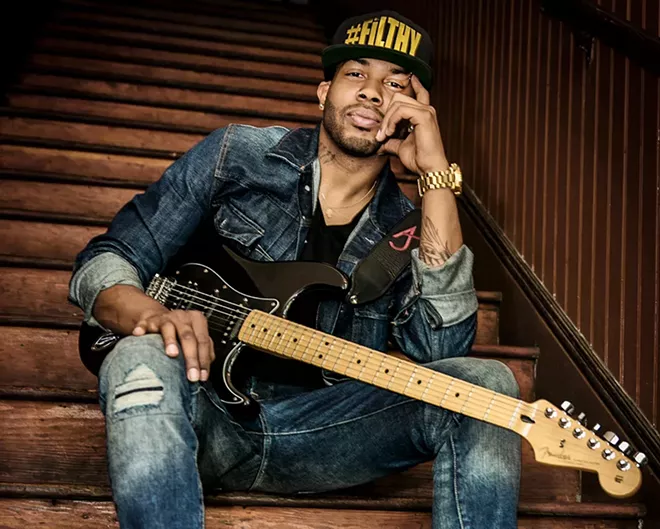 There's a whole lotta great music going on this weekend in the Inland Northwest, so make a point of perusing our
music listings
to find some close to you — just in case the snow makes travel a big sketchy.
We have a few options below, but first a little public service announcement:
Bandcamp.com
, a favored online music sampling and buying site among all your favorite bands, is having a benefit sale all day today. All the site's proceeds for music bought today will be donated to the American Civil Liberties Union. Pretty cool. How go shopping.
Here are some music highlights of the weekend

FRIDAY
For many, Las Vegas means glitzy casinos and garish poolside parties, and concerts by either faceless DJs at sweaty nightclubs or oldies acts like Wayne Newton and Celine Dion. But every city has a seedy underbelly, and it's hard to imagine a more appropriate soundtrack for Sin City's dark side than
Meade Ave
, a metal crew named after a street dedicated primarily to adult shops and dirty warehouses. The band has seen a few lineup changes since forming in 2013 — hey, the metal life is rough — but a newly solidified four-man lineup is preparing a new album, Stitching The Torn, for release this spring. The sound? Classic metal crunch that recalls the likes of Judas Priest or the thrashier moments of Iron Maiden on tunes like "
The Hangman's Toll
." They're playing at The Pin! and the cover is $10.
Over at The Observatory, Seattle indie punks
Ramona
play a show with Boat Race Weekend, Lucky Chase and Wake Up Flora.
SATURDAY
Ayron Jones and the Way
played Volume last spring, and the Seattle blues-rock crew has officially achieved "next big thing" status in their hometown. That typically means good things ahead.
Read our interview with Jones
and check out the show Saturday at The Big Dipper. Cover is $10.
How deep are
Belt of Vapor
's roots in the Spokane music scene? Well, the
Inlander
named the hard-hitting trio one of its "Bands to Watch" back in 2005 when they were mere whippersnappers knocking out aggressive tunes, full of rough angles and ear-catching hooks. They honed their sound to a more professional (but no less raucous) shine through the recording of their excellent 2013 release,
The Recluse
, an 11-song set with delicious, howling vocals from Aaron Powell and seriously driving rhythms. Powell and bandmates Justin Walter and Bob Homburg pushed "pause" on Belt of Vapor for a while, but
Saturday night at the Observatory
, they're throwing a little reunion gig with instrumental rockers Monuments and Dark White Light, a celebration for Spokane music geeks young and old. It's just $6.
SUNDAY
Chill and watch the Super Bowl —
Lady Gaga is doing the halftime show
, and Tony Bennett will be there!