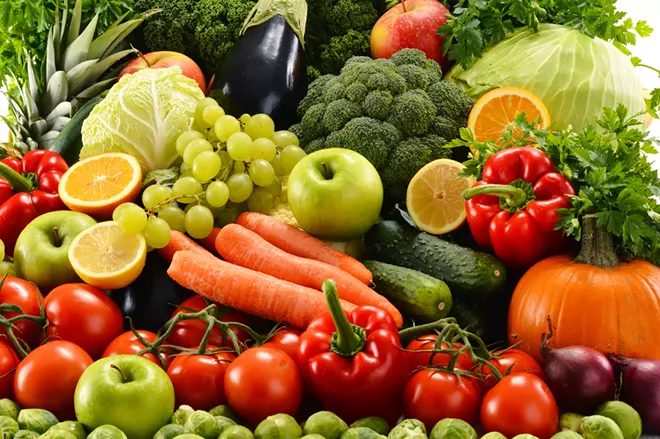 Remember this!
For the first time, scientists are
endorsing some health strategies
to reduce the risk for dementia and age-related cognitive decline. The catch? People should ideally start doing these things in their 40s, long before any signs of trouble. So what are the recommendations? 1) Control high blood pressure. This is more effective in preventing Alzheimer's than age-related memory decline; 2) Get enough exercise. How much and what kind is still being debated, but walking 20 minutes a day may be enough to do the trick; and 3) Strive to get ongoing mental stimulation. "There's growing evidence that the ways in which your brain is challenged all through your life matter," says one researcher.
What's out? There's no evidence that supplements containing ginkgo biloba, vitamin E, or computer-based cognitive games or apps are effective deterrents.
Wanna get motivated?
Spend the next two weeks upping your daily intake of fruits and veggies, and
you just might get a little more oomph in your step
. Research shows that people who ate two additional fruit and vegetable servings per day experienced "a boost in motivation and vitality" in just 14 days. The study was conducted on 171 18-to-25-year-old students who were either told to eat their normal diet; personally handed two additional servings of fruits and vegetables each day; or given prepaid purchase vouchers and texted reminders to eat more fresh stuff.
Only the group that was physically handed more fruit showed improved psychological well-being; they were also the only group that actually consumed the most additional fruit and vegetables. No group showed improvement in depression or anxiety measures. Two cups of fruit and two to three cups of vegetables are the USDA's current daily diet recommendation.
Check out
great veggie recipes
in the
current issue of InHealth
!
Cars and good causes
Head out to Mirabeau Park Meadows in Spokane Valley on Saturday to see a lot of shiny Chevy Camaros in one place. This year's
Inland Northwest Camaro Club Open Auto Show
celebrates the club's 50th anniversary and marks the show's 27th year. It's free to look, $20 to enter a car. Proceeds benefit Spokane Women's and Children's Free Restaurant, Coats4Kids, Hospice of Spokane and the Spokane Humane Society.
13500 Mirabeau Pkwy., Saturday, July 22 from 9 am to 4 pm.