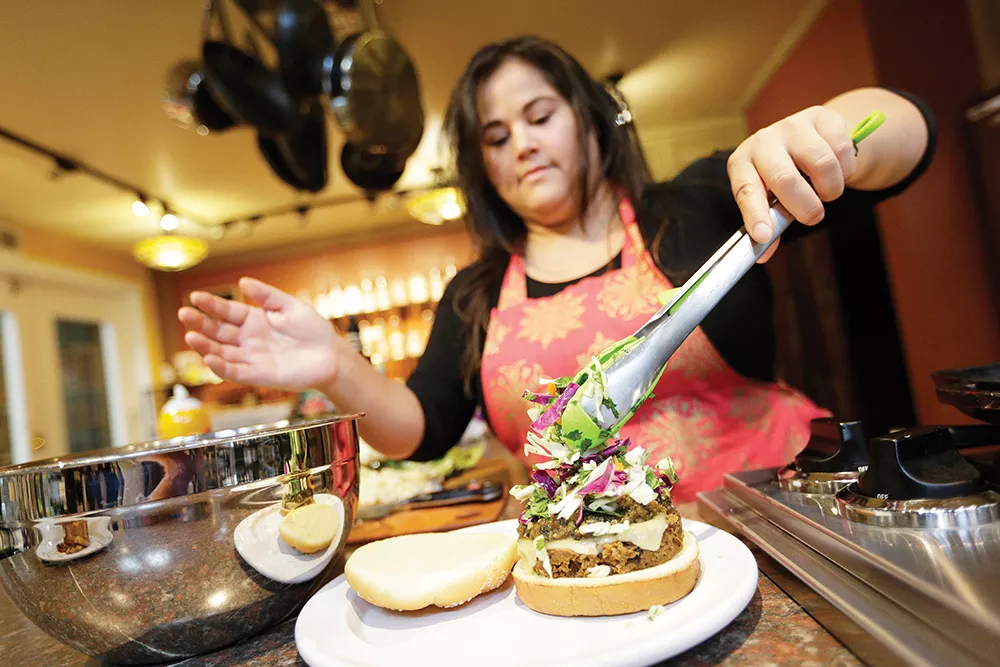 Jamie Aquino transitioned to the vegetarian lifestyle in early childhood, and has been teaching other people how to make healthy, flavorful and creative plant-based recipes for more than two decades. As a culinary instructor at The Kitchen Engine in downtown Spokane for the past five years, Aquino teaches a variety of classes that regularly fill up on veggie burgers, cooking with tofu, homemade soups, and farm-to-table cooking.
"I don't gear my classes specifically toward vegetarians, and a crazy amount of people who eat meat come to my classes," Aquino says.
Raised in the kitchen under the wings of her mother and grandmothers, Aquino's family began experimenting with vegetarian recipes back in the 1980s, when she says reliable information on the plant-based diet wasn't even remotely as accessible as it is now.
"We had to forge ahead, and my mom taught me the unique techniques that I teach now," the self-taught chef reminisces. "I taught my first class when I was 15, and something clicked. I love sharing with people, and my classes now are all about celebrating plants, from the most basic to the most extravagant. Flavor and nutrition are always number one."
When it comes to cooking meatless recipes on the grill this summer, Aquino is bursting with ideas and tips. The trick to successful veggie grilling, she says, is oil.
"If they're not well oiled, they need to be soaked in a wet marinade, since they have so little fat and want to adhere to the grill," she explains, adding that "grilling baskets are going to be an absolute life-saver when you're doing veggies that may be too thin or might roll around, like tomatoes and asparagus."
When it comes to making your own meatless burgers to grill at home, Aquino says another key is making sure there is a balance of dry and wet ingredients, with a good binder, like eggs or a starch. Tapioca, potato or corn starch all work well.
"It sounds strange, but oats are a tremendous glue to keep things together, and they add a nice texture to bite into," she says. "Old-fashioned rolled oats combined with veggies and other moisture helps activate the starch to create that glue — it's important not to make a mushy patty."
Aquino also advises not to fear adding extra spices and seasonings to boost the patties' flavor.
"If you made them before and it didn't turn out well, double the garlic, onion or basil. Don't be afraid to double the spice," she says.
To keep the patties from sticking to the grill, since they're so light on fat, Aquino says it's important to brush them with oil before tossing them on and when flipping. Cook over medium heat to ensure the patties are heated all the way through, and consider using the top rack of the grill if you're also cooking meat-based items, which may require higher heat.
Beyond these tips, however, Aquino's most crucial tip for making veggie patties at home, including the Southwest-inspired recipe she shares here, is to pre-bake the patties in the oven to prevent them from falling apart on the grill. This can also be done ahead of time, and you can refrigerate or freeze the partially cooked patties before grilling, she says.
When it comes to flavorful, veggie-based sides, Aquino recommends her recipe for cauliflower medallions — the smokiness of the grill complements the cruciferous vegetable's natural flavors. She also likes grilling all types of onions, which are easy to slice up and toss on. Grilled onions make for tasty sides to go along with other plant-based dishes, as well as with meats.
"Mango and pineapple, too, are my favorites to grill," she says. "Those are just so enhanced from the grill and the smoke; it sweetens and caramelizes the sugars, as with any stone fruit — peaches, nectarines, plums, and pears."
She suggests adding any of these fruits to a balsamic-based dressing and some grilled onions for a smoky, sweet and salty flavor combination. ♦
Find Jamie Aquino's class schedule at thekitchenengine.com/events.
---
SW Veggie Burgers with Roasted Garlic & Poblano Chutney
The texture of these burgers may surprise you, chef Jamie Aquino says. A combination of chewy rolled oats, tender onions and brown rice, meaty mushrooms, and a bit of crunch from the pecans provides ample texture. Paired with the spices and chutney, this burger is a flavor- and texture-filled experience.
Sauté the following until tender:
1 teaspoon extra virgin olive oil
1 large yellow onion, diced small
3 cloves garlic, minced
Set aside onions and garlic, add 1 teaspoon extra virgin oil to the pan and sauté over medium high heat until golden brown.
5 oz. clean, finely diced cremini mushrooms While mushrooms are cooking, thoroughly mix together in a large mixing bowl:
1 cup old-fashioned rolled oats
1 cup quick oats
1 cup cooked brown rice
cup pecans, chopped fine
cup large flake nutritional yeast
2 tablespoons potato starch or cornstarch
1 tablespoon mild chili powder
1 teaspoon oregano
1 teaspoon cumin powder
1 teaspoon garlic, granulated
½ teaspoon onion, granulated
½ teaspoon black pepper
¼ teaspoon natural sea salt
Once mushrooms are sautéed, add to dry ingredients along with onions and garlic, and add:
3 tablespoons tamari (or soy sauce)
1 cups boiling water
2 tablespoons extra virgin olive oil
Stir all ingredients until well combined. Preheat oven to 400° and grease a baking sheet. Place a burger press* on a flat surface, add ½ cup of mixture into press, form into burgers. Transfer burgers to baking sheet, leaving at least 1 inch between each burger. Bake 20 minutes, or until bottoms are golden brown. Lightly oil the top of burger, flip and cook 12 to 15 minutes more.
*Most veggie burger recipes do best with greasing the burger press in between additions, as the mix can be quite sticky compared to ground beef.
On the grill:Before grilling, parbake using the directions above, but shorten bake time to 18 minutes on the first side, 8 minutes on the second. Refrigerate up to four days before grilling, and store in airtight container. Brush burger with olive oil and place on a hot grill, softer side down, (the side that was baked for 8 minutes) grill for approximately 4 to 5 minutes, turn and cook 3 to 4 minutes, or until center reaches 165 degrees.
---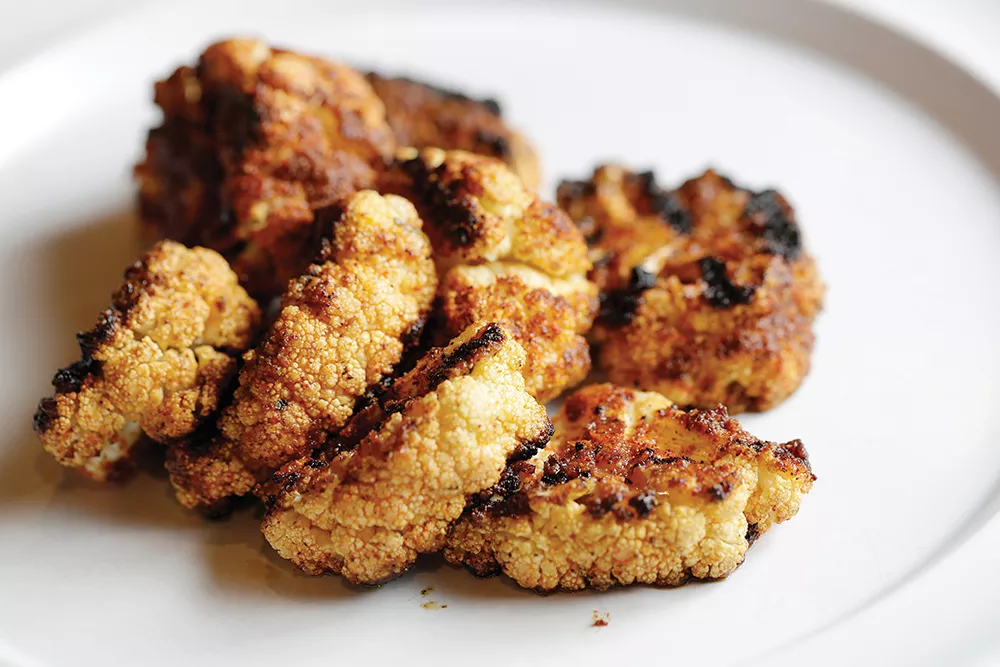 Grilled Cauliflower Medallions
"You may not think of cauliflower as grill food, but a bit of smoky grill flavor is just what this cruciferous vegetable needs," Aquino says. Mix in a small bowl:
2 teaspoons mild chili powder
½ teaspoon granulated onion
½ teaspoon granulated garlic
teaspoon natural sea salt
¼ teaspoon black pepper
¼ teaspoon Chinese five-spice powder
Set aside.
Wash, remove leaves and base of stem from:
2½ lbs. cauliflower
Cut large florets from the main stem, trim down opposing sides so florets will lay flat on the grill. Medallions should be ½ to ¾ inch thick. Using a silicone basting brush, brush both sides of medallions with olive oil. Sprinkle spice blend evenly, coating both sides well.
On the grill:
Preheat grill to high, place medallions directly on the grill. Cook 8 minutes on first side; turn and cook an additional 8 minutes. Keep warm by placing on foil over indirect heat. Serve with garlic or spicy aioli. This side dish can also be turned into a main dish, as follows.
---
Cauliflower Street Tacos
Add this cabbage & cilantro slaw to your grilled cauliflower for a tasty taco. Shred finely, and place in a bowl:
12 oz. red or green cabbage
2 medium carrots
Dice/mince small:
½ medium red onion
½ cup cilantro
3 tablespoons of fresh lime juice
3 pinches of natural sea salt
Optional: hot pepper*, minced
Stir to combine. Keeps up to 6 hours.
*The more seeds and veins you remove from your pepper, the less spice you will get.
Warm: 18 street-sized corn tortillas. Cut grilled cauliflower into bite-sized pieces, fill tortillas with ¼ cup of cauliflower and top with slaw. Garnish with Greek yogurt and lime wedges. Serves 6.
---
Roasted Garlic & Poblano Chutney
This chutney is full of flavor and has a bit of heat. You can reduce the spice by adding more sugar. Aquino recommends using fresh poblanos during their peak season (late July to September) for the best flavor.Grill in a foil packet over indirect heat until tender:
2 medium sweet onions, cut into large chunks
50 garlic cloves, peeled
Roast on the grill over direct flame:
4 whole poblano peppers, washed Blacken peppers on all sides. Scrape off skins with the back of a knife, remove stems, cut in half and remove seeds. Place peppers, onions and garlic cloves in a food processor with:
½ teaspoon natural sea salt (more to taste as needed)
1½ teaspoons raw cane sugar
1 tablespoon apple cider vinegar
Pulse until mixture resembles a chunky jam or salsa. Serve over Southwest Burgers with melted Oaxaca cheese and crispy onion straws on a large hamburger bun. Serves 8.