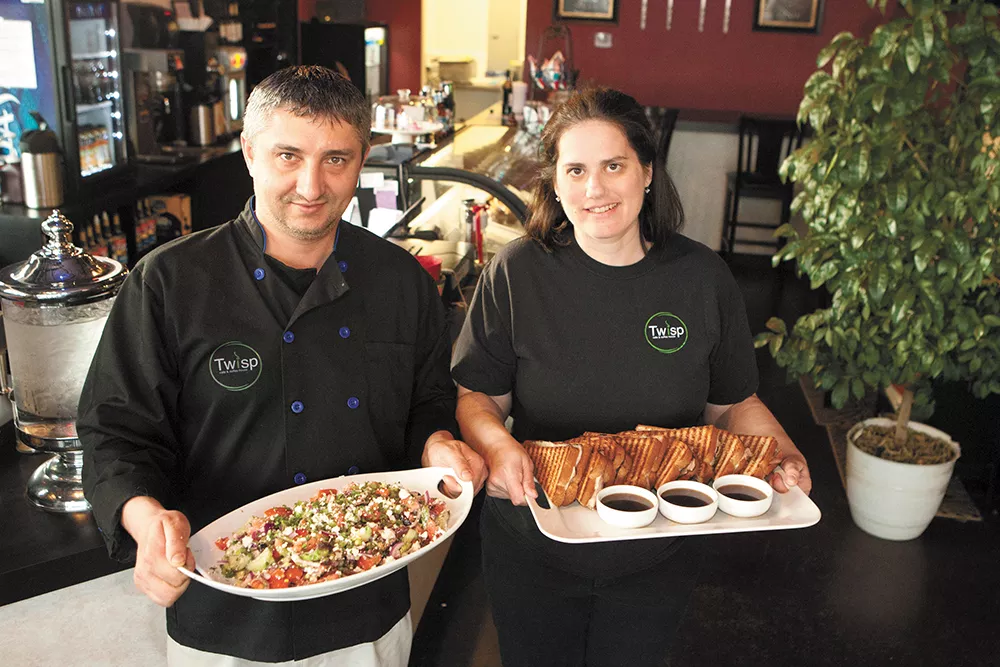 The menu at Twisp Cafe in Liberty Lake looked a lot like a typical American coffee shop, serving sandwiches, wraps and baked goods. Then Bobby and Stacy Taninchev bought the business, and items like gyros, lamb sandwiches and phyllo dough pastries now make up much of the menu.
Bobby, who is also the cafe's chef and a 20-year veteran of the hospitality industry, was born in Bulgaria and gets his culinary inspiration from the Black Sea region.
"I moved a long time ago to the States, but my cooking comes from there," he says.
The couple moved to Spokane from the East Coast after Stacy got a job at Gonzaga University and they bought the Twisp Cafe last April from its former owner, who opened it in 2009.
The coffee and menu have since been changed a couple of times, Bobby says. Twisp now serves beer, wine and Doma coffee, plus food with a Mediterranean flair.
"What I did when I bought the business is I turned [the menu] into more healthy items and Mediterranean food," he says.
Bobby makes his own tzatziki, a Greek sauce made with yogurt and cucumbers, which can be found on the lamb sandwich ($10.79) served with mint and leeks on seed lovers' French bread. It's also on the gyro ($8.75), which has lamb and beef mixed with organic greens, feta and tomato on pita bread, and in the Mediterranean veggie wrap ($9.25) filled with feta, kalamata olives, dill, tomato and spinach.
But the menu isn't entirely Mediterranean. You'll still find choices like BLT sandwiches and Caesar chicken wraps ($8.50).
Even after transforming the menu, the Taninchevs plan to execute more changes sometime within the next year. They've already expanded their hours on Thursdays, Fridays and Saturdays to stay open for dinner and host live music, but Bobby says he wants to upgrade the kitchen so he can offer a full menu that's more of an upscale bistro style, with dinner entrées instead of just quick food like paninis and wraps.
Along with the new kitchen and new menu, they plan to rename the cafe. And with a new name, Bobby says, they also want to change the look on the inside. ♦
Twisp Cafe • 23505 E. Appleway Ave., Suite 100, Liberty Lake • Open Mon-Wed, 7 am-4 pm; Thu-Sat, 7 am-9 pm • twispcafe.com • 474-9146