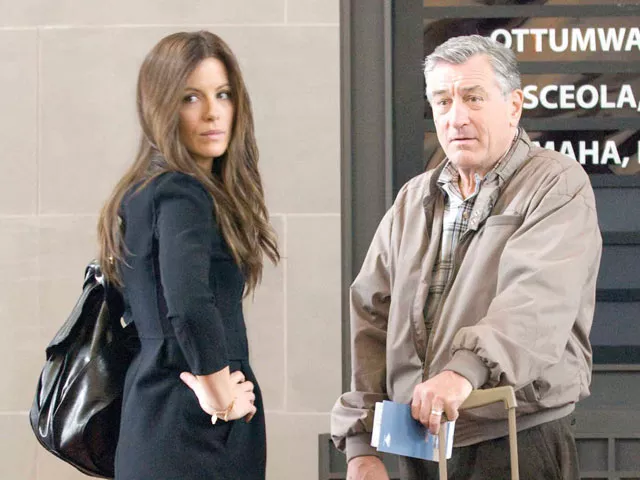 No matter what the reason is for turning a foreign language film into an American version, no one's going to quibble about the opening scene of this one: Robert De Niro, vacuuming his living room, then doing all sorts of household chores while Perry Como warbles "Catch a Falling Star" on the soundtrack. As those MasterCard ads on TV suggest: priceless.
The original, Giuseppe Tornatore's 1990 drama Stanno Tutti Bene, was a road movie about Matteo (Marcello Mastroianni), a widowed father of five, making visits to each of his adult kids, and discovering numerous surprises about them.
The plot stays the same here, but the ground covered is American soil — and the widower, now named Frank (De Niro), has only four kids.
But he's off, taking trains and buses to visit them — the artist, the conductor, the dancer, and the advertising executive — despite his doctor's orders that an extended trip wouldn't be beneficial for his medical problem.
Can't you just smell the melodrama coming?
But, no, writer-director Kirk Jones mostly steers away from the expected and presents a story that any of us who have ever been part of a family will identify with to some degree.
This is about parents' wanting only the best for their kids.
But also about parents who want their kids to make them proud because… well, because the kids' success makes the parents look better.
De Niro has, in recent years, taken to playing comedy. There are comic touches here, delivered as gentle physical humor. But Frank is more complicated than that. He's a lonely man who doesn't know what to do with himself after losing his wife. Neither does he have any idea of how to begin connecting with his kids.
There's an unmistakable air of sadness and a certainty that Frank was never a very warm or comfy part of this family. Yet it's not a depressing story. There are moments of pure charm in a motif that shows, through Frank's eyes, that each time he catches his first glimpse of his children during his visits, he sees them as the little kids they once were.
All of the story's truths come spilling out in a nicely conceived dream sequence near the end. Some tears may fall, but they'll be of the happy-sad variety. The film will either make you love your kids more or make you happy that you never had any.