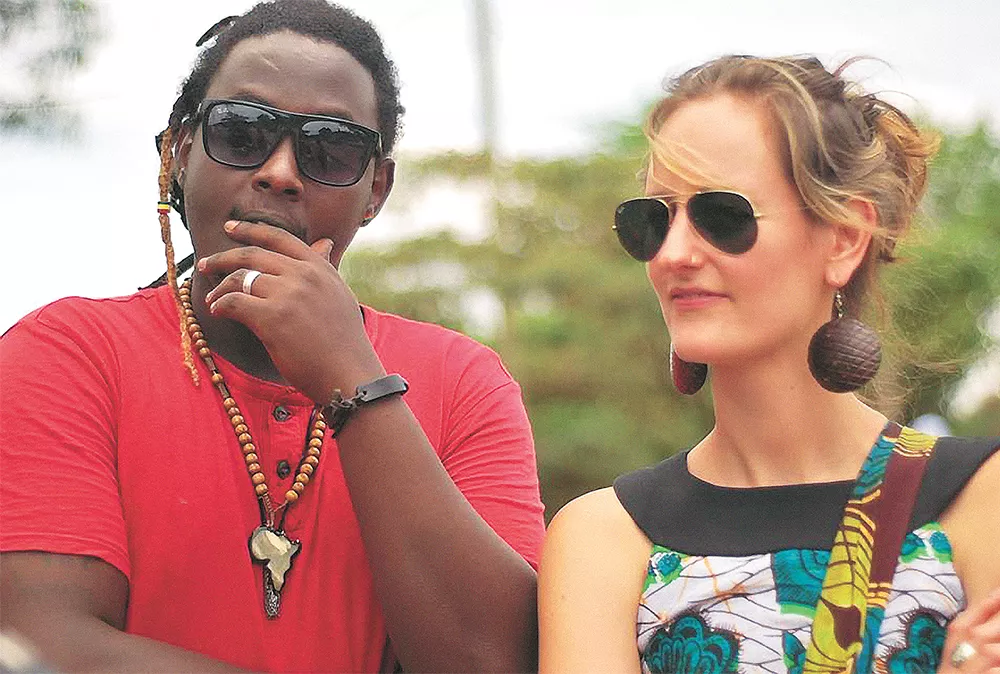 It's a love story with a script that any self-respecting Hollywood exec would reject for being a little too hard to believe.
A small-town girl from Spokane goes to teach math for six months at a girls school in Rwanda. She meets and falls in love with a local reggae musician, an orphan of the country's genocide, forced to live on the streets for years. Inspired by each other's love and generosity in extreme circumstances — her willingness to leave all she knew behind to help children halfway around the world, his desire to improve the lives of his country's children by any means possible — they marry, have a baby and dedicate their lives to building an organization aimed at helping street kids through music and art.
That's the story of Sam Werme Karorero and Omy Karorero in a nutshell, although that brief a description belies the struggles they've already endured to start their life together.
After they got married, there was a three-year process to get Omy a visa that allowed the couple to move to Spokane. And now that they're residents of Sam's hometown, they're just starting to lay the groundwork for Impanda, a new nonprofit that takes its name from the word for "calling" in Omy's native language.
Sam could have come home and waited for her husband's paperwork to clear, but she couldn't imagine leaving Omy's side so soon after getting hitched. It wasn't easy.
"I was homesick. Omy is so African, I could never imagine taking him from Rwanda," Sam says. "For me, it was so isolating and hard. You know these people had been through something so terrible and hard, but they'd been through it together. I could never understand [what they'd been through]."
"The fact she stayed with me those three years showed how much she loved me," Omy says.
Together, they have big dreams, hoping to make Impanda a global organization that aids street kids in cultures as different as those of its founders. They see it as a calling and a responsibility, and the inspiration for music and art to be Impanda's centerpiece comes from Omy's own experience.
When he was living on the streets of Kigali, a man who recognized a teenage Omy from the refugee camps where Omy lived during the genocide took him in, raising Omy as his own and sending him to school. That's when Omy first heard Bob Marley's "Three Little Birds" and started listening to old rastas around town playing reggae. That music, he says, "changed my life. I liked the messages, so positive. Love can change a human."
Omy started writing songs, and established himself a bit in Rwanda before moving to Spokane. Now, he and Sam hope to use his music and story to help raise the money needed to launch Impanda. They're selling T-shirts through their website, ImpandaRwanda.org, and setting up educational booths at events like Pig Out in the Park. They'll be hosting an information session and concert by Omy's band One Tribe at the Bing Crosby Theater on Sept. 22.
Recently, Omy and Sam appeared at a kids' camp at the Unity Center, where Omy sang and told his story about losing his parents and living on the streets of Kigali.
Danna Zahller, one of the organizers, said the kids "connected very strongly" to Omy's experience, and helped raise $1,000 for the Impanda cause.
"We were very taken by Omy's story, especially his passion to give back to the street kids in Rwanda," Zahller says. "Omy's inspiring story about a total stranger taking him in and offering to be his father was very touching."
Sam and Omy are clear that they don't want Impanda to be another short-lived charity in Rwanda, where many organizations with the best intentions get started, only to disappear shortly thereafter.
"We want to build a super-strong foundation so that when we're ready to do it, it lasts," Sam says. "We want to make it strong, and right."
For now, that means traveling to Rwanda from Spokane, raising money and focusing on the details so that when Impanda opens, they'll be able to provide meals to the kids who need them, as well as clothing and shoes, and a space where they can learn art and music — areas sorely lacking in Rwanda even as the country recovers economically from its civil war.
And their time in Spokane, now with baby Zion in tow, is not just temporary. That global vision for helping street kids includes right here in Sam's hometown, because the couple believes music and art can help heal a person's soul, no matter where they're from.
"I can be an ambassador of my country in yours, and Sam can be an ambassador of your country in ours," Omy says.♦