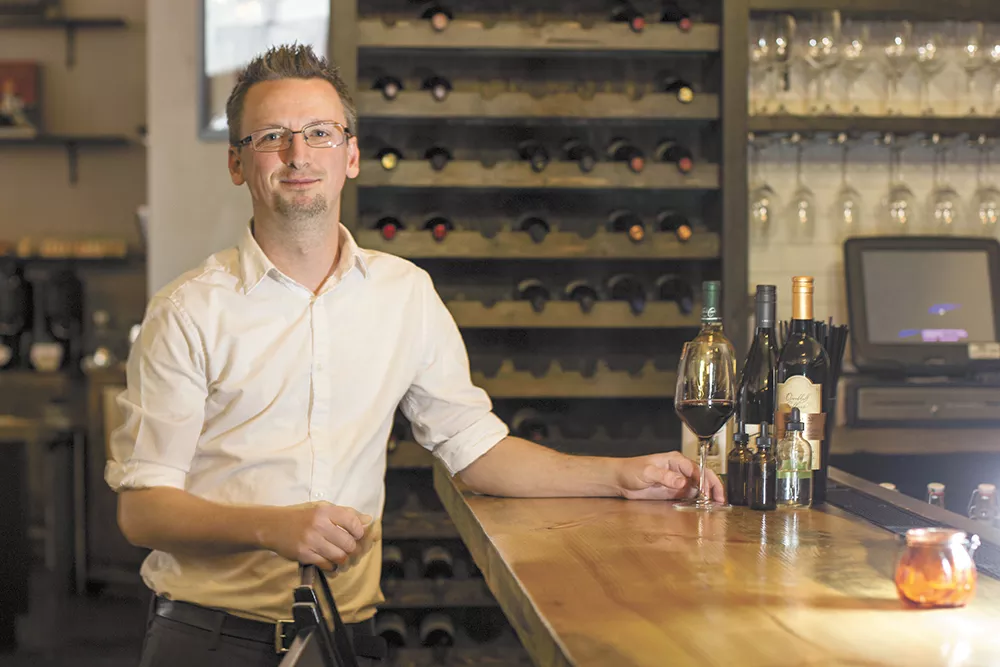 N orthwest native Jeff Arnold hadn't planned on becoming a wine expert. Nine years ago, he was waiting tables in Raleigh, dreaming of starting his own content development company in North Carolina's burgeoning tech scene, when he was introduced to a simple bottle of Bordeaux by the restaurant's wine steward. The rest was history. "Literally from then on, I got every book I could, took every course I could, drank as much as I could," Arnold says. "That kind of set me on the path." After receiving his certification from the Court of Master Sommeliers, Arnold, 34, worked at restaurants in Philadelphia before moving to Spokane this past fall to run the wine program at Santé Restaurant & Charcuterie. Ahead of Restaurant Week, Arnold spoke to the Inlander about the art of pairing food and libations, and his innovative approach of wine "blending."
So tell us about this eye-opening Bordeaux.
ARNOLD: It was something that just let me know there was more to it than just the fermented grape juice. For me, it just showed a lot of fruit expressions up front. I was like, "Oh, this is really tasty," and then it just kind of sat on your palate, and then it changed. It got a little bit darker, a little bit more brooding, and then all of the sudden the tannins kicked in, and it just dried your mouth out about 15 seconds in. So it wasn't something that was very linear. It had expression; it had movement; it had power.
What does your day-to-day on the job consist of?
My primary responsibility is all the bottles you see behind me. It's a very small cellar from what I'm coming from, but it's very fun because I get to run a really tight, focused program.
What I love about Santé is that they're doing a very French style in Spokane. I actually limited the wine program, and I tried to really give it a core focus of the Pacific Northwest and France. I'm taking only Pacific Northwest wines — Washington and Oregon — and putting them up against French counterparts. That way, it's not just a scattered list. I'm going for the Twitter approach: Creativity through limitation.
Explain the art of pairing food and wine. Are there any rules of thumb to follow?
It's a guessing game. You're trying to find pairings that don't suck. There are a few pairings that work magic: Muscadet and oysters. Classic. What I look for is acidity to go with salt or fat. I look for the accompanying flavors. I also look for not just what your primary food is. Is there a cream-based sauce? Is there a green vegetable? You look at the dish as a whole, and then you try to fit the secondary components to the grapes. There are rules, but they're constantly being broken, like red wine and fish. That's dumb. Pinot noir goes with almost any fish. Pinot noir and salmon — that's a classic Oregon pairing.
How do you break those rules at Santé?
I'm trying to get a little bit avant-garde, and get away from the structure. I want to be free to really have fun with it: adding flavors, adding compounds, blending wines, even doing it tableside. Let's say we have a duck. What I'll do is pour a glass of pinot noir and add little bit of Côtes du Rhône, so then I'm also adding a little bit of herbaceous quality, to make the wine as a total even better for that duck than any wine I had by itself. I always do this tableside, so people know what I'm doing. I don't want to shock anyone — well, I do — but I want to be honest and upfront about it, because I think it's important. I think it's awesome. I think it's fun. ♦