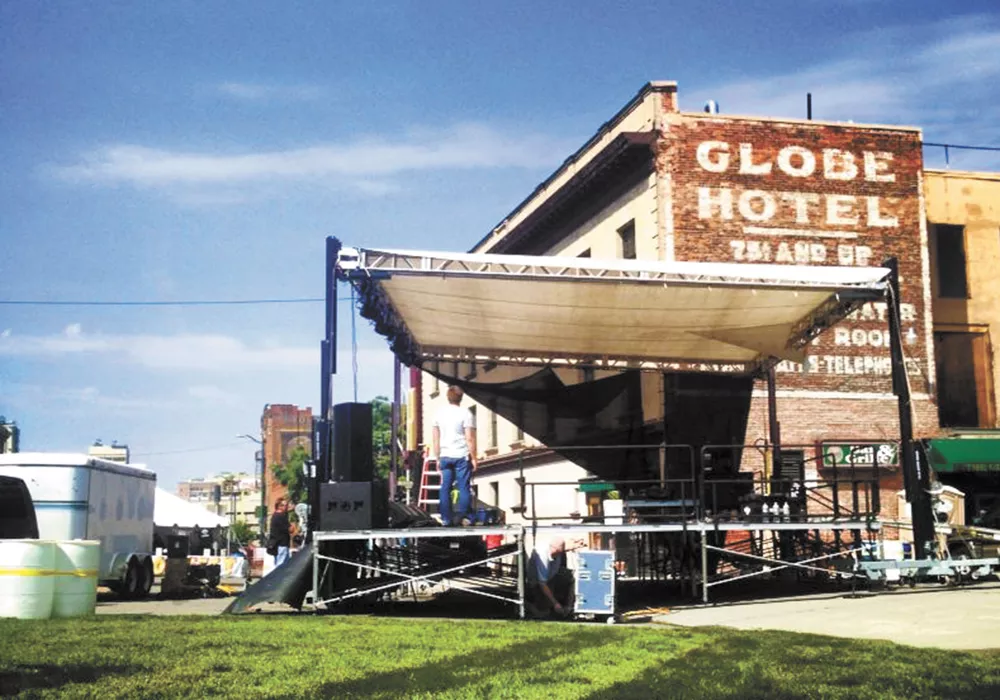 It's the show that means the most to him each year. John Blakesley coordinates multiple concerts and festivals, including Elk Fest, but once Gleason Fest comes around, it's about more than just music — there are so many emotions attached to the benefit project.
"I still remember when Kyle [Steve Gleason's brother] called and said, 'Let's throw Steve a party,'" recalls Blakesley, referring to when Gleason was officially diagnosed with amyotrophic lateral sclerosis (ALS) in 2011. "We didn't know how long he was going to be around. Here we are four years later, and I swear he's going to outlast some of us. He's so positive. He gets up every day and he has a better attitude than me."
Blakesley also attended Gonzaga Prep, where Gleason was a standout football player. Gleason's run at Washington State University and with the NFL's New Orleans Saints was an inspiration to Blakesley as well as his hometown. Now, through the Gleason Initiative Foundation, Gleason (who is unable to breathe or speak on his own) continues to inspire, educating the public on the specifics of his disease and raising money for medical research and assistance.
This year, after moving up the fundraiser to the beginning of August to fit Gleason's 20-year Gonzaga Prep July reunion into one Spokane trip, Gleason Fest is poised to host more people than ever. Last year's count was 1,200; the event sold out around 5 pm. Blakesley hopes to add about 300 people to that total. Expect an expanded rollout grass section in the middle of Division and Main, as well as water stations, guest appearances and a whole lot of good-for-the-soul tunes.
"Yeah, it's a fundraiser, but I try to remind everyone it's a celebration of life and love and music," Blakesley says. ♦
---
A SOCIALLY CONSCIOUS LINEUP
Nahko and Medicine for the People
Fresh off of a stint at Red Rocks Amphitheatre, this earthy "world" musical collective wants to bring everyone together in peace and harmony. (9:30 pm)
Rising Appalachia
They're just two Southern sisters working to realize the human journey through soulful, sensual and often jazzy musical collaborations. (7:15 pm)
Hey! is for Horses
It's the fourth time that John Blakesley's own act (all Gonzaga Prep alum) is on the bill, so feel free to think of the freestyle rockers as the house band of sorts. Blakesley plans to unveil a new song he wrote specifically for Gleason. (5:45 pm)
Real Life Rockaz
"Poncho" Paul Flores leads his band of merry musical activists through tunes that pull from reggae, hip-hop, Afro-funk, soul and experimental. (4:20 pm)
The Rustics
In the spirit of letting go and just living in the moment, these Spokane folksters are the perfect band to get the good vibes going. (3 pm)
Jus Wright!
While he now calls Hawaii home, this peace-lovin' reggae artist is back in his hometown this weekend touting a brand new EP. (2 pm) ♦
Gleason Fest feat. Nahko and Medicine for the People and more • Sat, Aug. 8, from 2-11 pm • $20 • All-ages • Division Street and Main Avenue • gleasonfest.org