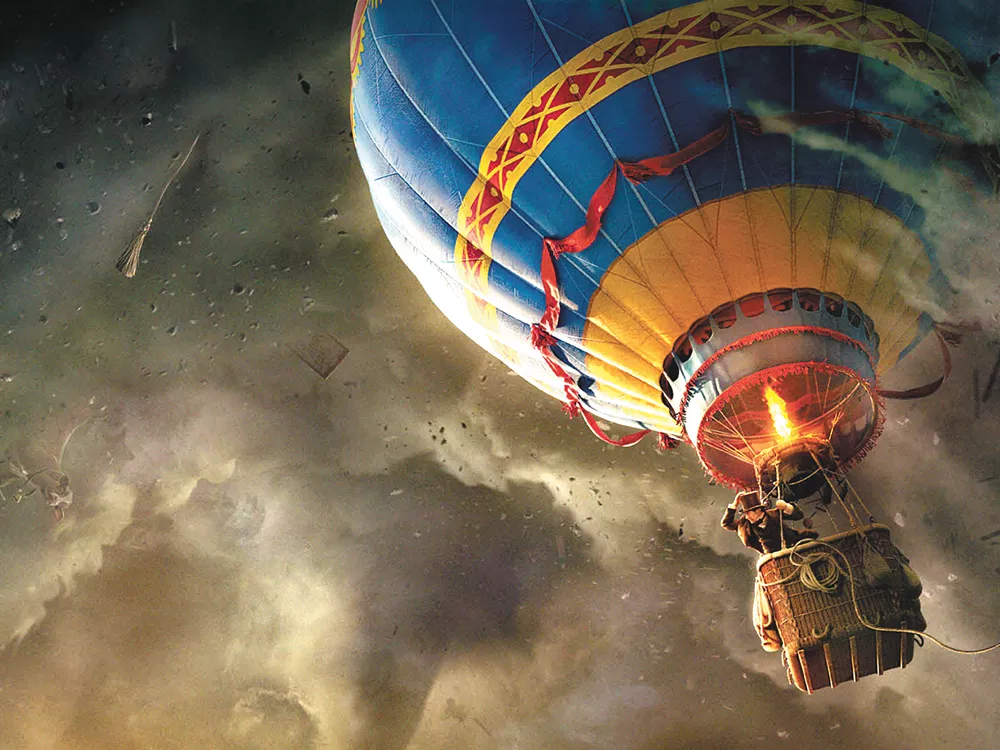 Whereas 2009's Drag Me to Hell proved that eating at the big kids' table in Hollywood hadn't curbed Sam Raimi's adolescent appetite for goofy gore, Oz the Great and Powerful suggests that he still has some more sophisticated tricks stowed up his blood-splattered sleeve.
After spending five years and $600 million sending Spider-Man swinging through Manhattan, he's finally crafted his first film capable of instilling a genuine sense of wonder in a viewer. Despite being a CGI-heavy affair, his Oz feels incredibly alive. Fueled by the same gleeful energy that drove Raimi's earliest work, it not only serves as a worthy tribute to the wonderland conceived by L. Frank Baum but also a celebration of moviemaking itself.
This prequel to the 1939 classic fittingly opens in a milieu where a young Raimi would've undoubtedly felt right at home: a circus sideshow circa 1905 where the ramshackle wooden structures instantly recall The Evil Dead's shoddy sets. This black-and-white chapter introduces Oscar "Oz" Diggs (James Franco), a low-rung magician/first-rate Lothario cut from the same cocksure cloth as Bruce Campbell's Ash. And in yet another nod to Raimi's no-budget origins, Oscar's "illusions" are but the products of smoke, mirrors, sound effects, barely concealed wires and, most important, ingenuity.
After stealing a hot air balloon to escape a jealous husband, Oscar is caught in the clutches of a rather familiar tornado. As he's tossed to and fro, Raimi confirms that his idea (and staging) of interdimensional travel hasn't changed any in the two decades since Army of Darkness. He also serves notice that he'll be employing a decidedly old-school approach to 3-D, primarily using the technology to send random objects (and, in good time, flying monkeys) hurtling toward the audience.
Dumped into a technicolor landscape of giant flowers and fluttering river pixies, Oscar realizes that he's not in Kansas anymore. Likewise, audiences are forced to accept that they're not in the Oz we all know from the original film. Admittedly, the digitally rendered sets take some getting used to. However, our immersion into this world is accelerated as soon as Theodora (Mila Kunis) makes her appearance. Alternately elated, anxious and needy, she manically informs Oscar that he's the "great wizard" prophesied to end the tyrannical reign of Glinda (Michelle Williams).
As Oscar dithers over accepting his supposed destiny, it's apparent that Raimi — along with screenwriters Mitchell Kapner and David Lindsay-Abaire — has devised the ideal blockbuster role for Franco. A reluctant star, Franco routinely seems detached in his most high-profile gigs. This inclination actually lends itself well to a self-involved protagonist who's initially hard-wired to shirk both sincerity and commitment but must learn that goodness trumps greatness. Perhaps owing to their long working relationship, Raimi gradually elicits an emotional involvement from Franco here that we never once glimpsed in the decidedly more earnest Rise of the Planet of the Apes.
Likewise, he draws an unexpectedly tragic performance from Kunis. Tormented by the lies of her conniving sister Evanora (Rachel Weisz) and plagued by her own insecurities, Theodora devolves into the green-skinned Wicked Witch who haunted countless childhood dreams. In turn (and as no surprise to anyone with a cursory knowledge of Baum's lore), it's revealed that Glinda is on the side of the angels and that it's actually Evanora and Theodora who Oscar must muster the motley denizens of Oz — munchkins included — against.
The climactic guerrilla assault Oz orchestrates against the occupied Emerald City is not only a brilliantly executed, highly imaginative set piece but also an impassioned testament to the glory of cinema. With this grand gesture, Raimi reminds us that movies are meant to be viewed with awe. After all, they're a form of magic.