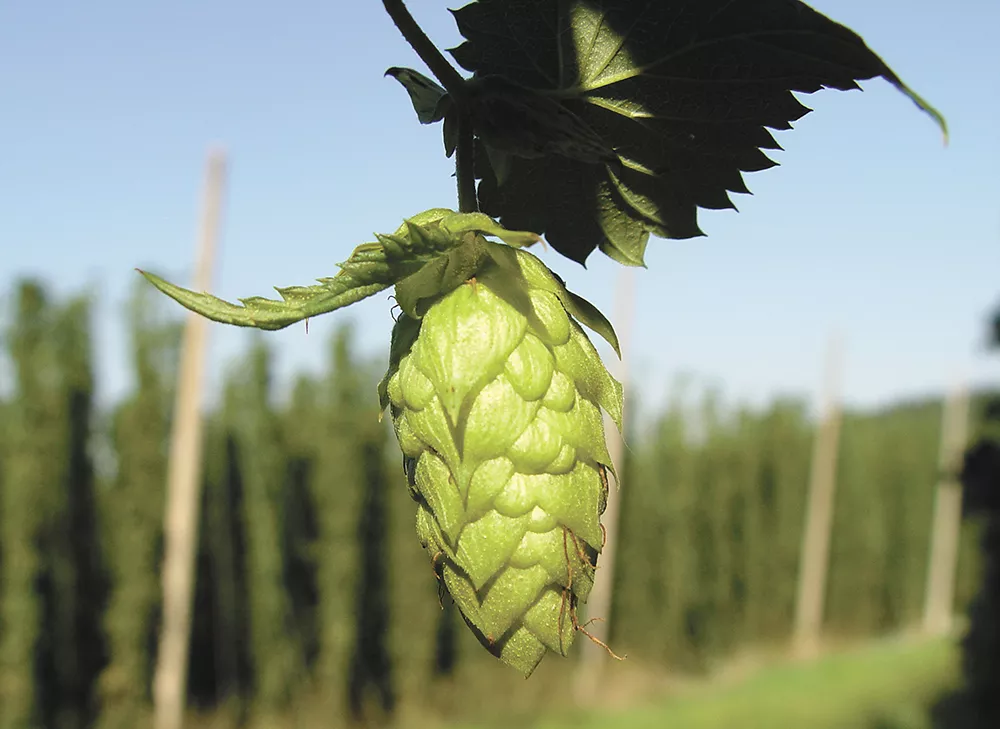 UPDATED with new dates for the Lantern Tap House's fresh hop festival, which was postponed due to high winds.
If you haven't gotten your fill of fresh hop beers yet, fear not. The best season on the beer calendar still has plenty of days left in it — and even more fresh hop beer debuts. There's also a trio of freshies for you to get your nose and taste buds on.
On Friday, Oct. 7, the Steel Barrel Taproom invites Seattle's Fremont Brewing to pour beers from the brewery's Field to Ferment fresh hop ale series. Steel Barrel also promises to infuse other local beers with fresh hops through the use of a Randall. The party kicks off at 6 pm.
This weekend, Manito Tap House celebrates five years in business with a customer appreciation party featuring $1 off draft pours, beginning at 11 am on Saturday, Oct. 8. They'll have at least 25 fresh hop beers on tap from around the region, and will give away goodies from 5 to 9 pm.
On Friday, Oct. 21 and Saturday, Oct. 22, the Lantern Tap House gets in on harvest season with their fourth-annual Freshtival, featuring more than 30 fresh hop beers, including a number of Seattle breweries. There's live music for the two-day event, which includes a special tasting for mug club members on Thursday, Oct. 20.
In other beer news, No-Li Brewhouse recently announced the addition of a third beer to its line of canned brews. The Red, White & No-Li Pale Ale will launch in 12-ounce aluminum, quite appropriately, on Election Day, Nov. 8. Speaking of No-Li, the brewery also announced its next small-batch beer festival — the Frost Fest, set for Dec. 10 at No-Li's riverside pub. Tickets are $15 and are on sale now.
The granddaddy of beer events — the Great American Beer Festival — takes place this weekend in Denver, and a few Inland Northwest breweries are making the trek. Only two breweries from our region, however, will have their beer included among the 3,500-plus offerings. Waddell's Brewing Co. from North Spokane is bringing their Hop Comet session ale, a blackberry sour and a Vienna lager to Colorado. Post Falls Brewing, though less than a year old, is also taking beer to GABF. They plan to pour their Coffee Catalyst Pale Ale and Stoney MacGuyver IPA.
You may have noticed another local offering in your grocery store beer aisle in recent weeks, as Spokane Valley's 12 String Brewing Co. has begun producing 22-ounce bottles. You'll find bottles of their Electric Slide Imperial IPA, Drop D Stout, Batch 201 IPA, Red Guitar Red Ale and Mango Mambo Hefeweizen at select grocers around the Inland Northwest, including Rosauers, Yoke's, Super 1, URM and a number of other bottle shops and boutique markets. ♦