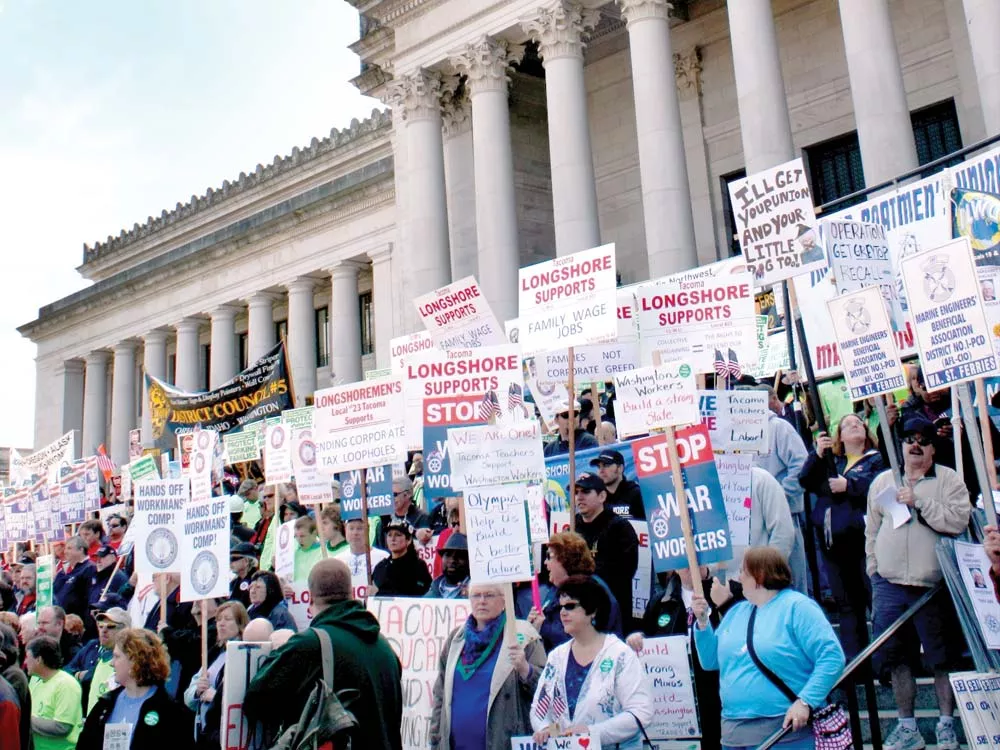 A couple of lessons out of Olympia last week:
Don't storm the governor's office. You'll be arrested. And don't lock the doors of the Capitol building, because Senate Majority Leader Lisa Brown — who studied labor history as a graduate student — might get angry and cancel the Senate.
This happened last week when thousands of protesters crowded the Capitol rotunda's steps, and Washington State Patrol troopers put the building under lockdown. The protestors were there in an attempt to convince the Legislature to end corporate tax breaks instead of cutting services provided by the state.
It didn't work. The following day, the House slashed $4.4 billion from state spending anyway, passing its budget with a 53-43 vote. The Senate is releasing its version of the budget this week and the two bodies must agree on cuts by April 24.
With governments (almost) shutting down, legislative sessions lasting record lengths and billiondollar budgets busting all kinds of banks, governments around the country are pissing people off. We thought it was time to shed a little light on what it all means.
WASHINGTON STATE: It's the water
House Democrats in Olympia praised themselves Saturday for the great job they did crafting this year's budget.
"This budget is responsible," Rep. Ross Hunter, D-Bellevue, chairman of the House Ways and Means committee, was quoted as saying by the AP. "We spend less in this budget, in this biennium, than the revenues we expect to bring in."
And they did that by cutting higher education by $485 million, and taking $216 million from early education programs. The budget also stops automatic increases to state worker retirement programs, saving $360 million, and cuts salaries for the same employees, saving another $177 million.
All of which came out of a two-year budget totaling $32.4 billion.
"There are a lot of things in there I don't like," says Rep. Andy Billig, D-Spokane.
"I don't like the reduction in home care hours for home care clients. I don't like the cuts to higher ed."
But Billig did vote for the budget, he says, because there were some things in it that he valued. "I like that we protected 650,000 children on the Apple Health Care program. … That's crucial to our entire health system."
Aside from funding that concerns the entire state, the budget had some particulars that affect just Spokane.
"With a city as big as Spokane, you get touched by a lot of things" in the budget, says Al Aldrich, who lobbies for the city of Spokane.
Sheila Collins, the government relations and outreach coordinator for the city, agrees. She says the city didn't fare too poorly in the House budget.
"Everything's changed, as we knew it would," she says, referring to the city's "State Legislative Agenda" sheet she helped craft, which was adopted by the City Council in December. "The things that we work on collectively with other cities have gone well."
Specifically, she pointed to a $1 million grant acquired by the city's park and recreation department to help pay for the acquisition of the YMCA building in Riverfront Park, which is currently being demolished.
Also, the city secured a $5.7 million loan toward its efforts to separate storm and wastewater, a longtime goal.
"That's the city's largest public works project, aside from streets and roads," Collins says. "It's a $700 million project."
Additionally, in the House's capital budget, Eastern Washington University will receive $30 million to renovate Patterson Hall. Spokane Falls Community College will get $20 million for classrooms. And $35 million will go toward a medical school in the University District — officially called the Washington State University Spokane Riverpoint Biomedical and Health Services Facility.
Funds to the medical school have been criticized by the governor, but Collins says she should be forgiven.
"The governor's not against the medical school," Collins says. "She's against creating more debt."
The House has also earmarked $220,000 for the Northeast Community Center, and Second Harvest Food Bank will get $1.25 million to expand its distribution center.
With less than two weeks left of the 105-day regular session, lawmakers will take it down to the wire. Two weeks remain before both houses have to agree on how they will cut about $5 billion.
"It's certainly possible for them to finish on time," says Aldrich, the city's lobbyist. "But the odds are against it. Business people would knuckle down and do it. But these are electeds, with principles, constituencies, et cetera.
It's harder for them to strike a deal and reach compromise."
Collins suggests there is a chance the Legislature will wrap things up on time. "I've seen stranger things happen," she says. If lawmakers don't finish the budget on time, the governor will have to call a special session to finish negotiations.
THE FEDS: Shutting It Down
Last Friday, President Obama, U.S. Senate Majority Leader Harry Reid and House Speaker John Boehner barely avoided a government shutdown, which would have been a first since the days of Clinton and Gingrich 15 years ago.
With less than two hours to spare, a deal was reached cutting $38 billion, or about 1 percent, from the $3.7 trillion federal budget.
Raul Labrador, who represents western Idaho and the Panhandle, took Democrats to task for not making "tough choices."
"With no plans of their own," Labrador said in a statement before the deal was struck, Democrats "have resorted to petty insults and schoolyard taunts, allowing the House Republicans to make the tough choices they themselves have been too scared to embrace. Once again President Obama, our Bystander-in-Chief, has proven himself incapable of leading even those of his own party."
Then he voted against his own party's leadership, one of the few Republicans to do so. Cathy McMorris Rodgers, a Republican who represents Eastern Washington, voted for the deal.
The cuts were hailed by Obama as both "historic" and "painful." "Programs people rely on will be cut back," he said from the White House. "Needed infrastructure projects will be delayed."
But an analysis by the AP found that Obama was able to preserve his "favorite programs," such as Pell grants for poor college students and funds for health research, among others. Instead, the cuts were made to earmarks, unspent Census funds and unused federal highway money that had already expired.
"These are electeds, with principles, constituencies, etc. It's harder for them to strike a deal, and reach compromise."
— Al Aldrich, Spokane's lobbyist
For his part, Boehner found the silver lining in the near debacle. "Clearly, after spending the last five or six weeks in pretty close contact with the president, I think we've understood more about each other," he told Fox News. "We've developed a process that may allow the debate to go forward. But understand, ideologically there are giant differences between the president and myself."
IDAHO: "It wasn't pretty"
State parks will get corporate sponsors. Assisted suicide is now a felony. Some of the strictest abortion limits in the nation were put in place.
These are some of the highlights from Idaho's legislative session, which wrapped up last week.
But hey, Idaho lawmakers crow, at least taxes weren't raised. The Idaho GOP, which holds more than 80 percent of the legislative seats, is proud of that accomplishment.
"We balanced our budget — it wasn't pretty, but we did it," state Sen. Joyce Broadsword, R-Sagle, told the Spokesman-Review.
Here are some of the not-so-pretty highlights: Public schools received a $47 million cut. A plan to strip collective bargaining rights for teachers in favor of merit pay passed.
Voters now must register by political party for the first time in Idaho's history. Additionally, powerful Republican committee chairs brought bills to a vote without holding a hearing, angering the tiny minority party. Because of this partisanship, the Idaho Press-Tribune gave the Legislature an 'F' for its political gamesmanship.
And, due to the Legislature cutting everything from Medicaid to higher education, the state did not go into debt, making it one of the few states to improve its S&P credit rating.
BACK IN OLYMPIA: Two-thirds Majority
Back in Olympia, lawmakers — still in the throes of hammering out a budget — are attempting to address the dispersed protesters' demands.
When the House passed its budget, and the protesters and their sleeping bags were kicked out of the rotunda, many thought the conversation about tax loopholes was over. (There are 567 loopholes on the books, totaling $98.5 billion.)
But on Monday, the 11 freshman Democratic House members known as the "11 in 2011" introduced House Bill 2078 with 48 cosponsors, intending to eliminate $170 million in tax exemptions. The money would be re-directed to create smaller class sizes for kids in kindergarten through third grade.
Billig, who represents Spokane and helped bring the bill to life, says the tax exemption mainly benefits "the largest banks, the Wall Street banks" that hold mortgage insurance worth more than $100 million. "Community banks won't be affected" by closing the tax loophole, he says. To pass, the bill needs a two-thirds majority vote in both House and Senate — a requirement approved by voters last fall. But that doesn't daunt Billig.
"There's obviously a lot of support for it," he says, mentioning the number of co-sponsors. "I think we ought to have the debate. When people really look at it and say, 'What are our priorities?,' they'll say investing in school children is more important than tax breaks for banks."