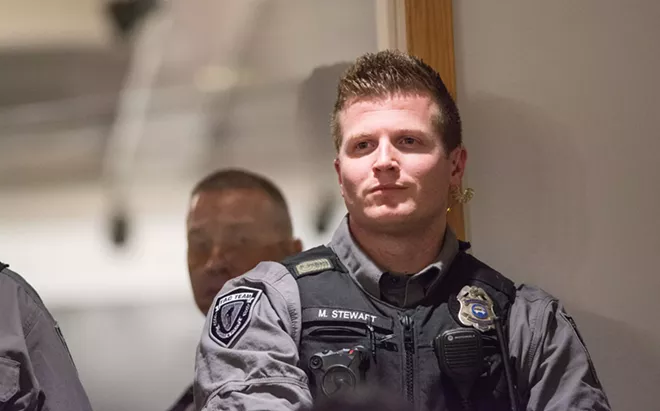 A
s the Spokane City Council meeting dragged on last week
, a squad of Spokane Police officers in
TAC team
gear, linger in the back. The officers were responding to ongoing concerns about unspecified serious threats, potentially related to the ongoing debate over the anti-abortion Church At Planned Parenthood.
The meeting lasts hours — but a handful of people manage to stick around until the second open forum at the tail end, the time of the meeting when almost anyone can talk about anything. The City Council recently changed the rules to allow anyone to speak at the second open forum every week, even if they spoke the prior week.
But one public forum speaker, Eric Hennies, starts by talking about how Washington state Rep. Matt Shea, from Spokane Valley, has labeled his girlfriend and her friends "tyrants" for speaking against Shea and the local Church of Planned Parenthood. But he's only a few seconds into his speech when he's interrupted with a point of order from the council.
"This is not city business," Councilwoman Lori Kinnear says.
"Make sure that you talk about city issues and city business," City Council President Breean Beggs says.
But with that, Councilwoman Kate Burke objects.
"I'm going to push back on that ruling," Burke says. "I just feel like we're here to listen to the concerns of the people in our community. These are people who live and work in our community and want to share their opinions."
For years, the Spokane City Council has had a number of rules for citizens during their open public forum, including rules requiring speakers to only talk about city issues. Yet when Ben Stuckart wielded the City Council gavel, he enforced rules barring profanity and speeches going longer than three minutes, but he rarely if ever stopped public forum commenters from talking about issues that had nothing to do with the city of Spokane.
But Beggs, an attorney, has shown more willingness to enforce this rule.
Burke is concerned about the rules themselves.
"I'm just concerned that if we start limiting conversation and public testimony, is that infringing on people's rights?" Burke says.
And her conservative colleague, Councilman Michael Cathcart, agrees.
"I guess my sense has always been that talk about just about anything during the open forum period," Cathcart says. "I think, it kind of gets to a point where we're maybe stifling some free speech. It's just so open to interpretation the way that's written."
✖
Burke concurs.
"If we start making rulings on specific conversations and topics, it's going to become a real dangerous area for us to go into," Burke says. "If somebody brought a complaint about something related to Medical Lake, do we not listen to them, even if they live in our city?... So I just fear that if we're going down this path, we're going to be able to do point-of-orders on anybody we want to."
Councilwoman Karen Stratton sounds torn.
"I know we don't want to incite violence, and I know this has been a topic in some of these public discussions and a fear," Stratton says. "I know we want to protect people. But I think there's a point where we have a right [to allow people to have their say,] as long as it's not threatening and it's peaceful and we're not throwing rocks at somebody."
Kinnear noted that she — and Beggs — had been targeted by Shea
in some of his secret chat messages.
"Of course, that affects me," Kinnear says. "I want to be careful that we're prioritizing city business in the city of Spokane."
Burke also objects to the rule preventing citizens from speaking about ordinances that would be on future agendas.
"I want to hear from constituents, landlords, tenants, people are experiencing homelessness — the gamut on anything that comes up," Burke says.
Beggs and Kinnear both express openness to changing the rules. But they argue that the current rules prevented public forum speakers from talking about feeling threatened by Rep. Matt Shea, the rest of the council disagreed, overriding Beggs' ruling. It was official: Eric Hennies would be able to continue to speak.
By that time, however, he is gone.
The debate wasn't in vain, however. Cathcart and Burke say they're working on changing the open forum rules, possibly as soon as next week.
"I would prefer it if people were talking about issues that were actionable about the council or the administration," Cathcart says. "But it's an open forum. Our job is to listen... I don't think we should be saying your speech is allowed or yours isn't."
And at Monday night's City Council meeting, the commenters were given quite a bit more leeway.
"'City affairs' are interpreted broadly," Beggs told the audience.
And indeed, when civic gadfly George McGrath spent most of his three minutes at public forum decrying national Democrats for how they handled Trump impeachment proceedings, nobody tried to stop him.