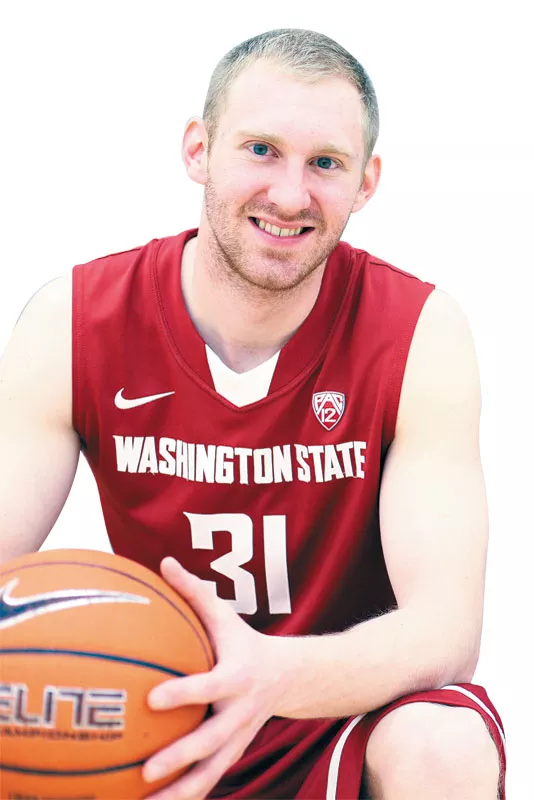 John Abraham Lodwick has been living and breathing basketball for nine years — five in Pullman (including one as a red-shirt) and four in high school in Bend, Ore., before that. He's lived what every kid dribbling away the hours in the driveway dreams about — a chance to play under the bright lights of the NCAA.
Lodwick was kind of the consummate Coug — scrapping for playing time, earning 23 minutes a game in both his junior and senior years. He even landed on the PAC-12's all-academic team this year.
Lodwick lit it up as a senior, with 46 percent shooting from behind the three-point stripe. He came on strong at the end of the season, too, especially in the CBI tournament, helping fi ll in for injured teammate Brock Motum. In his final home game, he scored 16 points against the University of Pittsburgh. And he's ready for more — he says next year he hopes to test his talents in the international pro basketball leagues.
We asked Lodwick to reflect on what sports have meant to him and the state of affairs for kids wanting to follow in his footsteps.
What have you learned from playing basketball that will help you off the court?
It's taught me how to deal with adversity — how to deal with other people who aren't doing what you want them to do. It's taught me how to lead. I've been fortunate enough to be the captain of the team for the last three years, and each year I've learned more and more. It's taught me people skills. It's taught me how to handle pressure — I mean, after being in front of 10,000 people, you know, it makes a job interview a lot more realistic.
It puts things in perspective. It definitely makes you thankful. It's very humbling to have so many people supporting you.
What advice can you share about how you stay healthy?
Good stretching, eating right, knowing when to rest and getting a lot of rest are really important. When I was a little bit younger, even in my first couple of years in college, on off days I would go in and shoot and do extra stuff. As I got older, for me it was just as beneficial to stay off my legs and take some time off. Especially mentally — just to mentally be fresh and rested, that goes a long way.
It's not so long ago that you were playing youth sports, but just since that time, have you noticed sports becoming a more intense experience for kids?
Definitely. I see a huge change. Especially on AAU [Amateur Athletic Union] teams, all-star teams, travel teams. I started late when it comes to AAU. I didn't start playing AAU 'til I was in high school. A lot of parents and a lot of kids think that [AAU] is what you need to do to get exposure, to get a scholarship.
I was one of those kids growing up where basketball was the only sport I played. And on one hand, that's the reason I'm here right now, because I was able to focus on that and play year-round. I feel like a lot more kids are doing that these days, but I would encourage them to play as many sports as possible.
I think it's cool when a kid plays three or four sports. I wish I would have done that.
What about the role of adults and parents in kids sports?
I can see how parents can get bent out shape. I know that burns out a lot of coaches. I've known a couple coaches — they're well-intentioned, but they don't want to deal with it anymore just because of the parents. That's too bad, because it ruins it for the kids. It gets kind of embarrassing, you know, when there's some crazy guy yelling in the bleachers. Don't get me wrong — I love the competitive atmosphere. It's fun when the crowd's into it. I just don't like it when there's that one parent, yelling at the coach or a player. It's not their place. If you're frustrated, talk to them behind closed doors.
What's your advice for the kid who is probably not going to go on to college athletics?
Enjoy it. Whatever level you're at, just enjoy it. People get too wrapped up in trying to get to the next level. They forget to enjoy the time they're in now. I think for me, this year, I was just able to really enjoy being here and playing college basketball, not really worrying about the future. For kids who maybe don't really have the tools to go to the next level, that's OK. They're gonna find their niche somewhere, and I would hope their coaches would still cultivate a good relationship with them, and create a good experience with basketball or whatever sport they're playing.