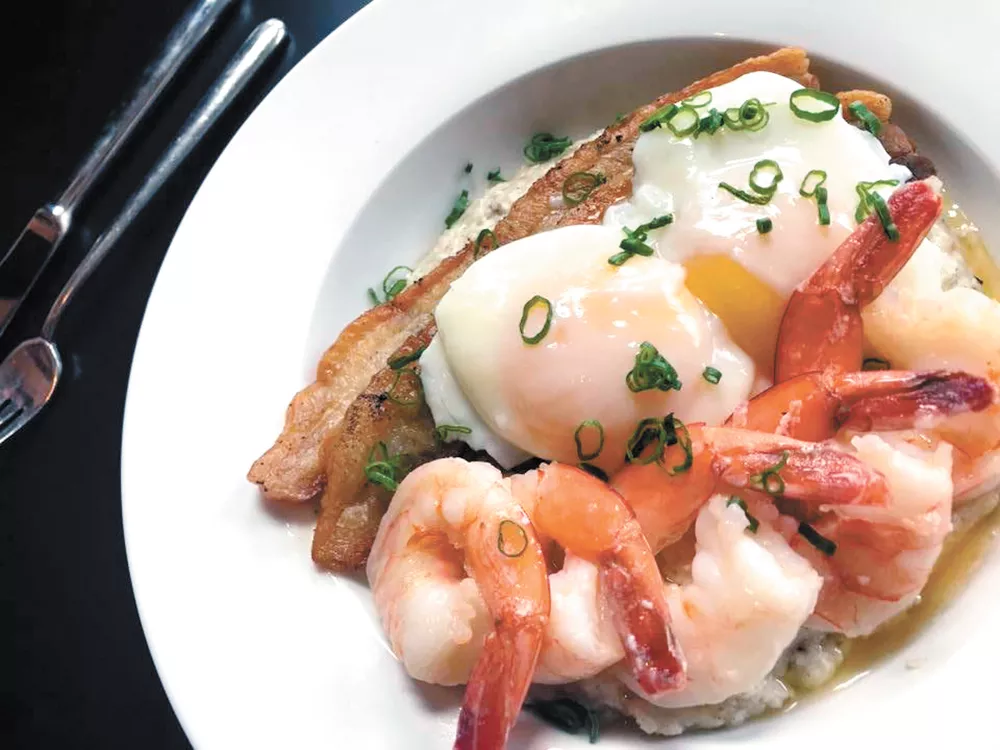 Third time's a charm? Adam Hegsted has spent years at 317 Sherman Ave. — in 2007 as executive chef at Brix, and again in 2014 when it was the Cellar — yet this time around it's different, says the entrepreneurial chef and owner/founder of EatGoodGroup.
"This is the version of the restaurant I always thought it should be," says Hegsted, surveying Honey Eatery & Social Club, his newest restaurant which opened earlier this month.
Two days before its soft opening, Honey was appropriately abuzz as friends and family sampled from the menu. The revamped décor was mostly complete, featuring new seating, lighting and artwork — bee-themed murals on exposed brick, honeycomb-shaped stained glass sparkling in the windows — while staff, many of whom have worked for Hegsted in his eight other restaurants, navigated the mostly complete dining room with apparent ease.
That's not to say there weren't hiccups. Some seating hadn't arrived, and somehow the coffee filters — Honey will serve Roast House, which Hegsted also favors at his two Kendall Yards restaurants — were incorrect. The downstairs bar portion of the restaurant, Honey Social Club, is also not set to open for a few more weeks.
Hegsted flashed his trademark boyish grin and shrugged, looking much the same as he has in every industry photo since his first job as a 22-year-old chef at Cedars Floating Restaurant in Coeur d'Alene.
"We've messed up enough stuff and enough times that there's barely anything that can't be fixed," says the now 38-year-old Hegsted, who's worked the gamut of regional restaurants, participated in and created benchmark culinary events like Crave! Northwest, now in its second year, and earned high-level, broad-based recognition for his spin on Northwest comfort foods.
The Honey menu ranges in price point and encourages sharing with snacks like bacon-wrapped dates ($5) and Scotch quail eggs wrapped in sausage, breaded and fried ($6). Try the eggs benedict with trout ($12), toast (from Hegsted's Doughlicious bakery) with ricotta and seasonal jam ($7) or a sourdough waffle smothered in honey butter ($10).
Bowls and plates offer larger portions, like the wild rice grits with grilled shrimp ($16) or a Thai-roasted chicken salad ($12). Hegsted is especially proud of his fried chicken ($14/$19).
"It's hard to do in a restaurant setting," he says, adding that he's been tinkering for years to get it just right.
You might say the same for his approach to the food industry. Focus, persistence and a healthy relationship with risk are all part of the formula for Hegsted, who once described not winning a contest as an opportunity to learn — though the competition and ensuing coverage helped put Hegsted on the map.
Over the past decade and a half, Hegsted has also learned how to handle the inherent stresses of the food industry.
Hegsted reflects on the recent loss of industry icon Anthony Bourdain. He and his staff both have had their "Bourdain moments," says the chef, whose food enterprise employs roughly 160 people.
What's important to him isn't partying nor being a celebrity. Being a mentor and being part of a community are what makes him happiest. That, and another shot at turning the former Cellar into the kind of place locals might want.
"I want it to be great," he says. "I want to have a place I can go to, too."
Honey Eatery & Social Club • 317 Sherman Ave., Coeur d'Alene • Open Sun-Mon 7 am-5 pm, Tue-Thu 7 am-10 pm, Fri-Sat 10 am-midnight • facebook.com/honeyeateryandsocialclub • 208-930-1514
Though Honey Eatery is open now, the Social Club opens July 7, with two sneak-peek events on June 28 and July 6, both benefiting the Inland Northwest Food Network, on whose board Hegsted serves. See Facebook for details.