Big Star, Complete Third, Vol. 3: Final Masters
The greatest power-pop band of them all, Big Star had broken up by the time its third album, the aptly-titled Third, was released to zero fanfare in 1978. Complete Third, now spanning three separate vinyl sets, is an exhaustive document of the brilliant but troubled album's creation, using alternate takes and B-sides to explore the dissolution of a band that didn't get its proper due during its lifespan. It's for Big Star completists only, but consider me one. (NW)
Bruce Springsteen and the E Street Band, Hammersmith Odeon London '75
Even if you only have a passing interest in his music, seeing the Boss in concert should be at the top of any rock fan's bucket list. Live recordings of the E Street Band are a dime a dozen, but this particular show, making its vinyl debut, is legendary: It was Springsteen's first performance outside the U.S., and the set list included six tracks from his recently released masterpiece Born to Run. (NW)
The Cars, Live at the Agora 1978
One of my fondest childhood memories is seeing the Cars on their Heartbeat City tour with my oldest sister, one of my first concerts. While the band wasn't particularly flashy on stage, I've always loved their power-pop tunes. This live set was recorded in Cleveland just as the band was blowing up, and the double LP features versions of "My Best Friend's Girl," "Moving in Stereo" and "Just What I Needed" that I'm dying to hear. (DN)
Cheap Trick, The Epic Archive Vol. 1
Rock fans come in two forms — those who recognize the greatness of Cheap Trick, and those who are wrong. The vinyl debut of this set of tunes recorded between 1975 and '79 offers ample proof, blending outtakes, hits and soundtrack rarities that showcase their blend of rock and power-pop. You get track-by-track liner notes from drummer Bun E. Carlos, too. (DN)
Harry Nilsson, Nilsson Schmilsson
Nilsson is one of the unheralded pop geniuses of the '60s and '70s, an ace songwriter whose career was derailed by personal demons, and this 1971 album is perhaps the clearest distillation of his musical persona — quirky, unpredictable, melodic, undeniably catchy. I've already got Nilsson Schmilsson on vinyl, but I might swap it out for this special RSD edition, which is pressed on yellow-and-white wax. (NW)
Jason Isbell and the 400 Unit, Welcome to 1979
One great aspect of Record Store Day when it comes to active artists is that you might get a nice unexpected release between proper albums. So it is with Americana ace Jason Isbell, who's releasing a new set this summer called The Nashville Sound. For RSD, Isbell is offering this EP of covers, featuring his takes on John Prine, Bruce Springsteen and a couple of Rolling Stones songs. I've heard him crush "Can't You Hear Me Knocking," and I'd love to have it at my fingertips. (DN)
Just Say 50: Sire Records 50th Anniversary Box
This limited edition box set, previously issued on CD, boasts four LPs of diverse material, covering five decades of the beloved label's releases. Though best known for its roster of bands that were at the center of the new wave and punk movements, Sire's catalog features a staggering array of artists and genres. Talking Heads, Madonna, My Bloody Valentine, Wilco, Ice-T — they're all here. (NW)
The Notorious B.I.G., Born Again
I can't pretend this double LP is the best of Biggie: Born Again was a posthumous release that cobbled together scraps of his vocals with new recordings by Busta Rhymes, Method Man, Ice Cube and Missy Elliott, among others. But the set, originally released in December 1999, has been out of print for about 15 years, and it serves as a nice commemoration of the 20th anniversary of the death of one of the greatest rappers ever. (DN)
Prince, "Little Red Corvette"/"1999"
The incomparable Prince died less than a week after last year's Record Store Day, so it's no surprise that this year's batch includes some tantalizing collectible releases. There are a handful of Prince vinyl singles to choose from (be on the lookout for that "Batdance" 12-inch), but if I happen upon this one, featuring two of Prince's greatest songs and emblazoned with a badass picture of the Purple One, I'm snatching it up. (NW)
Superchunk, Cup of Sand
I have this 2003 rarities and singles set on CD, but there's good reason to pick it up for its first-ever vinyl release, not the least of which is the inclusion of three additional songs from long out-of-print compilations. Superchunk makes some great albums, but singles and one-off recordings have always brought out perfect three-minute blasts of rawk from the North Carolina quartet. Remastered for this triple LP, they should sound better than ever. (DN) ♦
---
VINYL VENDORS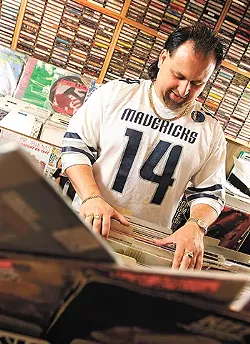 If you're looking to celebrate Record Store Day on Saturday and have your heart set on any of the special, limited-edition releases that have been announced, you may want to avoid sleeping in. Quantities are limited — that's what makes them special — and it's not always guaranteed that local stores will get the records they've requested, which adds to the treasure-hunt appeal of the event.
We thumbed through the sales being advertised by area record stores participating in Record Store Day, and here's what you can expect if you venture out this weekend.
4000 Holes, 1610 N. Monroe: One of the elder statesmen of Spokane record stores, 4000 Holes will have a huge slate of limited Record Store Day releases available on Saturday morning. They'll also be offering, as they do every year, some live in-store music at 2 pm, with performances from local alt-rock trio Idol Hands and Broach. The store opens at 9 am.
Garageland, 230 W. Riverside: Over the last couple of weeks, Garageland's Facebook page has been teasing its Record Store Day haul, and the names they've dropped (Johnny Cash, Pearl Jam, Andre 3000, Fleetwood Mac and many more) are enough to make you line up before doors open at 9 am. The best thing about browsing at Garageland? You can enjoy a Bloody Mary while you do it.
Groove Merchants, 905 W. Garland: This Garland District establishment really seems to value quality over quantity: Even though they don't have much square footage to work with, I've found they have one of the best vinyl collections in town. Starting at 10 am on Saturday, 10 percent will be knocked off the prices of everything in stock, and there will be tables in front of the store with even more heavily discounted merchandise.
The Long Ear, 1620 N. Government Way, CdA: Even if you're not an Idaho resident, visiting Coeur d'Alene's crown jewel of record stores, in operation in various locations since 1973, is definitely worth the drive east. The Long Ear tends to get an impressive haul of Record Store Day releases, and they'll be posting a complete list of said albums on their Facebook page on Friday. Keep an eye out.
Recorded Memories, 1902 N. Hamilton: Wax junkies are bound to go gaga for this long-established Spokane record shop, which is close to bursting with floor-to-ceiling CDs, tapes and vinyl, as well as wall-to-wall photos of owner Richard Terzieff with every music superstar imaginable. For RSD, Recorded Memories will be open extra early with a sidewalk sale and a selection of limited-edition issues from such artists as U2, Emmylou Harris and the Doors.
Resurrection Records, 1921 W. Northwest Blvd.: One of the newer kids on the vinyl block, Resurrection Records has already cultivated a devoted fan base with its diverse selection, in-store shows and a prominent social media presence. They're opening at 9 am on Record Store Day, and they'll have plenty of those limited-edition releases to get your mitts on. You can also take advantage of their buy one, get one free sale on all items running $5 or less.
— NATHAN WEINBENDER