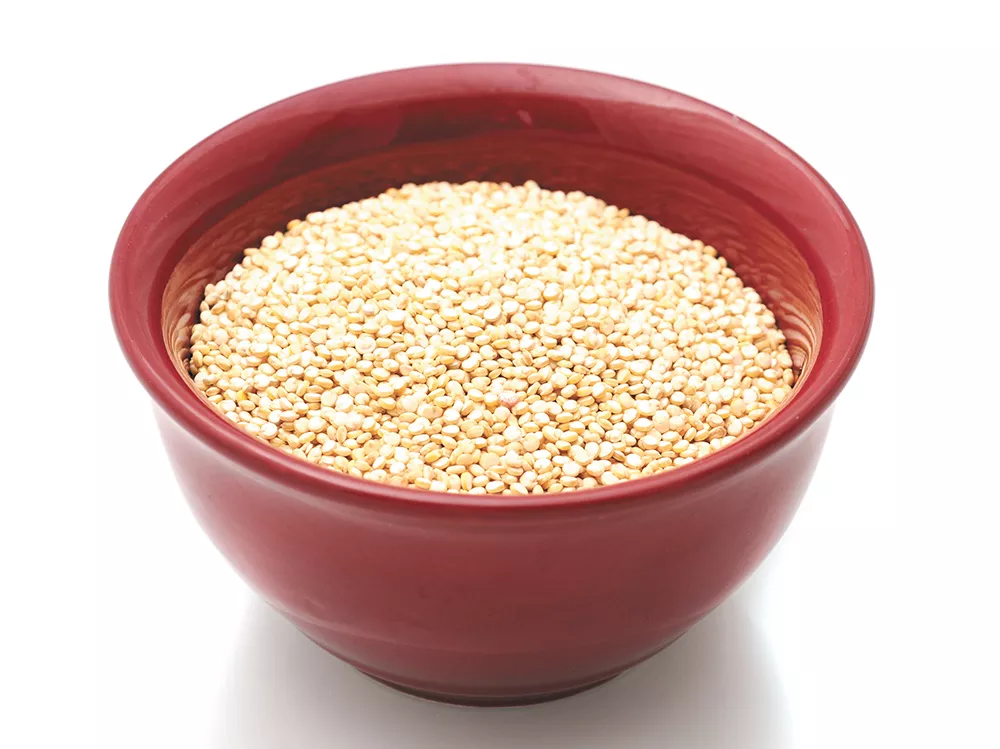 There's something missing from the glass case inside Washington State University's College of Agriculture, Human Resources and Natural Sciences building. Its contents — wine, apples, honey, Cougar Gold cheese — attest to the university's 123-year-old legacy of food systems education. What you don't see, at least not yet, are countless food items currently being developed or studied, like quinoa, a powerful food source being tested throughout the wheat-dominated Palouse and beyond.
Measuring about two millimeters per seed, quinoa offers complete protein, comparable to animal protein, with more than the eight recommended amino acids. It's high in fiber, iron and Vitamin B, yet contains neither gluten nor cholesterol.
It has steadily gained favor with consumers outside the Andes in South America, where quinoa has been cultivated for more than 5,000 years in some of the world's harshest climates. It's resilient in drought, frost and even salty soils.
Where else could it grow? That what Kevin Murphy, who leads WSU's research team, the Sustainable Seed Systems lab, began wondering. The team studies such crops as buckwheat, millet, spelt, amaranth, quinoa, teff (a grass native to Ethiopia) and even oca (a South American tuber).
In 2010, he wrote a $15,000 Organic Farming & Research Foundation grant to study quinoa. At the time, WSU's breeding program focused on wheat, barley and legumes, which were already prominent and established regional crops. When 34 of the 44 varieties they planted failed to produce seeds, Murphy was undaunted.
He convinced WSU to broaden the department's scope to include alternative crops and wrote another, larger grant — $1.6 million from the U.S. Department of Agriculture.
Murphy also partnered with local farms like the 7,000-acre Clark Farms in Albion, Washington. "It's the farmers who are driving the research," says Murphy.
"I think a huge weakness in our agronomic system here is our lack of diversity in the crops we're growing," says Clark Farms' Ian Clark.
Currently pursing a Masters in Crop Science at WSU, Clark represents five generations of farming. He's also the great-grandson of former state senator Asa V. Clark, Sr., whose 1955 agricultural exchange trip to the Soviet Union raised some eyebrows, he says.
He has planted 2 to 3 acres of quinoa at Clark Farms. Some farmers, says Clark, are curious, while others expressed concern; quinoa, it turns out, resembles lambsquarters, which although edible, is a dreaded wheatfield weed.
Clark doesn't see farmers forsaking wheat anytime soon, yet he recognizes quinoa's potential in crop rotation and acknowledges its growing popularity as a food source. Processing quinoa, however, remains an issue.
Prior to use, quinoa must be vigorously washed to remove bitter, even toxic substances called saponins. Although a French, saponin-free variety of quinoa is available — RimRock Ranches farmers Jim Hermann and his son Sam grew some on their Idaho, farm — one bottleneck to widespread commercial production is the need for a nearby processing plant.
While Clark Seed in Idaho Falls, Idaho, has launched a Kickstarter campaign to build one, Bolivia-based Andean Naturals expects to have its Yuba City, California, plant online by the end of the year.
"Our initial capacity is 4.3 million pounds per year, plenty to process all quinoa grown in the U.S. and Canada," says quinoa specialist Sergio Nuñez de Arco.
It's none too soon. According to the Food and Agriculture Organization of the United Nations (FAO), quinoa cultivation now occurs in more than 70 countries. While Peru and Bolivia still dominate, it's being grown on every habitable continent in the world.That's due in part to efforts by research teams like those at WSU, which in 2013 — FAO's International Year of Quinoa — hosted an International Quinoa Research Symposium.
Since then, WSU's team has expanded growth trials to such diverse climates as Washington's Olympic Peninsula, Idaho's paanhandle and Oregon, as well as the African countries of Malawi and Rwanda. Murphy has worked with interested parties in Denmark, France, the United Kingdom and Holland and sent seeds to the United Arab Emirates, which recently predicted they'd have a sustainable commercial operation by 2021.
For his part, Murphy is optimistic about quinoa, which has shown promise in growth trials. He's also cautious, because there's no magic or perfect crop: "That's what people thought about wheat and corn. We have to focus on the whole farming system." ♦