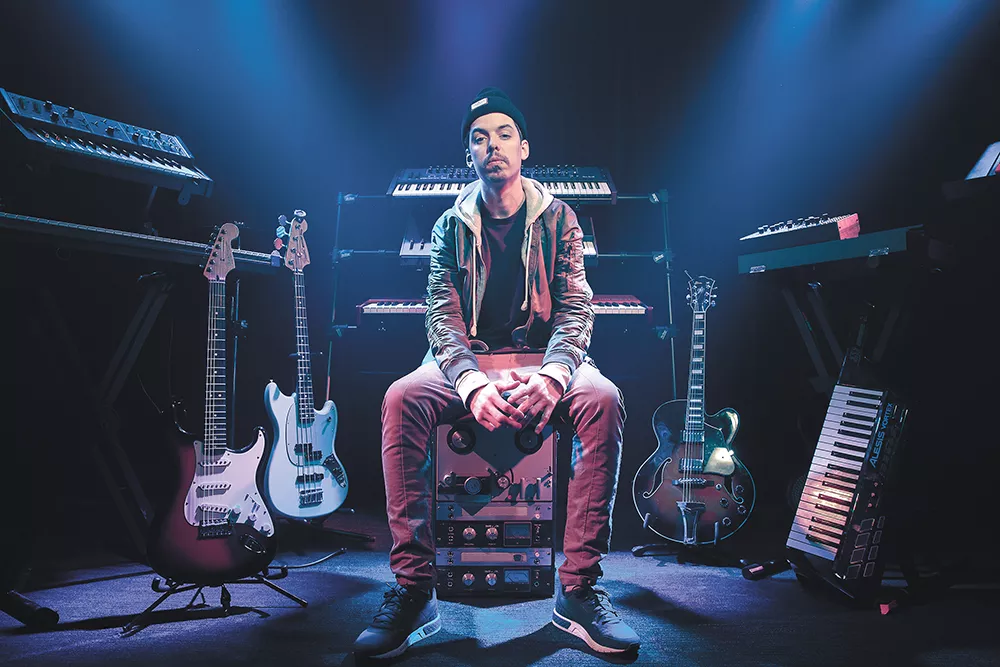 Grieves has always used music to talk about what's happening in his life. After tackling dark subject matter like addiction, heartbreak and living in poverty on his third and fourth records — Together/Apart (2011) and Winter & the Wolves (2014) — Grieves was typecast as an emo rapper. Fans expected him to be miserable. But after a certain point, that didn't really line up with his life anymore. In fact, the Seattle-based rapper has been having fun for years.
"I get to make music for a living and travel the world," he says, "but I never talked about it. I never expressed that joy and never translated that sense of fun to the record, and I wanted to do that this time around."
Grieves (real name Benjamin Laub) recently spoke to the Inlander from the back of a bus driving somewhere between New York and Boston. He's on a national tour to promote his new record, Running Wild, including a two-night stand at the Bartlett starting on Friday.
He's clearly having fun on Running Wild's lead single "What It Dew," the video for which features a foul-mouthed puppet doppelgänger. The song itself is a certified banger, with classic organs humming over a trap beat and a groovy four-bar bassline repeating throughout. With tongue firmly in cheek, Grieves raps: "Walked out of that mic booth, hopped onto that stage / And I came back to go batshit on these jokers like I'm Bruce Wayne."
It's a refreshingly light turn for Grieves, whose thoughtful lyrics and regional fanbase have led to endless comparisons with another emotionally heavy rapper from Seattle — Macklemore.
"We're white guys from the same city who say honest things on our records, but that doesn't make us the same person," Laub says. "Our names have been mixed with each other for a long time. We've done a million shows together. We're peers."
The two first met back in 2003 while they were attending college in Olympia. Laub was 20 years old and discovering the culture of a true hip-hop community for the first time. And that's around when he started facing his demons and writing real songs, rather than "getting drunk and freestyling with the homies."
Laub had started making music when he was 14 years old, playing in various hardcore punk bands in Fort Collins, Colorado. But abrasive and tuneless rock didn't necessarily suit him. Instead, he gravitated to melodically oriented music; he remembers friends making fun of him for listening to pop-punk bands like NOFX. "I was like, 'I don't care. I like the melodies in this song, and I think that's the point — I like this song because it's a good song.'"
It turned out to be a brief phase, anyway. "That part of my life was more focused on what my friends were into," he says. "I don't think I identified with punk very much. I was doing it just because everyone around me was doing it. All the shitty bands I was in at that time were like being on a soccer team even though you suck at soccer."
But then he started listening to classic hip-hop groups like Mobb Deep and the Wu-Tang Clan, which captured his imagination in a way punk rock had not. "Beat-making was so crazy to me because it's a blank slate," he says. "There's no sound. Then you're chopping it all up and rearranging it and making this crazy collage of music. I was absolutely fascinated by that feeling, like I was making something from nothing. Freestyling was the same way — just pulling words out of the air."
Another similarity Grieves happens to share with Macklemore is singing most of his own hooks, and incorporating sing-song moments throughout his raps. That style was slow to develop, Laub says: "I was scared of singing for a really long time." But he likes his music pretty and ugly simultaneously. "That idea of nothing being perfect is very important to my music, and that's where the singing comes in, because there's only so much I can do as a rapper. I am not the best rapper in the world; I've got my flow, but some of it is beyond me."
Exploring new melodies also forces him to grow as a musician. With each new record, he expands his palette of sounds, and with each tour he expands his personal understanding of reality — and leaves the darker version of himself further behind.
"My career has given me an outlet and taught me so much about people, about life and the world," he says, "and I've had a blast." ♦
Grieves with deM atlaS, TMS (Fri) and Young Neves (Sat) • Fri-Sat: Oct. 6-7 at 8 pm • $16/20 at the door • All-ages • The Bartlett • 228 W. Sprague • thebartlettspokane.com • 747-2174