Josh Hodges, the creative force behind the band STRFKR, retreated into the California desert in early 2016 to record his latest album. He emerged several months later with Being No One, Going Nowhere, which explores heady themes of identity, solitude and meditation and yet features perhaps the poppiest, most approachable collection of songs he's yet produced.
Being No One was recorded mostly in a hilltop rental house in the Joshua Tree area of San Bernardino County, a secluded spot surrounded on all sides by acres of emptiness. It's a 20-minute drive to the nearest grocery store. The days are oppressively hot; it cools down to about 70 degrees after the sun goes down. It's kind of like camping, if your idea of roughing it involves having a full recording studio at your disposal.
Hodges engineered much of the album by himself (he plays live with a three-piece backing band), working on songs late into the night. Isolation has always been an integral part of Hodges' writing process, but he'd never before worked in such a remote locale.
"Knowing that no one can hear what I'm doing is kind of freeing," Hodges says. "I'm free to make whatever mistakes and make weird noises, make a really shitty song if I want and not feel embarrassed about it. You're immediately in touch with the desert and the desolation out there. You're really trapped in your own world. But it's comforting to feel small."
It's a case of environment influencing art, though a few of the album's tracks originated outside the walls of Hodges' desert sanctuary. One is a song that was deemed "too poppy" for a band that Hodges was in while he was living in Amsterdam. Another was something that STRFKR's longtime drummer Keil Corcoran had been toying with. Others were fleshed out from snatches of melody that had been floating around in Hodges' head for months or years.
That stop-and-start writing process isn't uncommon for Hodges, who's typically left with bits and pieces of unfinished songs after an album is finished. Last month, he released Vault Vol. 1, a compilation of those odds and ends offering a glimpse into how he puts songs together.
"I've recorded a few different albums that were getting pretty far along, and then I decided they weren't what I wanted to do with STRFKR," Hodges says. "I have another album now I need to finish, but it could maybe be used for something else."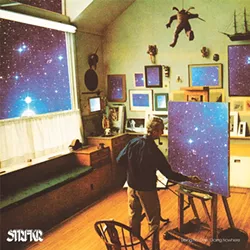 Although Hodges is currently based in L.A., STRFKR got its start in Portland in 2007 as a scrappy, eccentric band that quickly developed a reputation for raucous, sweaty live performances. Despite being known as a band that you'd want to see in concert, Hodges says Being No One, Going Nowhere is the first STRFKR album that he produced specifically with the band's live shows in mind.
"We can play almost the whole album live and it would translate well for dancing," he says. "Half or more of my songs aren't dance songs, but our reputation, at least with the live shows, is that people are going to have fun and dance."
STRFKR's previous records combined the sounds of '70s soft rock (think Todd Rundgren or 10cc) with early '80s new wave, but the first half of Being No One, Going Nowhere really doubles down on glossy, often bouncy synth pop. As the album progresses, though, it becomes dreamier, more introspective and more experimental, like it's being swallowed up by the haze of a desert oasis. Even its title, inspired by the writings of Buddhist nun Ayya Khema, proves that Hodges is still, first and foremost, a pop existentialist.
"It's this common Buddhist idea, that a lot of human suffering comes from our sense of self and the stress that comes from trying to make something of ourselves," Hodges says. "I really like that idea. It's more like a goal. That phrase is kind of a reminder. It's what I want to be, more in the moment, to just be, and having that be enough." ♦
STRFKR with Psychic Twin • Thu, March 23 at 8 pm • All-ages • Knitting Factory • 919 W. Sprague • sp.knittingfactory.com • 244-3279