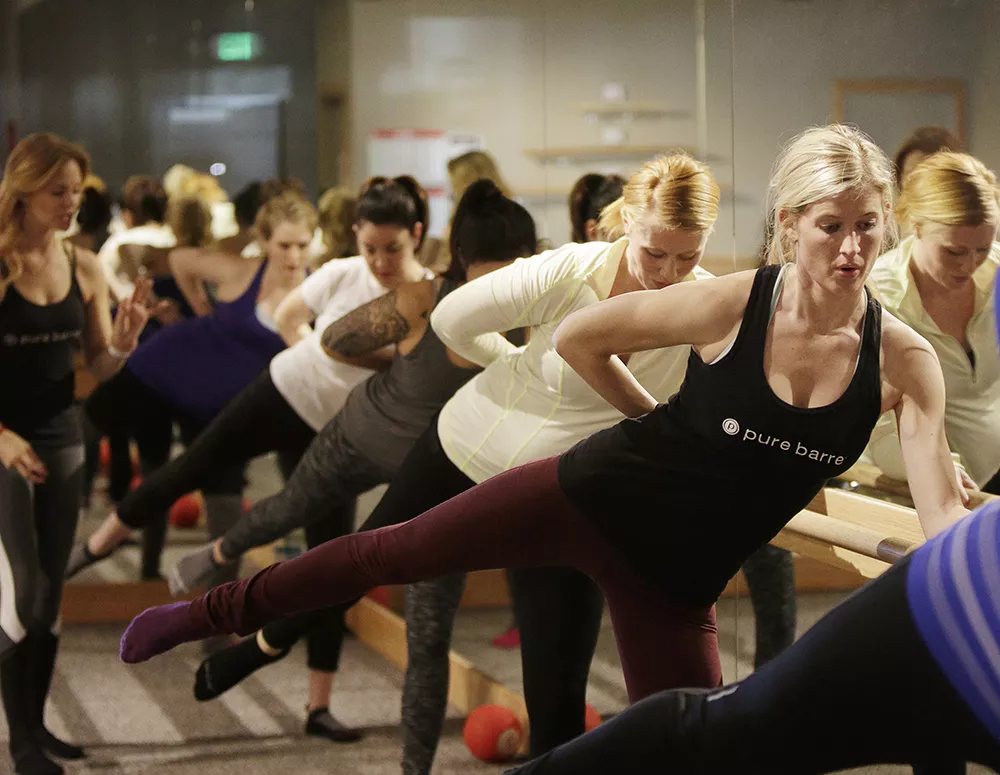 Leslie Lowe wants you to meet her at the barre. The beloved KHQ forecaster and local television personality took her first class five years ago. Now she's a barre instructor and a proud owner of the Pure Barre studio in the Spokane Valley, not to mention a passionate evangelist of the ballet-inspired total body workout. We sat down with her to find out why she thinks everyone should try a barre class, and what you need to know before you do.
1. Forget what you know about working out
"The first thing I'd say is forget everything you've ever learned about working out," says Lowe. "The whole concept that you need to really pound your body to to get an efficient workout or to see results just isn't true." Instead, expect really small, very controlled isometric movements during a barre class. While many exercises will be at the barre, some will be on the floor and incorporate light (like 1-3 pounds light) weights or small balls.
2. Expect results
"I saw physical results, fast," says Lowe. And by fast, she says she could see a difference in her body after several weeks of taking classes consistently. "All of a sudden I start seeing definition in my arms, abs and legs and I was hooked."
3. Reap benefits beyond a better beach body
While the workouts are designed to strengthen, sculpt and stretch, Lowe says part of the appeal of barre for her is the mental health break it provides. During a particularly difficult time in her life, it was exactly the respite she needed. "I could just be in my own place and the music was fantastic and I had an hour that was just mine and I could get myself together. It was such a mental relief for me." Lowe also adds that over the last five years she's met some of her best friends through class. "If you just go in there and are open, you're going to meet some fantastic people."
4. Get the right gear
Unlike a ballet barre routine, no leotards or tights are required for barre class (thank god). Instead, wear some yoga pants and a form fitting top that will allow your instructor to see and potentially correct your form. Some studios, like Pure Barre and Bar Method require socks and strongly recommend sticky socks with special grips on the soles, while others like Barre at the Studio recommend bare feet. Make sure you check out the studio's recommendations prior to class.
5. Do it for you
Lowe's final advice: Embrace the workout for you and you alone. Even though barre classes are group workout classes, Lowe says there's no need to be intimidated by your workout neighbor. "Even though you're in class sometimes with 20 people, you are in your own head space. No one is watching you and you're not watching anybody. That workout is just for you."
WHERE TO GO
While many gyms and yoga studios offer barre classes, these studios focus primarily on barre classes:
Pure Barre, 13910 E. Indiana Ave., Spokane Valley • 315-4920 • 515 N. Fourth St., Coeur d'Alene • 208-952-4578

The Bar Method, 2023 East 29th Ave., Spokane • 534-3000

Spokane Bar, The Globe Building, 204 N. Division St., Spokane • 919-4901

Barbelle Fitness Studio, 13423 E. 32nd Ave., Spokane Valley • 893-1000 • 21651 E. Country Vista Dr., Liberty Lake • 926-4633

Barre at the Studio, 11707 E. Sprague Ave., Spokane Valley • 999-2195

BarreU, 195 E. Hazel Ave., Coeur d'Alene • 503-720-9451