Readers respond to an article on Inlander.com, "SHEA REPORT: Shea Participated in 'Domestic Terrorism,' Three Armed Conflicts Against the U.S. Government" (12/19/19):
Mike Kress: Those who rationalize violence for political ends open the door to the same for their opponents. It is a dangerous and slippery slope that Americans should know better than to approach. It's also troubling that this man is often referred to as a conservative, because a true conservative believes in the rule of law.
Charmaine Rae: So... can we get rid of him now?
Louise Sullivan: I live in his district. We must either remove him or defeat him.
Kate Pogue Rau: Perfect. Now he'll absolutely be elected.
Eric R Wiksten: I live 20 minutes from Spokane Valley, in North Idaho. Back in the late 1990s. the Southern Poverty Law Center sued the Aryan Nations right out of North Idaho. Now they are attempting a comeback, primarily through apocalyptic Evangelical churches and state-level politicians. It will end badly, again.
Larry Cebula: Weird seeing some of the same Republicans who were defending Trump on Wednesday denouncing Shea on Friday. ♦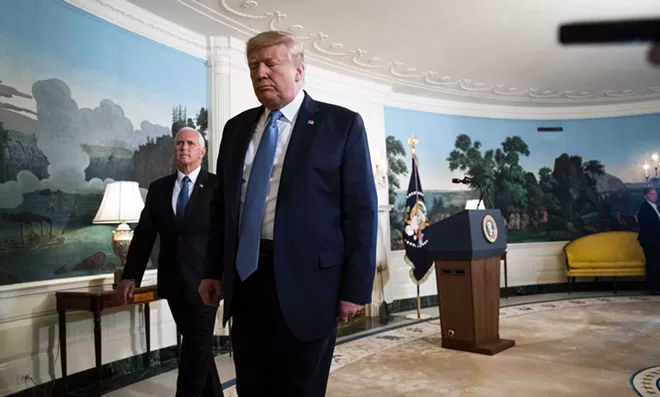 Readers respond to the news of President Trump's impeachment (12/19/19):
Jeremy Thornton: Breaking development. Trump's base is jumping off. Evangelicals have officially "seen the light."
Adam J Vincent: Honestly the House has nothing... A complete sham... of course they are going to throw it out in the Senate... it's BS. She's going to wait to introduce it during the elections to interfere with 2020. This swamp is not stupid... they don't have a candidate.
Chris Roeder: Mitch McConnell goofed up by publicly disclosing that he would not be a fair juror (Lindsey Graham, too). Mitch even went so far as to confirm that he'd coordinate throughout the trial with the White House. This is the kangaroo-type court that we see in fascist states.
Dominic Vitale: Screw everything about Trump and his administration. They deserve everything Dems hand them. ♦