Aspiring baseball players try myriad ways to reach the major leagues. Learn how to be a switch-hitter. Develop new pitches that dart and hop in strange directions. Spend hours fielding grounders, swinging in batting cages and working out to make themselves bigger, faster, stronger.
David Yearout was playing middle infield at Lewis and Clark High School when he realized that his skills might not take him to The Show. "I've never hit a home run in my life," he says. "But I'm a great Wiffle-ball player."
Instead of simply setting aside his dream of making the bigs, though, Yearout put down his glove and picked up a rake.
At just 23, he's the head groundskeeper at Avista Stadium, a job he took on in 2014 after a few years as an assistant and intern on the crew. He earned the gig after graduating last spring from Washington State University with a degree in integrated plant sciences. In his first season, he received the Sports Turf Manager of the Year Award for the Spokane Indians' level of Short Season-A/Rookie ball.
"When I was a sophomore in high school and didn't really know what to do, I Googled 'umpire school' because I figured there had to be one somewhere," Yearout says. "I always wanted to make it to the majors, and I couldn't make it as a player, so I found a different way to try and get there."
His grass roots go back to mowing the fields at Lewis and Clark. His dad was a coach, and if the baseball, football or soccer coaches needed their turf spruced up, Yearout got to work. An older buddy told him about the turf-management program at WSU, and Yearout saw in it a path that he hopes will lead him to one of the country's massive baseball cathedrals like Seattle's Safeco Field.
There's no direct route to the majors for a Rookie League groundskeeper. Some follow a trajectory similar to players, methodically moving up to Double-A and Triple-A ball before making the leap. Others find themselves in the right spot at the right time and can land a spot on a major-league crew by meeting the right person. Yearout goes to conferences of his peers and pays attention to "kind of a cool turf-management community on Twitter" to keep up with the industry movers and shakers.
In the meantime, he's hard at work getting the Avista Stadium field ready for the Indians' opening day June 18. While Yearout's award marked the third time an Indians groundskeeper has won Sports Turf Manager of the Year, the field itself has won Northwest League Field of the Year for 10 straight years, and 16 of the past 18. Maintaining the best grounds in the league is something in which Yearout and his crew — Trevor Heilman, Jacob Fender, Daniel Ramirez and Larry Blumer — take great pride. It's what brings them to the east Spokane stadium at sunrise and keeps them there until dark.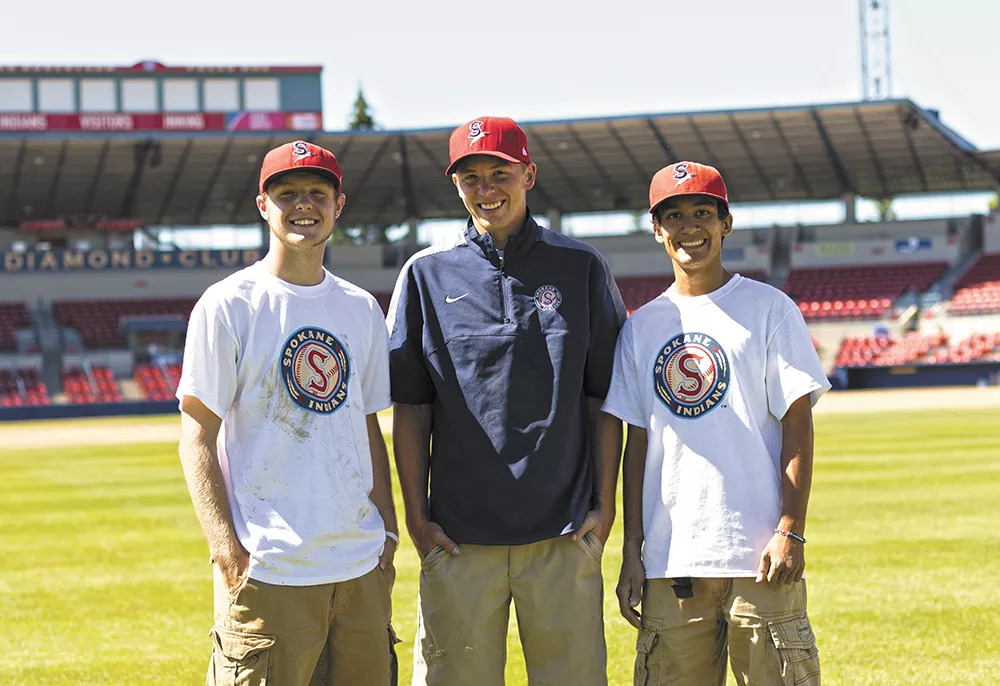 "Us main groundskeepers, we're like best friends," Yearout says. "We'll have an eight-game homestand when we'll all be here for 15-hour days, working. And then the team will go on the road for three days and we'll go fishing. It's awesome, and they make it really easy for me to be a young boss."
There are challenges beyond the long hours. There are no maps of everything that's been done over the field's 57 years of action, so "we don't necessarily know what the guy five years ago was doing, so you kind of find things buried, or things that aren't the way they should be."
The months leading up to the season are filled with big projects like installing a new warning track, or the brand-new Wiffle-ball field the crew set up for kids outside the concourse. On game days, the groundskeepers arrive at 7 am and leave an hour after the game ends. In between, they keep the field in prime playing shape, and have a little fun in the process, busting out some dance moves as they drag the infield.
"It's definitely a time-consuming and challenging job, but it could be a lot worse," Yearout says. "It's a great place to be."
At least until he gets The Call. ♦
---
Play Ball
The Spokane Indians open their season Thursday, June 18, at 6:30 pm against the Hillsboro Hops. The team's roster should be solidified a few days before then, after this year's amateur draft. There will be a postgame fireworks show, and the Kelly Hughes Band will play a postgame show under the First Pitch Pavilion.
Avista Stadium, 602 N. Havana. Tickets are $5-$20 and available at SpokaneIndians.com or TicketsWest.com.