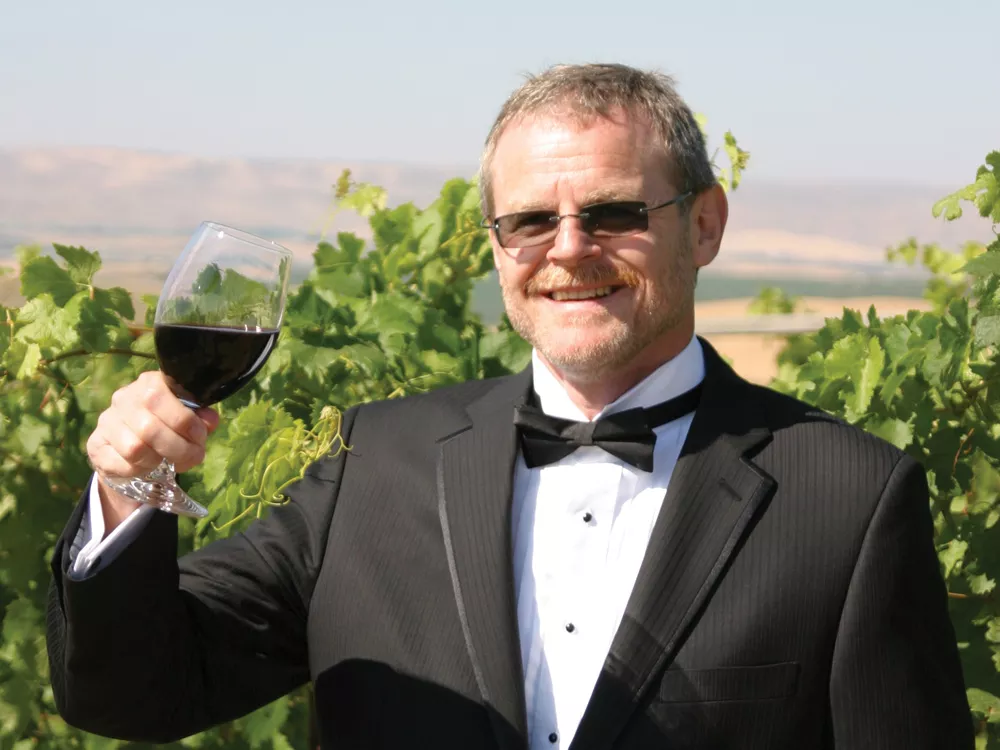 Dana and Steve Trabun are leaving Spokane's Barili Cellars, but not because it isn't successful. On the contrary. In fact, when the Trabans joined Russ and Marlene Feist to open in the Davenport District two years ago, their first 150 cases of wine quickly sold out. And just recently, Wine Advocate recognized Barili for its 2010 viognier and chardonnay, as well as its 2009 Double Barrel Red and cabernet sauvignon.
Not bad for two couples whose experience was rooted in a half-dozen years of home-based winemaking. And talk about serious validation for Barili Cellars — especially for Dana, who invested about $5,000 and nearly two years studying winemaking at Washington State University to earn a certificate of enology.
"I don't know that it's necessary to be successful," she says of the coursework, "but there wasn't any module that wasn't relevant to what we did" in our day-to-day business.
For example, after taking WSU's courses, Barili was able to do some of the chemical wine analysis in-house, says Dana. It saved them both turnaround time and money.
Washington State's certificate of enology (the science of winemaking) covers the business end: wine production, chemistry and equipment, business planning, how enology relates to viticulture (grape growing and harvesting) and practical matters like sanitation, compliance and labeling. A similar program addresses viticulture and harvesting.
Offered mostly online, the certificate programs are part of WSU's multi-tiered viticulture & enology offering. There are two traditional, four-year baccalaureates; a multi-disciplinary master's (biological systems engineering, crop and soil sciences, entomology, etc.); and statewide extension classes by the barrel.
Both bachelor's degrees are steeped not in the ways of the ancient Greek wine god Bacchus, but the god Science.
"As the industry has been growing," notes Thomas Henick-Kling, the university's director of viticulture and enology, "there is a need for more educated and better educated" people in winemaking. "Students must be conversant in basic sciences ... and analytical techniques" since much of modern winemaking is data-driven.
Chemistry and biology are required for the first two years of the Bachelor of Science program. Then add horticulture, soil sciences, microbiology, integrated plant management and entomology. In the third and fourth year students get a better taste of winemaking, including instruction in vineyard and winery equipment, wine analysis, and processing.
But unlike most other majors, developing one's palate is also required for this degree, says Henick-Kling, who adds that an important part of the program teaches students "to be responsible" about alcohol in general.
A second undergrad program offered through the colleges of sciences, communications and business pairs winemaking with business know-how. The wine business management major is also rooted in science — botany, chemistry, crop growth — but also French culture, viticulture and enology, food and beverage management, marketing, etc.
Washington State is not the only school in the state offering viticulture and enology classes. Five other schools — Central Washington University, Columbia Basin College, Walla Walla Community College, Wenatchee Valley College and Yakima Valley Community College — offer such programs. As expected, college programs tend to be clustered in grape-growing areas.
But what makes Washington State's program unique locally and nationwide, according to Dennis Reynolds, its hospitality business management chair, is the availability of both a viticultural science and business degree. Though the wine business management program only began in 2009, some of its graduates have already been hired by such wineries as Leonetti Cellars, Figgins Family Wine Estates, and Compass Wines. The current 20 students will graduate in May, and some, reports Reynolds, are the children of existing winemakers.
Another distinctive feature of Washington State's program is its scholarship. Last summer, viticulture professor Markus Keller was amazed to discover that the textbook he wrote, The Science of Grapevines: Anatomy and Physiology, had quickly sold 1,300 copies on Amazon. It also won a prestigious Jury Award from the 84-yearold Organisation Internationale de la Vigne et du Vin, or OIV (International Organization of Vine and Wine). This fall, WSU researchers made available a web-based "grapevine cold hardiness" tool to help area growers predict and prepare for winter temperatures sufficiently cold to damage the vine.
That's a big deal to Washington's wine industry. According to the Washington Wine Commission, the state wine business contributes an estimated $3 billion to the state's economy. Consider that there are 350-plus grape growers producing 30-plus varietals over 31,000 acres.
When you calculate that one grape cluster yields roughly one glassful, with an average of 40 clusters per vine and 400 vines per acre, that's a lot of wine.
It's enough to earn Washington the No. 2 spot in U.S. production behind California.
All of that is good news for Washington's relatively youthful vineyards, which, according to Henick- Kling, are just entering their prime — between 20-60 years of age. So is the industry. In 1981, the year the state began tracking, there were 19 wineries; today there are over 600.
It's a good bet that many of those 600 winemakers started just like Barili Cellars' Steve and Dana Traban, who fondly remember their first winemaking kit. "We thought it would save us money," Dana says now, laughing.
Even though the Trabans have sold their interest in Barili to another couple, Sue and Doug Hustad, also home winemakers, Dana says she's looking forward to making wine at home again.