Henry Rollins forged a distinct career touching on all manner of artistic pursuits since the early '80s, starting as frontman for punk-rock pioneers Black Flag and continuing into acting, writing and spoken-word performances.
Ask Rollins about his seemingly insatiable inner drive to keep creating and traveling to share his work and he corrects that he doesn't see his career in terms of art. He sees it as a primal need to engage with life.
"I don't have a single artistic bone in my body," Rollins says via email. "I'm angry and easily bored. At some point, all this ends. I want to do as much as I can before then."
He certainly can't be accused of lacking motivation. Scroll through his career highlights and you find a guy constantly in motion. When he stopped doing music with Black Flag and then the Rollins Band, he kept on the road doing readings and lectures. When he got into acting, he landed a steady series of roles in films both big (Heat, Bad Boys II) and indie (Lost Highway, Dogtown and Z-Boys). He's hosted TV and radio shows, campaigned for various causes and traveled the world to share his stories.
That last entry is what inspired his latest pursuit and possibly another item in a long list of jobs Rollins has held: photojournalist.
When Rollins visits Spokane Oct. 18, it will be as part of his Travel Slideshow 2018 tour, in which he'll show off pictures taken on his travels and tell the stories behind memorable stops everywhere from the Middle East to Antarctica, Africa to South America.
Rollins says he started carrying a camera around 2003, having never bothered to carry one before then and rarely traveling without one since.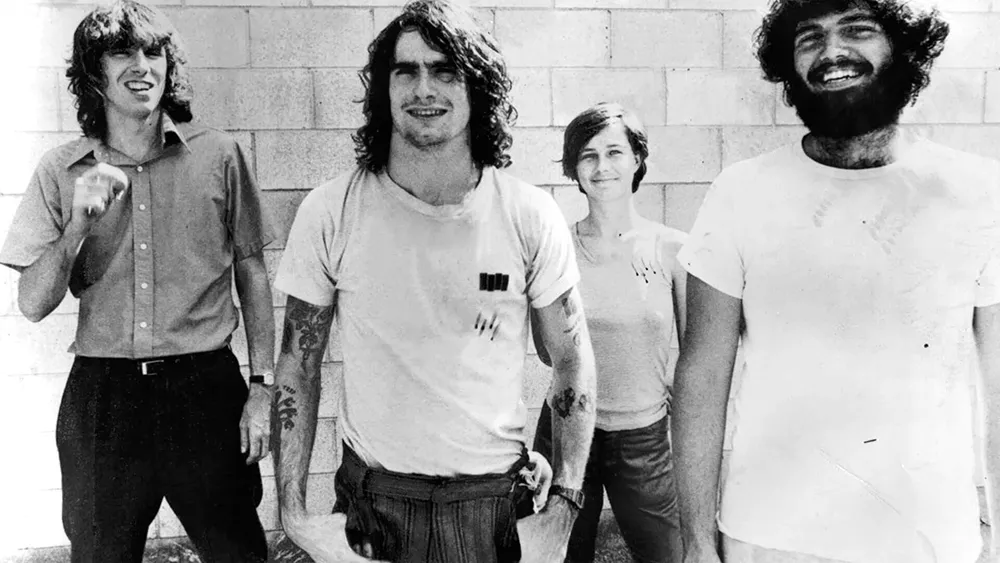 "Having a camera puts me in the 'must take photos' mode, where I'm looking around for things and people to shoot," Rollins says. "It's much different than just walking around. It is for me, at least. The camera also puts me in pseudo-journalist mode, where I'm asking questions, looking for information so I can learn and write about it later. To be succinct, having a camera turns me into somewhat of an extrovert."
If you've ever seen Rollins perform, whether as a shirtless dervish with one of his bands or doing spoken-word full of aggression, intelligence and attitude, you probably had him pegged as an extrovert already. But in reality, he lives a famously "lone wolf" kind of life. One of his few ongoing friendships — with Ian MacKaye (Fugazi and formerly Minor Threat) from his childhood in Washington, D.C. — sparked, in part, his early interest in photography.
"I bought a camera from a guy at school who was upgrading. It was a Nikon," Rollins says. "Ian MacKaye and I got film for it and started taking photos of people skateboarding. We got some pretty good shots. We would develop them ourselves."
Years later he was playing around with an inexpensive Canon when a photographer saw some of Rollins' photos, encouraged him to upgrade his equipment and taught him how to shoot in "manual" mode. He took her advice, read some books and got his equipment "boiled down to as few moving parts as possible," since he's often on the road for weeks. He uses a Canon 5D with a 16-35 millimeter lens most of the time because "it forces me to get up close and engage."
For the most part, for Rollins, that means engaging with cities and people rather than nature and birds.
"I'm interested in urban environments. The mechanics of cities," Rollins says. "The impact of climate change, dwindling resources, war, etc. This is the main reason I travel, to see what grind people endure all over the world. I can dig forests and rivers, but for the most part, I'm about cities."
For his Traveling Slideshow tour stopping in Spokane, the photos give him an extra way to connect with audiences. Since much of his spoken word revolves around travel stories, the pictures add details to what he's describing and give him ideas for tangents to the stories he might not have otherwise. "It's not that the photos are the greatest things you've ever seen," Rollins says. "It's about the location and the story."
For fans of Rollins' music, it doesn't sound like that is part of his own story going forward.
"I listen to a lot of music. I've always been a fan," Rollins says. "I never liked making it, but it was in me and it had to come out. It was like sweating out a virus. One day it was gone and I was done. ... For the most part, I was into music for the confrontation, alienation and feral hostility it afforded. It was never about career or money or fame. It was a time/age thing.
"I didn't want art. I wanted life and death. I got it." ♦
Henry Rollins Traveling Slideshow 2018 • Thu, Oct. 18 at 8 pm • $36-$42 • All ages • Bing Crosby Theater • 901 W. Sprague • bingcrosbytheater.com • 227-7638
---
Get to know Henry Rollins through these works:
Black Flag, Damaged. An American punk-rock classic from 1981 that scared everyone from parents to SoCal police.
Rollins Band, Weight. The closest Rollins ever came to a "hit" album, this 1994 album reached No. 33 on the U.S. charts.
American Hardcore: The History of American Punk Rock 1980-1986. This 2006 documentary features enlightening Rollins interviews.
Get In The Van. Rollins' 1994 memoir of his Black Flag years is a great read, and the audio version won a Grammy for Best Spoken Word Album in 1995.