The first thing Chef Kyle "Freak" Bowlby does when he welcomes me into his north-central Spokane home is giddily take me to his kitchen.
The chef, with his cooking moniker, Chef Freak, tattooed on his right inner forearm and Salvador Dali elephants inked on the back sides of his shaved head, grabs some Japanese mountain yams out of his fridge. He'd picked up the unusual, hairy tubers from the local Asian market, but it's not clear what's so special about them until he takes a ginger grater to one.
With a few rapid swipes, a transparent goo oozes out of the yams and the grater's holes. A finger lick proves that the clear solution is the perfect flavorless vessel for seasonings and another ingredient: THC. Freak admires the reaction and says, with Frankenstein-like pride, "This will be the carnivore's drool!"
The yam's saliva-like goo will appear on the main plate of an upcoming 10-course, black-tie "Cannabis Cannibal Feast" prepared by Chef Freak and Chef Matt Johnson's Two Ginger Chefs event company. The Nov. 4 cannabis-infused dinner is releasing only 30 tickets to the public, at $150 a seat. In Chef Freak's estimation, they're two of only four chefs working with cannabis in the state of Washington.
The menu of marijuana-infused morsels is further proof of the two chefs' desire to push the boundaries of what they view as a boring era in the restaurant industry. As Johnson begins to talk about their efforts to remove the stigma of cannabis cooking as something unsafe or harmful, Freak recalls an open-heart surgeon who attended their first event, a 12-course dinner held in Green Bluff last autumn. They also want to show the legitimate potential of pot as an eating experience.
"I'm tired of having a guy ask me what bourbon would pair well with his steak," Johnson says. "I want to show him that I can use cannabis with his steak, and make him feel that body high of a bourbon without any of the bloating that comes along with it."
Johnson benefits from his extensive work in fine dining and the regional shift to gastropubs, eventually combining the two at Coeur d'Alene's The Cellar. Freak, who attended Cordon Bleu in Seattle, left to work at Quinn's on Capitol Hill and eventually Iron Chef winner Maria Hines' restaurants Tilth and the now-shuttered Golden Beetle. Locally, he was a sous-chef for the Wandering Table and chef at Remedy before diving full-on into the Two Ginger Chefs venture.
"It's a whole new world," Johnson said. "Everything else is super passé now. Everybody's recycling the same thing. Everybody's putting a lamb shank with risotto and a piece of asparagus."
In their twisted interpretation of this now ubiquitous main course, the cannabis dinner's version of lamb shank will be coated in the aforementioned snot-and-saliva-like yam ooze that's been pumped with blackened seasonings and cannabis, and nested on a bedding of black cheesy grits.
Both chefs have a penchant for bringing their own personalities to their meals.
"I didn't want it to be the same tired, themed dinner of 'Halloween,'" Freak says. "I wanted something a little more morbid."
The pair mean serious business, with attendees being dosed with a flat 100 milligrams of THC (10 milligrams per plate). If you're curious about what ingesting 100 milligrams of THC could be like, the catered evening is probably not for you.
Ten milligrams is the standard single dosage sold at recreational stores, with warnings to even go with a half-dose if you haven't yet built up a tolerance. The meal is without a doubt intended for cannabis and culinary enthusiasts who are aware of what they're getting themselves into.
"You better be able to handle 100 milligrams," Freak warned. "This is not for the faint. This is not for the weak. This is not for the vegans. This is going to be full protein — brain, blood and bones."
He's not kidding. Other courses the chefs are planning include a plate called "All in Your Head," an actual lamb brain ravioli with a Sriracha-and-oil pentagram. Another is aptly titled "Bones," featuring two hollowed-out beef bones filled with silkworm grub and brown-butter snail. And the "Devil's Tail Carpaccio" features a thinly sliced blood sausage charcuterie with cranberry gel, spiced walnuts, shaved onions and pickled mustard seeds.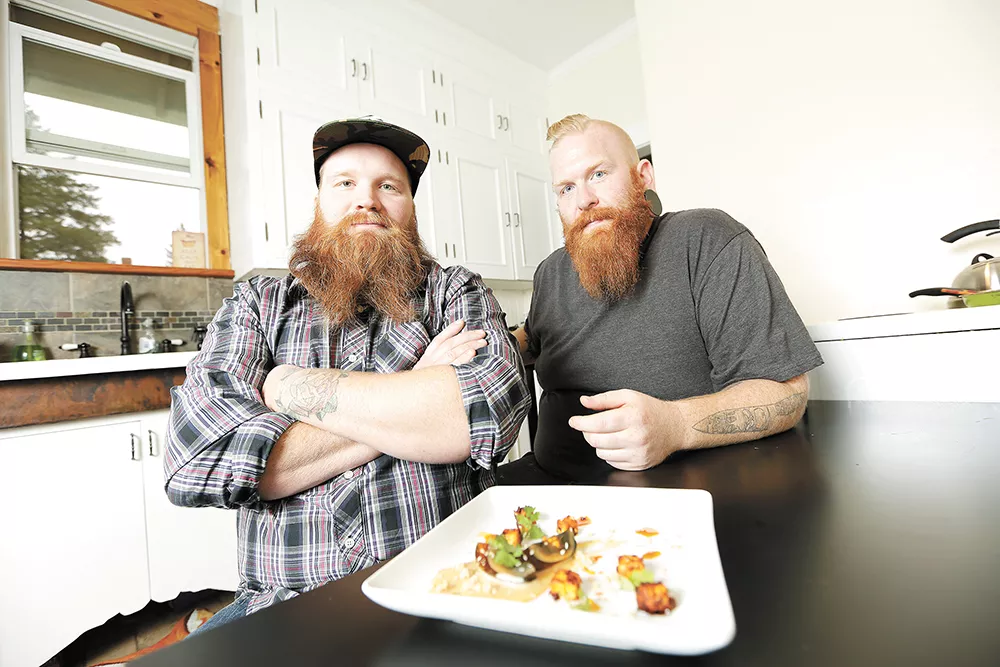 Being a private party — with money exchanged for the event, not the food — and sharing their own weed, Two Ginger Chefs is exempt from the Washington State Liquor and Cannabis Board's restrictions on consumption and sales. As long as the event is not publicly accessible and on private property, the festivities are in the clear.
"Until [the Liquor and Cannabis Board] makes some decisions, we ride a gray area," Johnson explains. "We're completely legal because there are no regulations written on it yet, because no one's really doing it."
The event is being held at an undisclosed location, with attendees given directions to a pick-up location three hours prior to the festivities. Once all gathered, they'll be chauffeured by limousine to the dining hall and returned to the pick-up location afterwards. For those feeling a bit too high, the event will have cannabidiol (CBD) and caffeine to help negate some of the meal's potency.
Freak jokes that the chauffeur for their last event noted the return trip may have been the quietest group he'd ever driven. And while the upcoming event's THC dosing seems daunting, perhaps the Two Ginger Chefs' ability to make the grotesque appetizing might be the scariest part of all. ♦
The Cannabis Cannibal Feast • Sat, Nov. 4; pick-up at 5:30 pm, dinner at 6 • $150/ person • Ages 21+ • facebook.com/Twogingerchefs • 599-0883