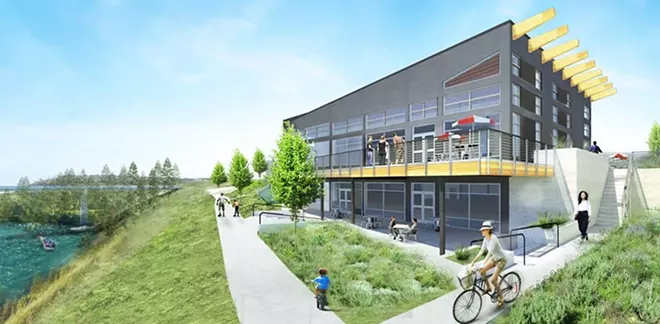 It may seem like there's always a lot going on in the regional food and drink scene — that's because there is! We're always on the lookout for the newest local places opening and offering tasty bites to sate all appetites, as well as other interesting developments and news in the culinary community. So, since it's been a while, let's round up what to keep an eye on, and what to check out now:
Work to spruce up a former Shari's restaurant location on the corner of Monroe Street and Northwest Boulevard finally culminated with the opening of the
MONROE STREET GRILL
last week. The locally owned spot specializes in hand-pressed burgers, seafood and other classic American fare: soups, salads, sandwiches and more. Stay tuned for more on the new spot in the
Inlander
in the coming weeks.
We're also aware of a few noteworthy, forthcoming openings on the horizon, including a new sushi spot in Coeur d'Alene, to be located in the former home of Bonsai Bistro on Sherman Avenue, near the resort.
MOMO - SUSHI . WOK . GRILL
is set to open sometime later this year, and its owners — recent transplants to the Inland Northwest — plan to serve sushi and other pan-Asian fare.
Fans of the cheesy, buttery goodness of local food truck Mac Daddy's Gourmet Grub can start the countdown for a permanent stand-alone location heading to Spokane's North Side.
MAC DADDY'S GOURMET PUB & GRILL
is moving into a space at the Fairwood Shopping Center near Mead High School; follow the location's Facebook page (previous link) for the latest updates.
In other news about new food spots that are bit further out on the calendar, we're keeping an eye on a newly filed liquor license for a place called
UMI KITCHEN & SUSHI BAR
that's apparently moving into the new building, still under construction, just west of
Inlander
HQ. Overlooking the Spokane River gorge, the structure will also house the soon-to-debut
MARYHILL WINERY TASTING ROOM
.
Speaking of wineries,
LIBERTY LAKE WINE CELLARS
recently opened its new production facility and tasting room, a nearly 4,300-square-foot space at 23110 E. Knox Ave. in Liberty Lake's business district. Stop by and sample the winery's bold reds, made from grapes grown in Washington state's famous Red Mountain American Viticultural Area (AVA) in the greater Yakima Valley. The tasting room is now open Wed-Fri from 4-8 pm and Sat-Sun from noon-5 pm.
While the opposite of an opening, it's still worth sharing the unfortunate news that
SLATE CREEK BREWING
in Coeur d'Alene closed its doors this week (the final night was Wednesday, Oct. 18). The brewery has been listed
for sale
up to the recent closure; no word yet if it's found a new owner.
We're always following lots of other leads and tips on activity in the local food scene, so make sure to check back next week. In the meantime, head to our food section
landing page
for updates on new trends, openings and other gastronomic news.
Also, make sure to check out this week's edition of the
Inlander
for a feature on an unusual
fine-dining event
that unites culinary creativity and recreational cannabis.
A version of this information originally appeared in our weekly Entrée food newsletter; sign up to get it delivered directly to your inbox here.