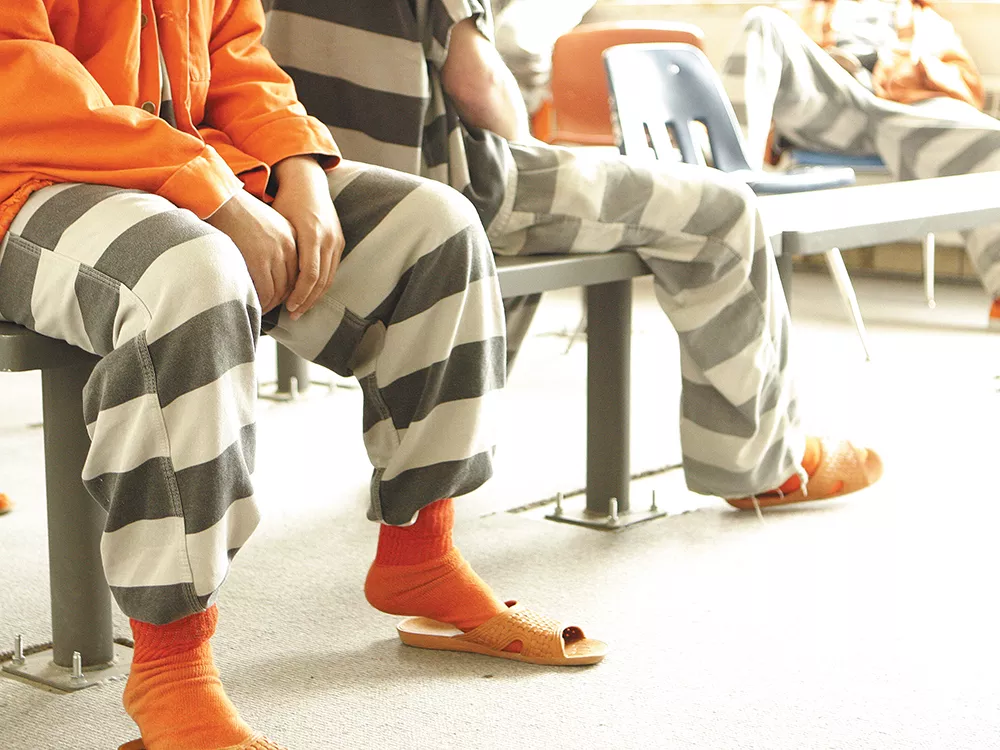 A mid severe jail overcrowding and corrections staff shortages, Spokane County Commissioners hope centralizing authority for county jail services under their control will allow for new cooperation and efficiency between the county's criminal justice departments.
Commissioners will assume operational authority over the Spokane County Jail and Geiger Corrections Center on June 1, taking control of Detention Services previously managed under the Spokane County Sheriff's Office.
Commissioner Todd Mielke says jail services will become a new county-level Corrections Department. Under the new structure, he says commissioners will be able to drive inter-department collaboration between Corrections, the Sheriff's Office, the Prosecutor's Office and the court system.
"It means there are more pieces of [the criminal justice] process that fall under the authority of the county," he says.
Detention Services previously operated under a dual authority in which the Sheriff's Office managed day-to-day operations, but commissioners controlled the budget. Mielke hopes consolidating control under the commission will make it easier to negotiate jail agreements with partner agencies, implement new policies or adopt new inmate reintegration programs.
"Having this under one authority really streamlines the process," he says.
Spokane County Sheriff Ozzie Knezovich first proposed the transfer of authority last year. He says centralizing the jail services under the commission should get more of the regional stakeholders — local law enforcement agencies, city officials and county departments — involved in finding solutions for the troubled jail system.
"It finally gets all the community partners at the table," Knezovich says. "It makes them have skin in the game."
The Sheriff's Office reports the Spokane County Jail has struggled with "severe overcrowding" since the mid-1990s. Knezovich says the primary jail facility near downtown was initially built to hold a maximum of 472 inmates, but now averages about 650 inmates.
"That's a true safety concern," he says.
While the inmate population has increased, the number of corrections deputies available to guard prisoners has decreased. Jail officials say they have lost nearly 40 corrections deputy positions in recent years. To maintain security with fewer guards, inmates must spend more time locked down in their cells.
"They're basically on lockdown 23 hours a day," Knezovich says.
Capt. John McGrath, who oversees the county's Detention Services, is expected to stay on as jail manager, transferring to a county position as a department supervisor. He says he hopes the transition to the new authority structure will create a new opportunity to address some of the overcrowding and staffing issues.
Since 2009, Detention Services has steadily lost funding and staffing, operating amid an atmosphere of uncertainty as each budget season brought talks of closing or reorganizing jail facilities. McGrath says the jail facilities now operate with about 300 employees on a budget of about $35 million a year, down about $4 million a year from past budgets.
"I think we've gone through a lot of challenges economically," he says.
With the transition of authority, McGrath says he expects most of the immediate changes to be small or superficial. Salaries and benefits will remain the same, but some occupation titles will change as corrections deputies become corrections officers. Staff will also wear different uniforms.
But beyond that, McGrath hopes the new structure will give the county commissioners the authority to orchestrate significant changes in how the jail can operate, interact and collaborate with other departments.
"It puts them in the driver's seat," he says.
County officials acknowledge commissioners and the Sheriff's Office have not always shared the same goals for running Detention Services. The previous dual authority structure occasionally led to disagreements over jail budgets and operational priorities.
"At times it has become a rub between the two offices," Knezovich says.
A county news release issued after commissioners approved the new authority structure on Feb. 27 also alluded to the different priorities between the two elected offices. Consolidating those responsibilities may refocus efforts and increase flexibility for pursuing new policies or partnerships.
"The current system makes it difficult for either branch of government to map out a cohesive vision for operation of the Spokane County Jail and Geiger Corrections Center," the release states.
Centralizing authority, Mielke argues, should allow commissioners to work toward synchronizing the goals of the Corrections Department with the goals of other county criminal justice operations. Commissioners can take a big-picture approach to allocating resources and funding across all criminal justice departments, setting incentives for collaboration and leading a larger overall strategy.
If, for example, commissioners wanted to reform the pre-trial assessment process for booking suspects into the jail, they could now exercise influence over the Corrections Department, the Prosecutor's Office and the court system at the same level to drive change in the same direction.
In a statement on the jail authority transition, County Commissioner Al French argues centralizing control serves as an important step in working toward an overhaul of the county's entire criminal justice system.
"We have had a seriously fragmented system between the county, cities, state corrections, elected officials, and labor organizations," he says in the statement. "With approximately 70 percent of the county's $140-million general fund budget dedicated to law enforcement and criminal justice — we … believe that having more control over how those funds are spent will encourage cooperation."
As the commission moves toward taking over jail operations this summer, Mielke says county officials hope to explore ways to bolster inmate reintegration programs. The county jail does not house long-term inmates like the prison system, he notes. Most of the county's inmates are awaiting trial or serving short sentences of less than a year.
"These are short-timers," he says. "They're going to be coming back to our neighborhoods."
Miekle says commissioners believe it's important to support drug treatment, job training and parenting programs that promote a healthy reintegration into society. They will likely discuss national best practices along with proposals from the Smart Justice Project, which advocates for criminal justice strategies focused more on rehabilitation than incarceration.
Spokane attorney Breean Beggs, who has worked closely with the Smart Justice Project, says he hopes commissioners will commit to reforming how the criminal justice system assesses and incarcerates suspects. He says the new authority structure does not mean much if commissioners don't change how the departments interact.
"It's not so important who's in charge, but what type of approach they take," he says.
The Smart Justice campaign argues some simple reforms, such as the expanding electronic home monitoring program, would free up space in the jail and save the county money. Beggs says he would like to see the county hire a jail administrator to oversee the implementation of new programs and facilitate new cross-department partnerships.
County officials will have to work together to build a more just and efficient jail system, Beggs says. But with the commissioners now holding authority over all of the departments, they will have to take responsibility for driving any change.
"There's no excuse for not doing it," he says.
Miekle says commissioners look forward to discussing community recommendations and considering new programs after they finalize the upcoming transition.
"We have a ton of work to do preparing for this transition on June 1," he says. "We have a lot to keep us busy."