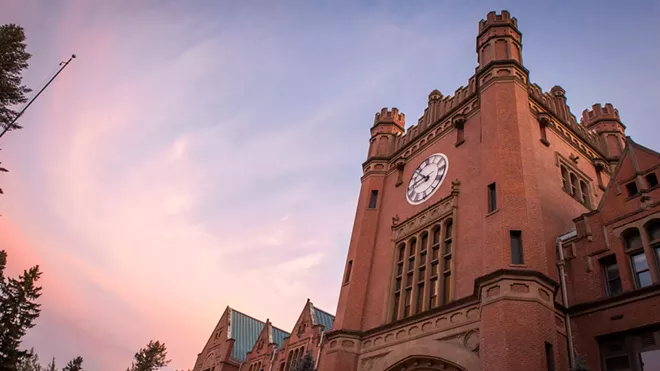 ON INLANDER.COM

NEWS:
For the last few years, Idaho has been trying a unique tactic to get more high school students to go on to college: automatically admit them to state colleges and universities. It turns out the program
hasn't helped increase the rate of students going to college yet, but it may have encouraged more students to go to in-state schools
.
NEWS:
In dedication to the hard work of late former Spokane Parks Director
Bill Fearn, a 1-acre conservation area in Riverfront Park will be named after him
. Fearn was instrumental in the park's creation during his tenure in the '60s and '70s.
ARTS & CULTURE:
From the musical stylings of the Blow and Rodrigo y Gabriela, to opportunities to give back by cleaning up the river or learning what it takes to become a foster parent to a refugee, there are tons of things on this week's packed calendar. Check out
a few picks here
.
IN OTHER NEWS

Messy McCleary
While the state fully funded public education with the help of a one-time boost of nearly $2 billion,
school districts got little guidance on how to use that money
, leading to some strong ideas on the parts of both teachers' unions and districts. (
Spokesman-Review
)
Helping homeless students
Since 2012, rural districts within Spokane County saw some of the biggest increases in homeless students, creating new problems for districts and staff to solve, including how to make sure students get to school, the Seattle Times reports.
Moonves gets canned
After more victims came forward to share stories of sexual harassment this weekend,
CBS executive Les Moonves was fired from the network
, and may or may not receive severance depending on the results of an internal investigation, the
New York Times
reports.
Manslaughter charges in off-duty Dallas police shooting
An off-duty
officer who shot and killed her neighbor after walking into his apartment thinking it was her own has been charged with manslaughter
, CNN reports.