Where there's smoke, there's fire. And where there's both, there's barbecue, which is the featured cuisine at From the Ashes: An American Smoked and Fired Foods Adventure, happening this weekend at the Settlers Creek event venue in Coeur d'Alene.
Not just any fire will do, however. Unlike grilling, which involves high heat and fast cooking, properly cooked barbecue requires a low-and-slow approach — grills kept glowing over the many, many hours it takes to impart the necessary flavors and textures we associate with barbecue.
A whole hog, for example, takes about 16 hours, according to barbecue expert Anthony DiBernardo, chef and owner of South Carolina-based Swig & Swine and one of four nationally known pitmasters participating in From the Ashes. Brisket takes between 12-16 hours, says DiBernardo, whose cooking style involves using custom smokers burning hickory, oak or pecan wood.
DiBernardo's experiences with fire go beyond the barbecue pit. The chef's three South Carolina restaurant locations have each suffered from fire damage, including one which left him temporarily without kitchen equipment.
The Swig & Swine mishaps gave Framework Meetings and Destinations co-owner Wendi Haught an idea, however. Haught previously experienced DiBernardo's cooking at an East Coast event and heard about his unlucky situation. It also happened that one of her Inland Northwest clients, Settlers Creek, had lost a portion of its venue site to a fire when their iconic, two-story red barn burned to the ground last August.
Haught has worked with Settlers Creek since the venue opened in 2008, when owner Chris Varela and his family converted a historic farmstead — the National Register of Historic Places lists it as the Mooney-Dahlberg Farmstead — to an event venue.
Not only was Settlers Creek back on track shortly after the fire — outbuildings, two silos and a 14,000-square-foot grass amphitheater went unscathed — they still had their impressive cooking equipment, including several 6,500 pound smokers, giant cast iron pots suspended from a 16-foot frame, and a 26-foot-long, double-sided grill on an elevated platform. These details led Haught to wonder if there was a way Varela and DiBernardo could turn each other's losses into a win-win.
The resulting three-way conversation gave rise to From the Ashes, a phoenix of an event which simultaneously promotes Settlers Creek, brings a range of American barbecue styles to North Idaho and raises money for the Kootenai Humane Society.
At the one-day event, DiBernardo plans to cook locally sourced whole hogs and certified Angus brisket "burnt ends," as well as chicken he'll brine overnight in Alabama white sauce (mayo, vinegar, horseradish, lemon zest and celery salt). He's also making corn pudding, braised turnip and collard greens and bread and butter pickles.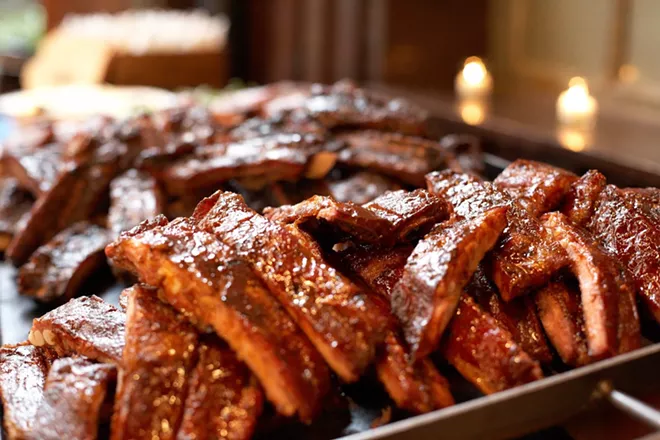 Three additional nationally recognized chefs are participating, too: Jean-Paul Bourgeois, from Blue Smoke in New York City; chef Laura Loomis, of Two Bros. Barbecue Market out of San Antonio; and Jason Dady, a chef and owner featured on the Food Network, PBS and the Travel Channel who operates a slew of San Antonio restaurants and local barbecue pits. Local pitmasters Brad Peugh, of B.O.H.I.C.A Smoke, and Daryl Kunzi, of Drummin' Up BBQ, are also both participating.
Some of the smoked and grilled meat will be used by three local chefs running "application stations," where they'll demonstrate what to do with leftover grilled and smoked meats, says Settlers Creek chef Bill Hilbish.
Tony Shields, who operates Coeur d'Alene-based Left Coast Fusion Truck, for example, plans to produce two different hors d'oeuvres with sturgeon.
"With the grilled sturgeon, we're going to be making some Asian-influenced lettuce wraps," says Shields. "With the smoked sturgeon, we will make herb and garlic-infused cream cheese canapés with fresh herbs, zests, fine diced shallots, and molecular-made caviar."
Other local chefs include Cosmic Cowboy's Chris White, Sysco's Teresa Whitney and Hiro's BBQ's Andy Buffington.
Local vendors are highlighted as well, including Athol Orchards, Bean & Pie, Coeur Greens and Spiceology.
Bean & Pie is set to serve their organic, locally sourced "Crumptious Handpies," which, according to owner Katy Bean, "have two layers of flaky butter crust, two layers of filling then are topped with our cinnamon crumb topping."
Local craft beer, cider and wine is featured, too, including Castaway Cellars, Clearwater Canyon Cellars, Coeur d'Alene Cellars, Coeur d'Alene Cider, Colter's Creek Winery, Daft Badger Brewing, Evans Brothers Coffee, the Filling Station on 5th, North Idaho Cider and Post Falls Brewing Company. ♦
From the Ashes • Sat, July 14 from 11 am-8 pm • Settlers Creek • 5803 W. Riverview Dr., Coeur d'Alene • $29/ages 21+, $25/ages 13+, $15/ages 5-12; $83/family pass • fromtheashesidaho.com • 208-261-2210