The video message from U.S. Rep. Cathy McMorris Rodgers starts, as they often do, with a beaming smile.

"I wish I was able to join you for the 2018 Women's March in Spokane," McMorris Rodgers begins. Recorded for but ultimately never played at the march, the message is not about protest. It's about celebration. She calls on women "to be bold, strive and fulfill their dreams, to be positive disruptors" and praises all the recent economic gains generated by women creating businesses.
"It was Margaret Thatcher who said, 'If you want something said, ask a man,'" McMorris Rodgers says in the video. "If you want something done, ask a woman.'"
The video sums up McMorris Rodgers' messaging strategy: It stresses her gender and motherhood. It shows her willingness to engage with her skeptics. And it entirely ignores the reasons for the protesters' outrage.
It plays like an artifact from an alternate universe, one where Donald Trump never became president, where the protesters' pink hats simply symbolize girl power — instead of Trump's recorded comments about sexually assaulting women.
McMorris Rodgers is fourth in leadership for a party that controls all three branches of government. The economy — in both Washington state and the country — is doing well. Her party just passed a huge tax cut.
And yet, for the first time in her 14 years, McMorris Rodgers could lose. Multiple polls have her opponent, Lisa Brown, within striking distance.
For years, McMorris Rodgers has been trying to soften the reputation of the Republican Party, promoting it as a party for women, mothers and minorities, instead of sexists, racists or cold-hearted businessmen.
But today, that messaging mission has to contend with a president who McMorris Rodgers now acknowledges may have sexually harassed or sexually assaulted women. With Trump's words and deeds looming in the background, what McMorris Rodgers says and what she does is being scrutinized like never before.
ASK A WOMAN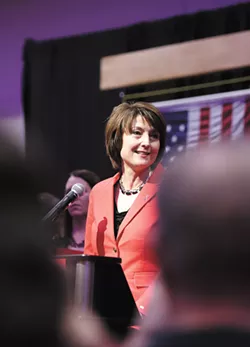 In October of 2016, every Republican politician faced a moral and political challenge: How to respond to the "grab 'em by the pussy" tape.
After the Washington Post released the behind-the-scenes Access Hollywood video from 2005, capturing Donald Trump bragging about assaulting women, a slew of Republican legislators — including Idaho Sen. Mike Crapo — pulled their endorsements.
But while McMorris Rodgers issued a critical statement saying, "It is never appropriate to condone unwanted sexual advances or violence against women," she never retracted her endorsement. Today, she won't say if she even considered it.
"He was our nominee for president," McMorris Rodgers says.
Then came the succession of more than 10 women with allegations of sexual assault and harassment. But still McMorris Rodgers remained steadfast.
If she was morally conflicted when Trump won, she didn't show it. A few days after the election, she passed out hundreds of red "Make America Great Again" hats to her fellow Republican representatives.
Since then, however, the #MeToo movement has dramatically reshaped the way we respond to sexual assault allegations. As part of a #MeToo package of stories published in the Inlander last year, McMorris Rodgers wrote that "all elected officials must be held to a higher standard and should be held personally, financially liable if it's determined that they engaged in sexual harassment or assault."
During a recent phone interview with the Inlander, McMorris Rodgers is asked whether she believes the accounts of any of the women who have accused Trump.
The congresswoman takes a deep breath. Twelve seconds pass before she answers.
"Every woman should be heard," McMorris Rodgers says. "You have to take them at face value."
But does she believe any of their accounts?
"I have no reason not to believe it," she says.
"So what's the next step? What do you do when you believe the leader of your party has either harassed or assaulted women?
Another 12 seconds of silence pass.
"Donald Trump was elected president," she begins, using the same five words she spoke at a town hall last August when asked whether she sincerely believed Donald Trump was "mentally stable."
"There were allegations made during the campaign," she continues. "There have been allegations since. He's our president. I have spoken out and made it clear that this kind of behavior is wrong and unacceptable."
Yes, she acknowledges, she endorsed him.
"I am proud of our records of results," says McMorris Rodgers. "I work with a lot of people who I don't agree with everything they say or do."
Six years ago, when McMorris Rodgers was trying to distance her party from a Missouri Senate candidate's offensive comments on rape, she urged the candidate to drop out of the race.
But you can't really distance your party from your party's president. In the age of Trump, McMorris Rodgers says she's trying to lead by example in combating the division and ugliness in the country.
"You've seen me bringing people together in Eastern Washington, reaching out to people who have not historically supported me," McMorris Rodgers says. "Working to build bridges."
IF YOU WANT SOMETHING DONE
On an evening in February, McMorris Rodgers sits at a conference table at World Relief, a refugee resettlement agency, and is joined by four local pastors and about a half-dozen immigrant students.
Several are recipients of the Deferred Actions on Childhood Arrivals program, which allowed 800,000 young undocumented immigrants to live and work legally in the United States. Last year, Trump announced he'd be shutting down the program, putting these young immigrants in peril.
One by one, the DACA students told their stories that evening. One says she didn't know she wasn't an American citizen until she applied for college. Another lost his legal status because of a clerical error.
As McMorris Rodgers listens, according to several attendees, tears well up in her eyes.
She's been in meetings like this before. After a racial slur was written on Spokane's Martin Luther King Jr. Family Outreach Center the week after Trump's election, she regularly met with community leaders to talk about fighting racism. After the Parkland school shooting in February, she spoke with high schoolers who pleaded with her to do something about gun violence.
Rodney McAuley, a church engagement director for Youth For Christ, attended many of those meetings, including the one with the DACA students.
"I have personally observed a journey of compassion and heart-shifting in Cathy," McAuley says. "I can state that unequivocally."
At the DACA meeting, some of the pastors and DACA students push McMorris Rodgers to take a stronger stance beyond words uttered in private. Sponsor a bill. Let one go to the floor. Give a passionate speech.
She doesn't bite, attendees say. She talks about the political limitations. She says she doesn't want to push a bill that Trump would veto.
"It's like, 'I want to do this, but my hands are tied,'" McAuley says.
Whitworth graduate Kamau Chege, a left-leaning DACA recipient at the meeting with the congresswoman, believes McMorris Rodgers sincerely cares about the plight of people like him.
"But the fact she's unwilling to translate that personal support into political action is incredible cowardice," he says. "Guilt and sympathy doesn't keep anyone from being deported."
McMorris Rodgers tells the Inlander that her biggest disappointment with the recent budget deal was that an immigration compromise wasn't reached, but she's still working to make it happen.
"Our immigration system is broken," she says. "And our DACA kids are on the front lines now."
Yet two weeks ago, McMorris Rodgers was at another private meeting about immigration. Twenty Republican moderates — including Washington Rep. Dave Reichert — had signed a discharge petition to force a bipartisan DACA bill to the floor. But McMorris Rodgers was a part of the leadership effort seeking to tamp down that rebellion, urging a more unified party compromise.
And when the Democrats, led by Sen. Minority Leader Chuck Schumer, tried to use a government shutdown to force a DACA deal, McMorris Rodgers used it as a political cudgel, mocking the attempt with the hashtag #SchumerShutdown.
McMorris Rodgers argues that bipartisan closed-door negotiations — not theatrics — will be most effective for reaching an immigration deal that everyone can agree on. She currently opposes a harsh immigration bill being pushed by far-right conservatives, preferring a simpler DACA-for-border-security trade.
"Some members, they choose to grandstand. They choose to go public in order to get attention," McMorris Rodgers says. "I am in leadership. I don't have to do things that other people do, because I'm in the room. ... I'm one of the decision makers."
Her staff points to a variety of McMorris Rodgers' bipartisan measures recently signed into law, including measures restoring funding for timber-dependent rural communities, doubling funds for Eastern Washington medical school residencies, improving retirement funds for disabled children and mandating that Medicare cover speaking-assistance devices for the disabled.
In January, McMorris Rodgers announced that Spokane's Mann-Grandstaff VA Medical Center would be opening a 24-hour urgent care center in the near future.
Indeed, it's sometimes the less flashy work that McMorris Rodgers does behind the scenes, helping her constituents navigate the federal bureaucracy, that earns her unsolicited praise.
At a Spokane City Council meeting in April, Henry Valder, a veteran who has struggled with homelessness, testified without prompting that the congresswoman has been fighting for veterans — and helping him personally — for over a decade.
"People have the gall to say that she hasn't done much for our vets," Valder says. "When I go to her office — I was in there this morning — I get her attention. When I needed care at the VA medical office, she got me a cab and brought me there."
Occasionally, she'll diverge from the party: As a mother of a child with Down syndrome, she broke with her House Republican colleagues to oppose a bill to make it harder to sue businesses that violate the Americans with Disabilities Act. She's pushed back, publicly and behind the scenes, against Trump's recent trade policies, arguing that tariffs could hurt Washington's businesses and farmers.
But mostly, McMorris Rodgers is pure, uncut Republican: Last year, she voted with her party 99 percent of the time, according to CQ, and with Trump 100 percent of the time.
Her priorities are the party's priorities. Strip away regulations. Kill Obamacare. Cut taxes.
On everything from abortion to marijuana and gun control, McMorris Rodgers has sought to frame the Republican position through the lens of being a woman or mother.
"We are the faces of tax reform," McMorris Rodgers said at a press conference with other female Republicans. "Tax reform was written with us in mind."
Most new small business owners are women, McMorris Rodgers argued, and the big corporate tax cut helps small business owners.
The vast majority of Americans will get a tax cut from the law, at least through 2025. McMorris Rodgers says she fought in leadership negotiations to preserve the Adoption Tax Credit and to double the Child Tax Credit.
"My priority was to put more money in the pockets of hard-working men and women," she says.
But groups like the Institute on Taxation and Economic Policy suggest that the cut is more targeted toward helping another demographic McMorris Rodgers belongs to: millionaires.
In Washington state, the institute calculates, 31 percent of the tax cut's benefits go to the richest 1 percent.
McMorris Rodgers' solutions to addressing poverty are very much Republican ones: She championed a proposed Farm Bill that would have added both job training programs and strict new work requirements to receive food stamps. To Republicans, the proposal was about breaking the cycle of governmental dependency, giving low-income people the training and motivation to escape poverty.
"If we can get more of these people into the workforce, that, too, is going to add to our economy," McMorris Rodgers says.
To Democrats like Washington Gov. Jay Inslee, it was a proposal that would "rip away food assistance from those who need it most," noting that an estimated 2 million people would see their benefits cut or eliminated.
Either way, the gambit backfired. Far-right Republicans, angry that their immigration bill hadn't received a vote, voted against the Farm Bill. And Democrats, angry about the new work requirements, voted against it too. The Farm Bill failed, leaving uncertain the fate of programs that Washington state farmers rely upon.
That's the downside of being in leadership: When it all falls apart, you get blamed.
McMorris Rodgers isn't giving up. Her staff says she's seeking a compromise on both the Farm Bill and immigration in June.
IF YOU WANT SOMETHING SAID
When McMorris Rodgers reluctantly endorsed Trump in 2016, she did so with a caveat: She promised that she'd speak out if he said more offensive things about women, minorities and people with disabilities.
"I've called him out before, and I won't be shy if he does it again," she wrote on Facebook in May 2016.
Since Trump's election, McMorris Rodgers has sometimes condemned his statements. When Trump disparaged immigrants from "shithole countries" like those in Africa, McMorris Rodgers lamented the "profanity and divisiveness," arguing his language was contrary to American values.
But other times, McMorris Rodgers has been conspicuously silent. Trump pardoned Joe Arpaio, a former Arizona sheriff with a long list of civil rights abuses who'd been convicted of criminal contempt for refusing to stop racial profiling. Arizona Sen. John McCain argued the pardon undermined the "rule of law."
But McMorris Rodgers didn't say anything. Today, she says that she respects Trump's decision.
Her predecessor, former Rep. George Nethercutt (also an Inlander contributor), says that Trump has put McMorris Rodgers in a tricky position.
"The main thing is, she wants to win the election," Nethercutt says about McMorris Rodgers. "If she rejects Trump, she rejects the Trump supporters. She can't do that."
Still, he says he would like to see McMorris Rodgers speak out against Trump more often.
"That's her obligation," Nethercutt says. "She's a leader. She can't cower in front of other leaders. I think she has to stand up for what she believes."
But McMorris Rodgers has plenty to praise Trump on, too. She notes how few people are unemployed and how many are starting businesses. She says he's "making progress" on draining the swamp. Asked if Trump is an honest person, McMorris Rodgers remains faithful.
"I have to take everyone at their word," she says. "I take Donald Trump at his word."
But the trouble with defending Trump is the improvisation it requires: You never know which headlines are going to break next.
Minutes before an Inlander interview, journalists reported that Trump said that some immigrants being deported "aren't people. These are animals."
When the Inlander shared the initial reports with McMorris Rodgers, she didn't hesitate to condemn them.
"That's completely wrong," McMorris Rodgers said. "That's an unacceptable way to refer to anybody. I believe everyone should be treated with value and dignity."
(Trump's defenders later noted his comments had come after a question mentioned MS-13 — and Trump later insisted that he was only referring to members of the violent Mexican gang, bashing the media for taking him out of context.)
It's when the Inlander brings up her lack of explicit condemnation of Trump's "very fine people on both sides" remarks after the white supremacist rallies in Charlottesville that her frustration boils over.
"I can't chase after every one of his tweets, and every one of the rabbit holes you want to go down here!" McMorris Rodgers says. "I have to give an account for myself. I cannot give an account for every statement that President Trump makes or try to defend it or explain it."
Yet, Trump was elected president, and if McMorris Rodgers gets what she wants, she'll be asked to do just that — defend Trump — for at least the next two years. Six if she's lucky. ♦