The Spokane Convention Center attracts bigger events and out-of-town money
The Spokane Convention Center had its strongest year to date in 2015, with 404,000 visitors, $4.2 million in revenue and a $75 million impact on the city's economy. The Spokane Public Facilities District, which owns and operates the facility, attributes that success to a $55 million upgrade completed in 2015 to its convention center, including 500,000 square feet of total meeting space and a 120,000-square-foot exhibit hall.
According to Stephanie Curran, convention center general manager, this expansion made it possible to attract bigger international events it couldn't before, whose attendees will pump money into Spokane's economy. For instance, the convention center hosted the World Science Fiction Convention, which was held the previous year in London.
Across the country, cities have invested in their convention centers in hopes of drawing more out-of-town money. Critics say that too many cities are adopting this strategy, leading to an oversaturated convention-center market. Curran isn't worried; she says the convention center is already booking into 2023. She also says that when more meeting planners visit the convention center, she's confident they'll be sold. "Once you get here, how can you not love it?" she says. (JAKE THOMAS)
Gonzaga builds a big building and gets a big gift
Basketball aside, Gonzaga University had two big wins in 2015. This past summer, it finished its massive new student gathering place, the John J. Hemmingson Center, complete with a two-story dining room, office spaces, conference rooms and a hydroponic greenhouse that grows fresh produce.
There's nothing quite as iconic or crucial on a college campus as the place where students come to eat. With the new student center, the impact on the campus atmosphere has already been transformed.
"The Hemmingson Center has brought our university community together in ways we simply have never been able to experience before," says Joe Poss, Gonzaga's vice president of university advancement. "It's become a hub for special events and gatherings unparalleled on our campus."
Of course, swanky new facilities can also mean an increase in costs. That's where the second gift comes in. Myrtle Woldson, a musician and philanthropist who never attended Gonzaga, named the university in her will with gifts worth at least $55 million, including three properties — a parking lot, parking garage, and a stake in a mixed-use complex — near the coveted Seattle waterfront, likely to rise in value.
A little over half of the bequest will go to build a new performing arts center, while the rest will fund a scholarship endowment.
"Miss Woldson's generous scholarship bequest means hundreds of students in a variety of disciplines will be able to earn university degrees at Gonzaga in years to come," says Poss. (DANIEL WALTERS)
The Davenport Grand Hotel arrives downtown
It was hard to miss the arrival of the Davenport Grand Hotel in downtown Spokane. The new addition to the Davenport family of hotels made a big impression when it opened on June 17 across from the Spokane Convention Center. The hotel, which features 716 guest rooms and three restaurants, provided jobs to about 400 people, a number that could soon rise to 600. The towering white structure, which cost a reported $135 million to build, reshaped the Spokane skyline and continued a revitalization trend on the east side of downtown.
"The reaction is so consistent when people enter the lobby. They tell us that they don't feel like they're in Spokane, but rather a much bigger city. It definitely has that feel," says Matt Jensen, corporate director of sales and marketing for Davenport Hotels. (MIKE BOOKEY)
Q&A with Grant Forsyth, Chief Economist at Avista Corp.
INLANDER: What is the first metric you consider when evaluating the strength of the local economy?
FORSYTH: The main indicator I look at is employment. It's been an incredibly strong year for employment growth in Spokane and Kootenai counties. When the numbers come in, I think we'll have 3 percent job growth this year, and we haven't seen that kind of growth since 2006. We got hit pretty hard by recession in 2008 and took longer to recover than other areas.
Why is that?
There's a couple reasons. We started to see the benefit of the low interest rate policy that the Federal Reserve implemented. We also got past some bigger policy issues with health care. Once the Affordable Care Act passed, the health care sector started to hire again, and I think that's one of the things that really helped the region because the service sector started to grow. Health care is a big part of that.
What about unemployment in the region?
We're seeing very low unemployment rates. They're back down to what I would consider normal levels. In Kootenai County, for example, the unemployment rate may come in under 5 percent. That's incredibly low.
How are we looking going forward?
An indicator for future growth that I like to follow is initial claims for unemployment insurance. For Spokane and Kootenai counties combined, initial claims have fallen to levels below those in 2006, when claims were way down. That's another sign that the labor market is very strong, and the balance has shifted toward workers. It signals continued growth into 2016. We'll start to see upward pressure on wages, which we have not seen for quite a while.
Also, a leading indicator of future growth are permits for construction. I follow both commercial and residential permitting, and both came in very strong this year, which is pretty strong signal that we'll have continued growth into 2016. As permits for construction increase, that's a strong indicator of employment growth and overall economic activity in the region.
Do you have any concerns?
There's still some continued uncertainty about the future of Fairchild Air Force Base. I think the military would like to go through another round of base closings as it did several years ago.
Another other issue is that Canada, an important partner for us in this region, is not seeing as much growth, and the dollar is much stronger. It's more expensive for Canadians to buy our goods and come here as tourists.
And finally, there are concerns if the winter peters out on us and we're left in a situation with low water and high fire danger. Another year of severe fires is not going to be good for the regional economy. (MITCH RYALS)
Spokane police expand use of body cameras
The Spokane Police Department bought 220 body cameras in the spring of 2014. As of mid December of 2015, 203 officers were sporting the playing-card-sized cams. The rest are reserved for training and new hires. So far, a total of 6.22 terabytes of footage has been logged. That's 4,836 hours. There have been 235 requests for body camera footage; 168 of those have been filled.
The biggest gripe among officers? There's no official policy in place that tells them how and when to activate the cameras. Currently, the draft policy provides guidelines but no official rules, meaning there are no repercussions for violating them. Tim Schwering, director of strategic initiatives for SPD, says the policy should be codified within a few months. (MITCH RYALS)
Coeur d'Alene's urban development agency moves forward
Coeur d'Alene's urban development agency, ignite cda, faced criticism in the weeks leading up to November's city council election. Toby Schindelbeck, a local business owner looking to unseat longtime incumbent Ron Edinger, came out in support of dissolving the agency and giving control of the public funds it manages to elected officials.
In November, Dan English knocked off conservative incumbent Steve Adams, who also voiced support for nixing ignite cda. State Senator Mary Souza called out the organization for spending $120,000 on a rebranding and "public relations campaign" when the board voted to change the name from Lake City Development Corporation to "ignite cda."
With victories for Edinger and English, and $6.5 million in tax increment funds for the 2015-16 fiscal year, ignite cda is full steam ahead.
Projects on its radar in the next few years, according to Executive Director Tony Berns, include a partnership with the city to reconstruct Mullan Road ($1.6 million allocated) and a collaboration with the University of Idaho, North Idaho College and Lewis-Clark State College on a shared education facility ($2.5 million allocated). Also in the works is another partnership with the city to rebuild Seltice Way along I-90 in 2017 ($3.5 million allocated).
"Our goal is to create value for the community," Berns says. "And we're always looking for partnerships to create that value, both public and private." (MITCH RYALS)
Ben Joyce's art blows up
Spokane artist Ben Joyce's work has become familiar to people in the Inland Northwest through a number of public displays of the works he calls "abstract topophilia," including large pieces at the Spokane Convention Center and Gonzaga University's Jepson Center, as well as smaller pieces in numerous area galleries. His bright, distinct style of aerial landscapes makes favorite subjects like the Spokane River running through downtown or the area around Lake Coeur d'Alene burst from any wall they're on. In 2015, Joyce's efforts to display his art beyond his adopted hometown kicked into high gear, with abstract topophilia being displayed at Google headquarters in the Bay Area, at bus stops throughout Las Vegas and in the collections of musicians like the Game and Pharrell, who spied Joyce's work at the L.A. radio station where one of the artist's childhood friends works as a producer. So enamored were they with Joyce's style, they took the paintings off the station's wall after their visits and brought them home. (DAN NAILEN)
Chinese Lantern Festival mesmerizes visitors
Rather than simply surpass expectations, the inaugural Washington State Chinese Lantern Festival this past fall simply denied anyone an accurate guess at how positively received it would be. After more than a year and a half of planning and weeks of setup, the grassy slopes of Riverfront Park were awash in vivid colors and light each evening for seven full weeks — two weeks longer than originally scheduled. Organizers with Spokane Parks & Recreation and Visit Spokane projected that the culturally immersive experience would sell around 50,000 tickets (priced between $12 and $17 per person), but final attendance estimates reached 80,000 event-goers. Those visitors also spent an estimated $4.6 million in the city as they attended the festival, booking more than 800 hotel-room nights, Visit Spokane reports. (CHEY SCOTT)
Spokane scores big in Olympia
After the most recent legislative session was gaveled to an end, Spokane had secured money for new investments in transportation and education.
One of the biggest gets for the Lilac City was the green light from lawmakers for Washington State University to build the state's second medical school, along with $2.5 million to get started. The school, which will focus on rural and primary health, will start classes in fall of 2017 if it can get funding and accreditation lined up in time.
When lawmakers voted to raise the gas tax to fund transportation infrastructure projects, Spokane landed $879 million to fund the south half of the North Spokane Corridor, a long-sought-after project that would connect I-90 with U.S. 395; it's expected to make it easier to move freight and people and decrease congestion.
Other goodies in the transportation package included $8.8 million for a controversial pedestrian bridge that will link the University District to a stretch of East Sprague Avenue, and $15 million in funding for the Central City Line, a trolley-like electric bus line that'll serve a six-mile stretch of Spokane.
The new line has been a priority for the Spokane Transit Authority for years. Although voters narrowly turned down a ballot measure in April to shore up funding for bus service and the Central City Line, the STA says that the vote was by no means a referendum on the project, which it says will not only help people get around, but also have a catalytic effect on the city's economy.
State Sen. Andy Billig, D-Spokane, adds that the other big win is the legislature's investments in education. Specifically, he points to a tuition reduction for colleges and investments in early learning that he says will be a particular benefit to the city's large number of low-income families. (JAKE THOMAS)
Local music scene still movin' and shakin'
This year, three new music venues opened, while others, like the Bartlett, Big Dipper and Knitting Factory, continued to bring in exciting acts.
In February, Thomas "TC" Chavez opened Pinnacle Northwest, aka the Pin, downtown in the Sprague Avenue space formerly known as Club 412 and the A Club. He held onto the Hop!, his other venture, but as its Monroe Street building was being sold, he let it go and kept the all-ages Pin. Over the past year, the mid-sized venue has given many local bands their start and hosted numerous hip-hop, metal and screamo acts. It's going strong.
The Observatory quietly opened in November in the old Blue Spark location downtown on Howard Street, touting delicious, high-end bar food and a happy sense of community. It wasn't until last weekend that the venue's newly installed stage and light/sound system was first utilized (by Fun Ladies and the Smokes, no less). Local promoter Jeff Glinski, in charge of bringing music to the 162-capacity venue, plans to lure acts that would normally pass up Spokane. Expect shows a few times a month.
The doors of the new Palomino opened with a DJ bash on Halloween. For the first time since June, people experienced the handsome 500-capacity space on Lidgerwood, right across from the Spokane Eagles Lodge. Formerly known as the Palomino Club, owner Marc Fechter and business partner Wendy Jordan have so far hosted club nights, fundraisers, drag shows, fashion shows, local rock bands and jazz nights. The owners say the new year will bring bigger acts. (LAURA JOHNSON)
Washington state stores sell millions worth of pot
Recreational marijuana stores in the Inland Northwest sold a total of $42 million worth of product since retail pot stores opened in July 2014, according to an analysis of numbers from the Washington State Liquor and Cannabis Board.
Since recreational marijuana stores opened, they had steadily reported higher sales month after month as more producers came online and helped make the price of legal pot more viable. In November of this year, something unusual happened: The amount of pot sold at recreational stores dropped slightly, from $75 million to $70 million. Sales in the Inland Northwest similarly dropped, by about $4.4 million to $4 million.
Eric Skaar, general manager at Sativa Sisters (Spokane County's top-selling store), says that after seeing "crazy growth," the slight dip may be an indication that the market is fully realized. "People have a lot of other bills right now," he adds.
One definite change coming to marijuana in 2016 is the merger of the state's recreational and medicinal markets, to be implemented as part of the Cannabis Patient Protection Act, which was signed into law in 2015 and is expected to shutter many of the state's medical dispensaries. After meeting new licensing and training requirements, recreational stores will be allowed to sell to the medical market. Skaar says that Sativa Sisters is going that route to keep its customer base up. (JAKE THOMAS)
Inland Northwest beer is getting big
Our beer industry was in a state of expansion in 2015. Not just in terms of new breweries popping up, which they certainly did; our existing beer makers made strides to bolster the region's output and quality, signaling that this beer boom is no temporary thing.
We saw this most substantially in established brewers investing in their future. Iron Goat Brewing, which has long operated in a hard-to-find spot in east Spokane, bought a historic former auto shop on Second Avenue and is in the process of turning it into a 10,000-square-foot production space that will also feature a pub and outdoor beer garden. Iron Goat, which started bottling its beer this year, resulting in sales that far exceeded expectations, is selling it as quickly as they're making it.
"When you have demands for beer and you don't have the facility to make it, that's frustrating," says co-owner and co-brewer Paul Edminster. The new space is expected to open in the coming months.
No-Li Brewhouse also felt a little cramped this year, so when they wanted to put their Born and Raised IPA in cans, they didn't have the space to brew that much beer. They found a partner in Orlison Brewing Co., which was able to contract out some of their space in Airway Heights to bring No-Li's cans into existence. Orlison, in turn, has also expanded, adding a taproom in downtown Spokane while also pushing their sales into Canada and the East Coast.
In Idaho, Laughing Dog Brewing celebrated its 10-year anniversary by expanding for the third time with a 19,000-square-foot production plant north of Sandpoint that includes increased fermentation space and a canning line.
We also saw our overall brewery numbers bump up yet again. In Spokane, Black Label Brewing arrived in downtown's Saranac Commons while Bellwether Brewing took up residency on North Monroe Street, making old-world beers, and 238 Brewing Co. opened up in Green Bluff. On East Sprague Avenue, Bennidito's Brewpub began making Northwest-style beers, as well as their beloved pizzas. Arbor Crest expanded to make beer with its fledgling Square Wheel Brewing Company. In Cheney, New Boundary Brewing became that city's first beermaker in more than 100 years. Across the state line, Daft Badger Brewing brought new beers to Coeur d'Alene. (MIKE BOOKEY)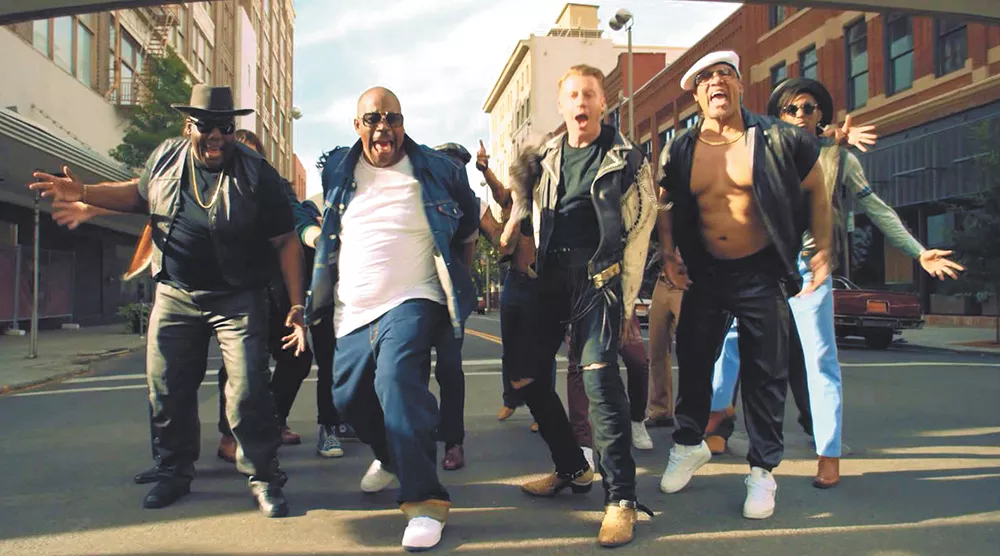 Macklemore and Ryan Lewis take over 'Downtown'
In July, whole sections of downtown Spokane were blocked off. People were mad about the inconvenience, but all was forgiven when the reason for the closures came to light: Macklemore and Ryan Lewis were filming a brand-new music video with local film production company North By Northwest for a then-unknown song. While the news was surprising, it made sense that Lewis would want to film in the town where he grew up. The Internet went wild with hastily taken cellphone photos of strange dance formations, motorcycles and what looked to be people wearing 1970s attire. In late August, the five-minute-plus, funky hip-hop masterpiece "Downtown" was released, showing off more than 13 distinct Spokane locations and even a surprise cameo from famed Mariner Ken Griffey Jr. As of press time, the video has received more than 83 million YouTube views. Sure, the whole video is silly, but it's ours. It could be the best Spokane tourism video of all time. (LAURA JOHNSON)
The Black Lens opens eyes to the black community
When local social justice advocate Sandy Williams launched The Black Lens in January, it was intended to be an independently run newspaper focused on positive news — all the stories about the good things happening in Spokane's black community that were being overlooked.
"I thought it would be lighthearted," says Williams (pictured). "And then life happened."
Mostly, she's thinking of the moment, about halfway through the year, that the nation became fixated by local NAACP President Rachel Dolezal, a white woman who had been passing herself off as black.
"Everybody cared so much about that, but didn't care about the [racial] disparity in the jail populations," Williams says. "That's where the paper took a turn."
It shifted, and became more willing to sink its teeth into hard news and investigative work. It still mentioned positive news — like Bethel A.M.E. opening its doors to the community after the windstorm — but also started featuring headlines like "Black students in Washington not prepared for thousands of unfilled STEM jobs" and "Local man shot in the back." It seized upon the story of Airway Heights Mayor Patrick Rushing caught sharing racist comments and images on Facebook.
The paper's success shows there's appetite for tough coverage. The issues have grown from 12 pages to 16 — even occasionally 20 — pages. Her advertising is growing. She's broadened her reach — you can find The Black Lens in several local libraries — and doubled the number of copies from 500 to about 1,000.
"It's growing so fast I'm having a hard time keeping up, which is a good problem to have," Williams says. (DANIEL WALTERS)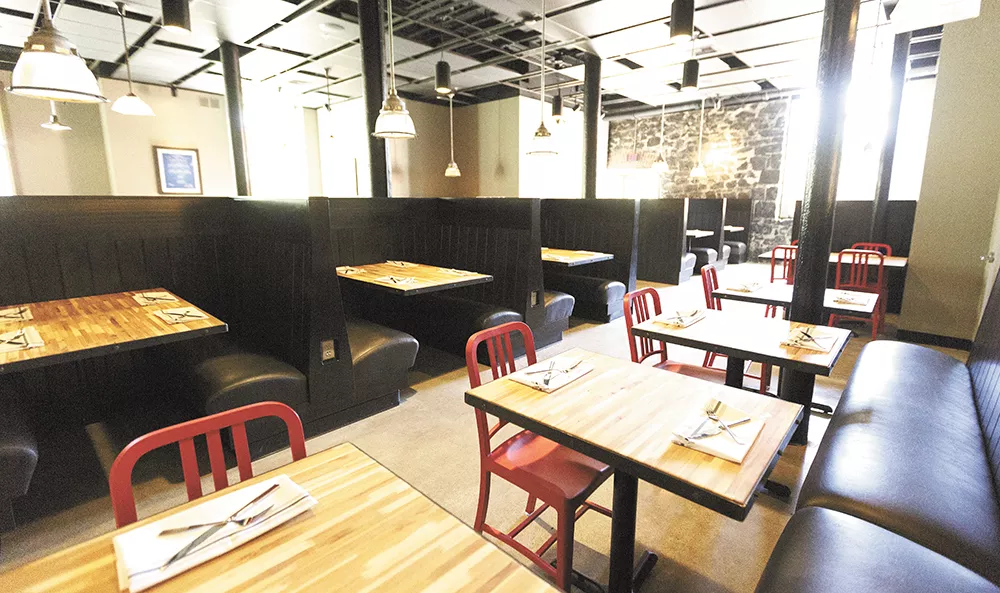 Foodies feast on new Inland Northwest options
A sure sign that a community's food scene is growing up is a boom in new restaurants, and 2015 was no different. Wandering Table chef/owner Adam Hegsted opened the Gilded Unicorn in the old Catacombs, focusing on craft cocktails and comfort pub food in the funky basement location. Hegsted wasn't the only familiar face to open a new place. Manito Tap House's Patrick McPherson opened Blackbird Tavern + Kitchen in the historic Broadview Dairy building, offering fun, upscale Southern fare.
When Walt Worthy looked for someone to put in charge of the signature restaurant of his new Davenport Grand, he tapped chef Ian Wingate to lead Table 13, a massive space with a far-reaching menu to match.
In Post Falls, the Timber Gastro Pub took the old Hot Rod Cafe and transformed it into a ruggedly chic spot featuring everything from burgers to pizza, along with hipster touches like housemade pickles and logging-themed craft cocktails.
SLICING IT UP: In the search for perfect pizza, there are several new options. Some are chains new to the region like Blaze Pizza and MOD Pizza, but if you like to keep it local, try out Piccolo Artisan Pizza in Liberty Lake, Republic Pi from the folks behind Flying Goat Pizza or Holeshot Pizza & Brew in the River Park Square food court. Bennedito's opened a brewpub on East Sprague where you can enjoy a slice, and David's Pizza opened again after a four-year hiatus between locations.
NOT-SO-SECRET SUSHI SPOTS: Japanese cuisine thrives in these parts. Kyoko Sushi in Sandpoint turned an empty storefront into a must-stop sushi spot. Kaiju Sushi and Spirits in Coeur d'Alene offers late-night treats from its basement location on Sherman, with rolls named for monsters in Japanese movies. In Spokane, Sushi Sakai moved from Spokane Valley to just off Gonzaga's campus on Hamilton, and QQ Sushi & Kitchen brought visually stunning sushi to Five Mile.
RELOCATIONS, OPENINGS AND FAMILIAR FACES: It took Madeleine's Café and Patisserie six months to move, and it felt a lot longer for people who love their breakfast. The Globe sat empty for years before returning with a menu of bar food a bit fancier than the old spot's pub grub. The Bulldog that opened in Gonzaga's new Hemmingson Center isn't the same as the beloved old spot, but it's got the old sign and cold beer on campus. Post Falls' killer French restaurant Fleur de Sel opened a satellite spot on South Hill, Fleur de Sel Artisan Creperie, while Saranac Commons expanded to include Mediterrano's fresh Med flavors; Caffé Affogato's Italian-style coffees are a perfect complement to its neighbors' food. (DAN NAILEN)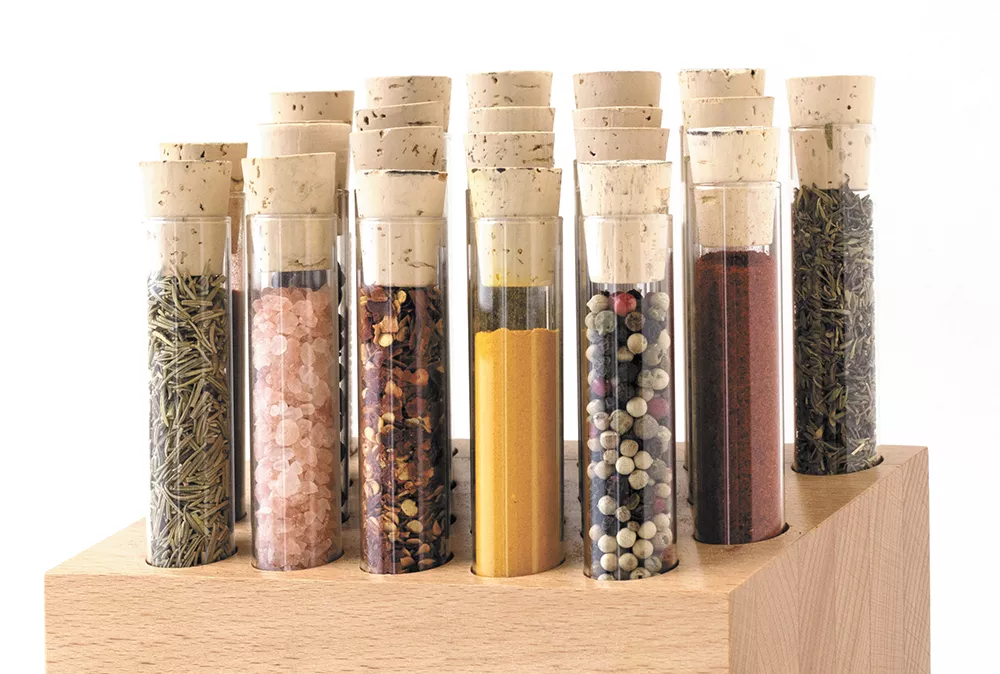 Spokane spice company nabs a hot deal
It's not hard to find the colorfully labeled jars of flavor in shops around here, thanks to the Spiceologist calling the Inland Northwest home. It's also not hard to find the all-natural seasonings, spice blends and rubs elsewhere in the U.S. at more than 800 retailers, including culinary-ware behemoth Williams-Sonoma. When the phone rang in February, Spiceologist's co-founders — chef Pete Taylor and blogger/photographer/recipe creator Heather Scholten — never expected Williams-Sonoma's senior buyer to be on the other end, asking if they could get some of the Spokane company's products in stores before the holiday season. Add that to a list of stores carrying Spiceologist's rubs and patent-pending kitchen counter organizer, the Spiceologist Block, that includes Marshalls, T.J. Maxx, Cost Plus World Market and Bed Bath & Beyond. After such a big year for the growing startup (born from the first Startup Weekend Spokane back in 2012), what's next? More spice lines and grocery-ready products are planned to launch as early as January. (CHEY SCOTT)
Spokane Valley's Zaycon bypasses the grocery store
Like so many of the biggest innovations of recent years, Spokane Valley-based Zaycon Fresh's brilliant epiphany was more about taking something away than adding something. CEO Mike Conrad and his fellow co-founders figured out that people could get frozen chicken breasts much cheaper, and much, much fresher, if they ditched the grocery store entirely and just picked it up from a refrigerated truck in a parking lot that brought the chicken directly from the farm.
For Zaycon, it meant no inventory costs, no storage costs and — thanks to pre-ordering — no wasted product. For Conrad, it's meant going from living on welfare to running a thriving national business. The company started in 2010, but this was the year it exploded, focusing on scaling from a $17 million business to as high as $70 million.
To assist them, they had the expertise and investment of Executive Chairman Rick Braddock, the former president of Citibank and former CEO of Priceline.com.
"We think the market could be as many as 40 million households," Braddock told the Inlander. (DANIEL WALTERS) ♦