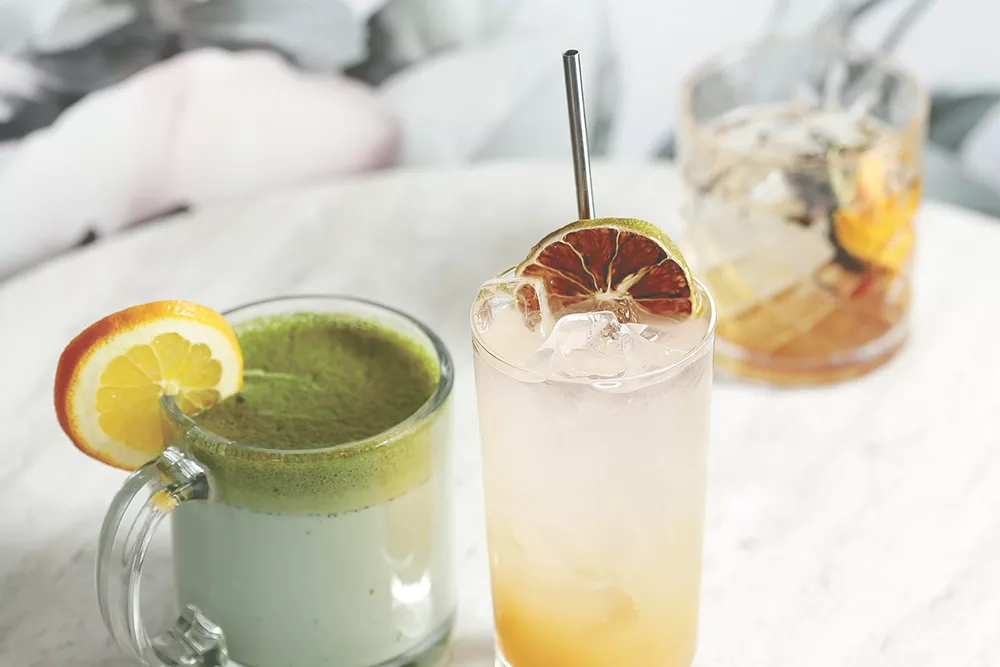 After the excess of the holidays, as many people try to start eating a little better, a growing number each year are opting to take a month off alcohol by participating in Dry January.
For the uninitiated, going sober for those few cold, dark weeks of winter quickly illuminates just how often alcohol is involved in social settings, and it can make it easier to recognize and start addressing personal bad habits.
While there are debates over exactly how beneficial just a few weeks off can be, there are generally health perks — such as better sleep and possible weight loss — that can come with going sober or sober-ish.
That last word's important: If your ultimate goal isn't to permanently cut alcohol out of your life (in which case there are programs and medical professionals that can help) you may find more overall success by not thinking about this month of sobriety in pass/fail terms. If you wind up having a drink or two, or even spend a whole night out, it doesn't have to be an excuse to give up your sober goal for the rest of the month. Start over the next day. It's OK to spend the month sober-ish.
Because of America's deep dependence on alcohol in social settings, it can seem like spending time with friends and being sober for the month are at odds, especially in the early weeks. But Dry January can be a great time to try new activities and visit places off your normal social circuit.
And for those who still crave that bar scene social time, there's great news: you won't be stuck with just soda, juice or water if you choose to go out. Many local watering holes are more than happy to whip up a personalized mocktail with unique flavor combinations that can make it a lot easier to stick to your goal. Plus, you'll quickly find those alcohol-free options easy on the wallet, with most ranging from $1 to $6.
Bijou owners Tyson and Shelayna Skidmore are familiar with mixing up flavors that tickle the taste buds with their Skidmore Alchemy line of bitters and many simple syrups they make with Rishi Tea. The tiny Browne's Addition bar also offers a full coffee menu, and several soda options, but the chance to play around with flavors like cinnamon plum and blueberry mint is where the real fun comes in.
For those who aren't opposed to three to five drops of alcohol in a drink, Tyson Skidmore says a very popular option is to get soda or tonic water with a dash of bitters and some citrus zest. With their in-house bitters line, flavor options include basil lavender, cherry, chocolate, curry, huckleberry jalapeño, and many more.
"When someone wants a nonalcoholic drink we try to work with their tastes," he says. "Do you like smokey? Do you like sweet? Do you like citrus?"
Spitballing with the Inlander, Skidmore brainstorms a mock Old Fashioned, which could be served warm with 2 ounces of Lapsang Souchong tea, 1/2 ounce demerara simple syrup, and 1/4 ounce orange or cinnamon plum syrup.
Skidmore says he has plenty of friends who participate in Dry January, and while it differs from person to person, choosing to go out during the month can be a good option.
"Most of the time, when you're not drinking, you want an activity, whether that's cribbage or dominos, or something like shuffleboard," he says. "Sometimes you just want to get out of the house and curl up in the corner of a quiet bar. I think of Cease & Desist Book Club, Volstead Act, Sapphire Lounge, places where you can find that atmosphere."
For many, going out is about finding camaraderie, he says, which is something he's seen growing at Bijou, which seats only seven inside, with standing room for others.
"You're sort of stuck in conversation here. Though you don't have to be part of it, you're in it," Skidmore says. "It's nice because you aren't so alone as you might be in a bigger bar."
About a mile up the road, in the west side of downtown, Steel Barrel offers a casual and popular nightlife setting for sipping on craft mocktails made with fresh-squeezed juices and house syrups.
As a major bonus for those who want to get out and do something, the brewery incubator on Madison Street offers shuffleboard and darts free of charge — FREE! — and there's a shelf full of board games to help pass the time.
While Steel Barrel's focus is primarily on beer, the full bar has a variety of soda and fruit juices, and plenty of off-menu options for those looking to avoid alcohol.
Feel free to draw inspiration from the cocktail menu and ask for a nonalcoholic mojito or margarita, or better yet, work with the bartender to create something suited to your tastes. With simple syrup flavors like rosemary and hops, as well as a full stock of fresh fruits and garnishes, the options are only limited by your imagination.
Go another block into the heart of downtown and you'll find Gilded Unicorn, just off Monroe, offering another popular gathering spot to escape the cold.
Don't pass on the food menu, which is full of ridiculously tasty options, from garlic cheesy bread appetizers (Bocce Rolls) to savory entrees like the Duck Stroganoff with mushroom gravy, which is solidly a "treat yo' self" version of comfort food.
Berry lemonade made with fresh berry syrup is a popular option at Gilded, as are the mocktails from the printed menu, such as the Ramos Rose, made with cream, lime, berry and soda, and the often-ordered Tokyo Sakurambou, made with a sweet combination of ginger beer, cherry soda and orange bitters.
Chris Deitz, city director of Big Table Spokane, which in part helps industry workers address substance abuse, says other mocktail-friendly options include Durkin's and Luna, while Iron Goat has kombucha on tap.
For those looking to avoid the bar atmosphere altogether, Indaba coffee on Riverside is regularly open until 10:30 pm, offering nightlife vibes in a quiet, modern setting. ♦