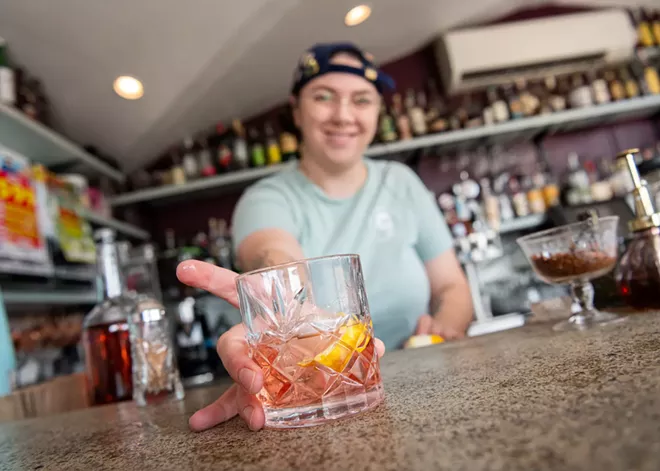 If you're looking for something to level up your cocktail experience, the missing ingredient just might be milk.
DeAndra Perrigo, a veteran bartender at Bijou, spent six months perfecting her milk punch recipe. It's a time-consuming, finicky process that mixes spirits, spices, fruit and tea with milk. The milk curdles from the acid, and over hours (or days), all the astringent tannins stick to the coagulated dairy. When the chunks are strained out, the final "milk punch" is transparent and tannin-less. What's left is a liquor that is spicy and fruity with no hint of cream, except that it's so smooth, it coats your tongue the way a milkshake does. It's a terrifying science experiment that can go very right, if you know what you're doing.
Most people don't.
"I spent a lot of time figuring this out," Perrigo says. "I'm not going to give away all my secrets."
Perrigo got some basic tips from Michael Conner, a chef at Durkin's Liquor Bar who's also Perrigo's fiance, and Simon Moorby at Hogwash Whiskey Den, who has his own milk punch process. But after a certain point, Perrigo was on her own. She scoured digital archives for recipes, learning tricks from as early as the 1700s. Then, she forged her own path, finally inventing a milk punch that is both lactose-free and vegan.
"I like to learn fun things," she explains. "Half the fun, too, is figuring out the process."
Perrigo is willing to share that her OG recipe has cinnamon plum tea instead of the typical green tea. She also makes rotational seasonal flavors, like sangria and lavender this past summer. This fall she's created a caramel apple flavor and perfected her ginger-cinnamon one. No matter what, each punch is served best on its own over ice ($13).
That's about all Perrigo is willing to share about the mysterious milk punch, though lucky imbibers may be able to squeeze a little more out of her.
You can press Perrigo about the process, but do you really want spoiled milk curdling on your kitchen counter? Don't kid yourself. Sip on Perrigo's hard-earned success, and leave the rest to the mad scientists. ♦
Bijou Bar • 1925 W. Fourth Ave. and 2910 W. 29th Ave. • Browne's Addition location open Sun-Thu 3 pm-12 am, Fri-Sat 12 pm-1 am; South Hill location open Sun-Thu 3 pm-12 am, Fri-Sat 3 pm-1 am • 509-413-2379 and 509-862-4165
---
MORE SOPHISTICATED SIPS
Lebanese Coffee ($7)
The Lebanese Coffee at Lebanon Restaurant and Cafe is brewed in hot sand, an ancient tradition now available on the South Hill. Grounds are kept in the bottom of the pot and each batch is infused with cardamom. Every coffee service includes a personal
rakwe
, a traditional long-handled coffee pot, and a small, gold-handled drinking cup so every sip is warm and fragrant.
Lebanon Restaurant & Cafe • 707 W. Fifth Ave. • Open every day 11 am-8 pm • 509-279-2124
Smoke & Bourbon ($18)
Here's a stunt, and you may need a double: Clinkerdagger's Smoke & Bourbon cocktail is on fire, literally. The "tableside show" is definitely a crowd-pleaser, in an Evel Knievel kind of way. It's always good to get the sparks flying on a night out, but please, leave this flame to the professionals.
Clinkerdagger • 621 W. Mallon Ave. • Open Sun 3-9 pm, Mon-Thu 11:30 am-9 pm, Fri-Sat 11:30 am-10 pm • clinkerdagger.com • 509-328-5965
Sun'va Beach ($7)
You don't need alcohol for a night on the town. The Bank: Barroom & Eatery in Sandpoint has a stunning selection of nonalcoholic or low-ABV drinks that are just as complex as their friskier counterparts. The Sun'va Beach is less than .5% alcohol but flaunts a carrot ginger shrub, chili brine, lime, and hop water chili bitters for a sophisticated twist that you can't find in the grocery aisle.
The Bank: Barroom & Eatery • 105 S. First Ave., Sandpoint • Open Tue-Sat, hours vary • thebanksandpoint.com • 208-948-2952