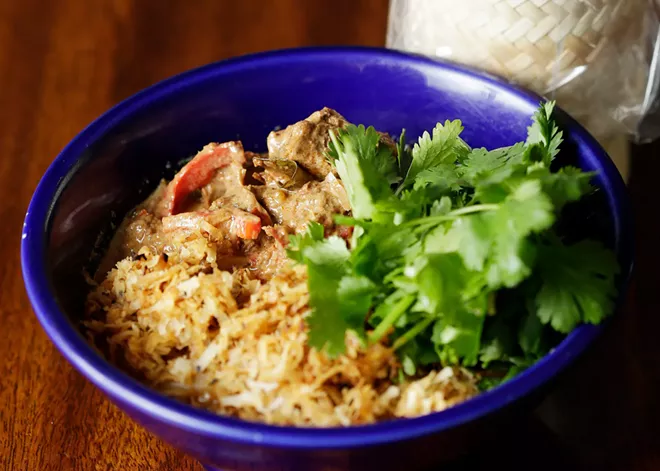 At d'bali Asian Bistro, it's always been about hard work.
Born and raised in South Korea, owner Jeannie Choi (affectionately known as Mama Jeannie) says she's always had a metaphorical appetite for travel and a literal appetite for diverse cuisine.
After traveling around Southeast Asia in her 20s, Choi found herself in Spokane working a tough job and wondering where life would lead her next.
"She was always cooking for friends and family at her house in addition to working all of the time," says Kelly Bishop, Choi's business partner. "We kept telling her it was time for her to do something for herself."
Following that gentle nudge, Choi opened d'bali Asian Bistro in October 2018. She's been bringing the complex flavors of Southeast Asia to the West Plains ever since.
With d'bali, Choi struck a balance between her love of food and her obsession with travel, which is clearest in her Sumatran beef rendang ($18). At first glance, the rendang looks like any other curry-style dish. But when it hits your tastebuds, it's clear the dish is something far more elusive.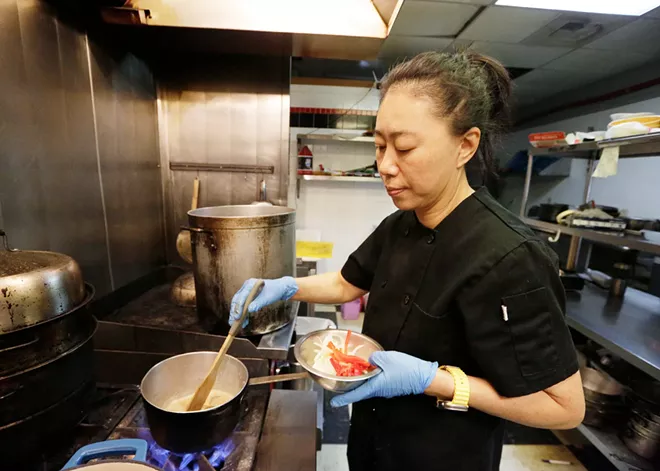 Rendang hails from the Minangkabau people native to the West Sumatra province of Indonesia. Much like Choi, rendang began in one place and ended up in many others.
"The early trade that happened in the region of Southeast Asia impacted this dish heavily," Bishop says. "Over time, the introduction of new people and cultures resulted in people taking on the dish and making it their own."
Beginning as a dried beef product, the dish is now a stew-like amalgamation of intense flavors and a comfort food for people all over the world.
Rendang is created by marinating a piece of tender beef in a blend of aromatic spices. Choi uses everything from cardamom, cinnamon and star anise to fresh ingredients like lemongrass, ginger, garlic and galangal, a spice with forward-facing notes of mustard and pine.
Choi says it's difficult to find fresh ingredients in the Inland Northwest, so she often makes trips to the state's west side, even for just one ingredient. Anything for her customers, the "d'bali Fam Bam," as Choi and Bishop call them.
"Traditionally, the spices were pounded together to create the marinade," says Choi, though she admits they have a blender now. Once the spices are combined, the meat is covered in the mixture and left to marinate for 24 hours, even up to 36 hours. At minimum.
D'bali's version of rendang has just enough sauce to seep into the warm rice, while the coconut cream gives an undertone of sweetness, and the marinade spices surface more and more with every bite.
"When all of these flavors are mixed together, it's not overwhelming," Choi says.
Although it takes nearly two days to make one batch, the dish is a mainstay on the menu. Choi's perfected rendang is a combination of her experiences, expert knowledge and love of cooking. That's evident in the flavors only she can create.
"Rendang is a road map of sorts, from Southeast Asia all the way to the Inland Northwest. That's what makes this dish so culturally significant," Bishop says. "It ties together many different ethnic groups and cultures to where we're all just one people."
Choi sums it up best: "Rendang is like a peaceful community." ♦
d'bali Asian Bistro • 12924 W. Sunset Hwy., Suite 6, Airway Heights • Open Mon-Thu 11 am-9 pm, Fri 11 am-10 pm, Sat 1-10 pm • facebook.com/ dbaliasianbistro and dbaliasianbistro.com • 509-230-8629