Head down the stairs to Coeur d'Alene's Kaiju and enter a late-night sushi spot that's half North Idaho, half lower Manhattan. Local artists' renditions of Japanese monsters hang on the walls. A seat at the low lit, high top sushi bar lets you watch how the rolls get made. A full service liquor bar with a lengthy list of sakes offers another round after the bars close but before you want to head to bed.
In the middle of the basement, Phaedra Ciccone wets her knife. At 22, she's already the executive chef of Kaiju. She's the daughter of Frank Ciccone, who owns Kaiju and the neighboring restaurant Crickets, and she's been honing her sushi skills since she was 14. The quick, confident slice of her knife makes it look easy. But her years of practice prove it's anything but.
The King Kong roll ($19) isn't the most technical roll on the menu. It's not topped with filet mignon seared by a blowtorch like the Hedorah ($22) or with expertly cut fish like the Manda ($21) or the more traditional nigiri or sashimi bites. But it's a beast that shouldn't be unleashed on a weeknight at home.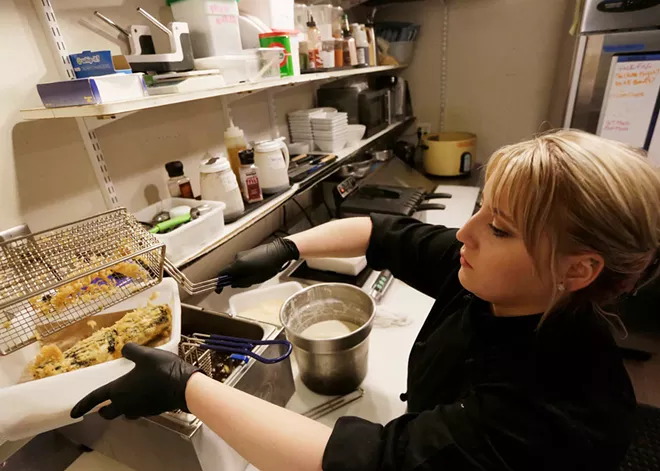 The King Kong features escolar, which is also called Oilfish, White Fish, White Tuna or Hawaiian Butter Fish. Escolar gets its nicknames from its high concentrations of fatty, waxy esters that make it absolutely delicious and potentially hazardous — which is why it's banned in Japan and Italy.
Eat it in small amounts, and you'll be delighted — creamy, rich, and almost devoid of that "fishy" flavor. But eat any more than 6 ounces, and all that indigestible wax has to come out somewhere. You may discover why Hawaiians have another name for this fish — Maku'u — which means "exploding intestines."
For Kaiju's King Kong roll, Ciccone layers escolar with cream cheese, flying fish roe, crunchy green housemade slaw and bright orange yama gobo, a traditional Japanese pickled root vegetable. To showcase texture and technique even more, Ciccone deep fries the whole roll. She drips extra tempura batter while the roll is submerged to give it extra flake.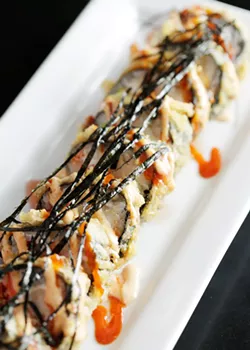 Topping off the extravagance, she drizzles the hot, crispy roll not only with sriracha and spicy mayo, but also huckleberry honey, for an epic battle between sweet and spicy. Long strips of dried seaweed make it look "furry," Ciccone says. It's as intimidating as the giant gorilla himself.
At first bite, it's hard for me to distinguish between the escolar and cream cheese. Some chefs might consider this fried roll an insult to the pure ideals of sushi, but I'm too distracted by the sweet, spicy and sultry taking turns on my tongue. Punches of nori and fish eggs play nicely with the creamy base. I can see why escolar shows up on just about every American sushi menu. This country has a love affair with fats and fried things, and tonight, I'm here for it.
If you're getting bored by repetitive meals and cookie cutter menus, Kaiju is the place to get inspired. Each house original roll is crafted for flavor, aesthetics and surprises.
"You'd think after eight years I'd get tired of eating it," Ciccone says. "But honestly, I haven't because I just make new stuff all the time."
Ciccone has made Super Bowl-themed sushi with buffalo wings and celery sticks. The M.O.G.U.E.R.A. roll pairs smoked salmon with Fuji apple and fried feta ($15). Ciccone even custom created the Mothra ($18), an umami-packed vegetarian roll with jalapeño and sweet chili sauce, for a regular who was discouraged by bland veggie options everywhere else.
So anytime you feel yourself falling prey to the fatigue of familiar flavors, treat yourself to a night of sea monsters and Kaiju's monster creativity.
And definitely don't keep escolar in your freezer. That would be far too dangerous. ♦
Kaiju Sushi & Spirits • 424 Sherman Ave., Coeur d'Alene • Open Sun-Sat 12 pm-12 am • (208) 966-4019