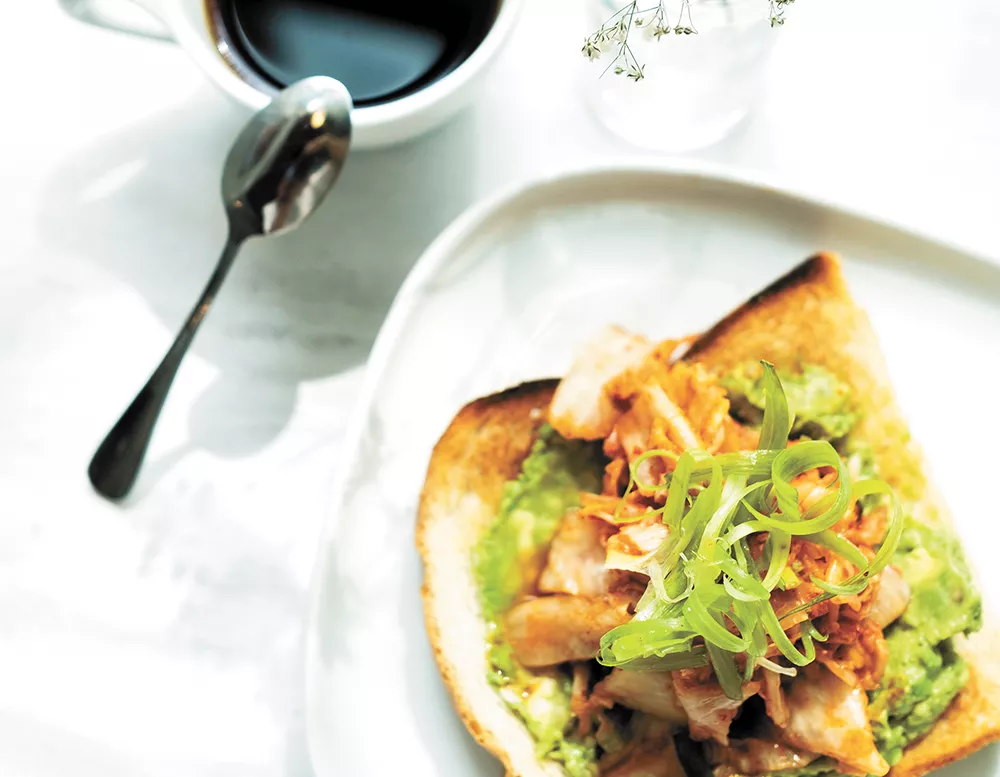 Artisan toast. It's proving to be more than a passing millennial-motivated trend, or a glorified marketing pitch for selling open-faced sandwiches. Depending on where you go and what you order, a slice of rustic bread laden with nut butters, fruit, cheese or the ubiquitous avocado can be an easy light snack or a filling meal on its own. We set out to sample a few artisan toast offerings on coffee shop and cafe menus around the region; here's what we found, and what we thought:
PATHFINDER CAFE, 3026 S. Grand Blvd.
What we got: Old School Toast, $7.50
Forgive me foodies, for I have sinned: I have never had avocado toast. The very toast that's been the butt of millennial jokes for years and the genesis of the artisan toast fad we're now enjoying has never crossed my palate. It's not my fault though! I love the taste of avocado, it just doesn't love me back. But that doesn't mean I haven't been able to enjoy some of the delicious toast creations that have been popping around the region the past year or so.
At Pathfinder Cafe on the South Hill, I went for the Old School Toast, which features slices of turkey and melted havarti cheese on Glorious Artisan Bakery bread. The whole thing is topped with crushed kettle chips and arugula, with a drizzle of house-made chipotle mayo. One of our more skeptical Inlander writers would say this is "just an open-faced sandwich." I say it's a piece of tasty and filling toast, best enjoyed with a fork and a smile. Of course, if you're an avocado lover, they've also got an avocado toast on the menu, or you can add avocado to any selection for $2. Go gluten free for $1 extra. (SAMANTHA WOHLFEIL)
INDABA COFFEE ROASTERS, 518 W. Riverside Ave.
What we got: Bacon Avocado Toast, $8.75
I love carbs, and could eat them all day, every day, no problem, if I allowed myself. And when it comes to toast, I'm perfectly happy with a simple smear of butter and nothing else. I blame Indaba's decadently topped toast menu for tainting this perspective, though it's a contradiction I'm happy to accept.
The coffee roaster's Riverside location toast menu is filling, diverse and satisfying — one slice really is enough for a meal (open-faced sandwich pessimists be darned) and I enjoyed this savory, salty, garlicky creation for a recent lunch. Fork and knife are definitely required to make the least mess of this thick slice of Alpine Bakery bread laden with a generous portion of avocado, bacon, radish and drizzles of garlic mayo and cilantro puree, garnished with scallions. Not only do you get your carb craving fix, but some healthy fats and protein, too. It's a win-win! Other toast combos on the menu currently include house lentil hummus, kimchi avocado, strawberry caprese avocado and peanut butter banana. (CHEY SCOTT)
THE GRAIN SHED, 1026 E. Newark Ave.
What we got: Brie and Radish Toast, $4
It's possible I willed the Grain Shed's toast options into my life. I had a drink with a vegetarian friend recently, and we got to talking about how salad doesn't really ever sound good for breakfast. In general, veggies need the right treatment to sound appetizing early in the day. So it was fitting that the next morning I found myself at the Grain Shed in Spokane's Perry District, staring up at the selection of veggie-centric toasts on their menu.
But I was far from disappointed. I went with the brie and radish, which hit a surprising and delicious combination of flavorful notes. Cutting through the buttery richness of melted brie was a sweet and spicy duo of habanero jam and thinly sliced radishes. The whole thing was topped with fresh lettuce and cool cucumber and served on crusty house-made bread. Plus, it was only $4! Seems like a pretty good, carby compromise for getting more veggies into your breakfast. Other options range from $3 to $5. (SW)
THE WELLNESS BAR, 312 N. Fourth St., Coeur d'Alene
What we got: A Bit Nutty, $3
For people who looooove bread but try to limit it, good toast is a decadent way of delivering yummy stuff into one's mouth; something creamy, cheesy, or a savory bit of meat and mustard. In the case of Wellness Bar's five toast options, yumminess is delivered on Ezekiel bread, a thin yet firm bread from sprouted grains (gluten-free bread is also available, although Ezekiel is flourless). Toasting brings out its nuttiness and gives a nice layer of crisp on top. That makes Wellness Bar's "A Bit Nutty" toast with almond butter, strawberries, almond slivers and a drizzle of maple syrup a bit more nutty, yet still the right balance of sweetness and a little tang from early season strawberries. It's a tidy protein package that offers just enough food to bridge the gap between larger meals or get you going in the morning without feeling overly full.
Add a smoothie like the Green Goddess ($6/16-ounce; $8/24-ounce) with kale, spinach, avocado, pear, chia seeds, honey and coconut water for a very doable breakfast or light lunch. (CARRIE SCOZZARO)
LADDER COFFEE & TOAST, 1516 W. Riverside Ave.
What we got: Avocado Toast, $9.50
This version of avocado toast (which, in my short and recent artisan toast journey, I've come to accept as the only way to eat fancy toast) is equally as hearty, flavorful and filling as you'd expect. Made with a base of the adjacent Glorious Artisan Bakery's rustic country loaf, the toast itself holds up well to a hefty spread of avocado, topped with sriracha aioli for a little kick, some sweet cherry tomatoes, red pepper, cilantro and toasted sesame seeds. Gluten-free bread is available, or make it even more protein-packed by adding a fried egg for a buck. This avo toast hits all the notes, and I really enjoyed the spicy sriracha aioli and the sesame seeds for more depth in flavor and texture. Other options at Ladder are jam with ricotta cheese ($5), a take on Nutella ($5) with honey chipotle peanut butter and chopped walnuts, or a simple slice ($4) drizzled with lemon-infused olive oil and salt and pepper. Settle into this hip and cozy coffee shop in a recently revitalized historic building on the edge of Browne's Addition and plan to stay a while. (CHEY SCOTT) ♦