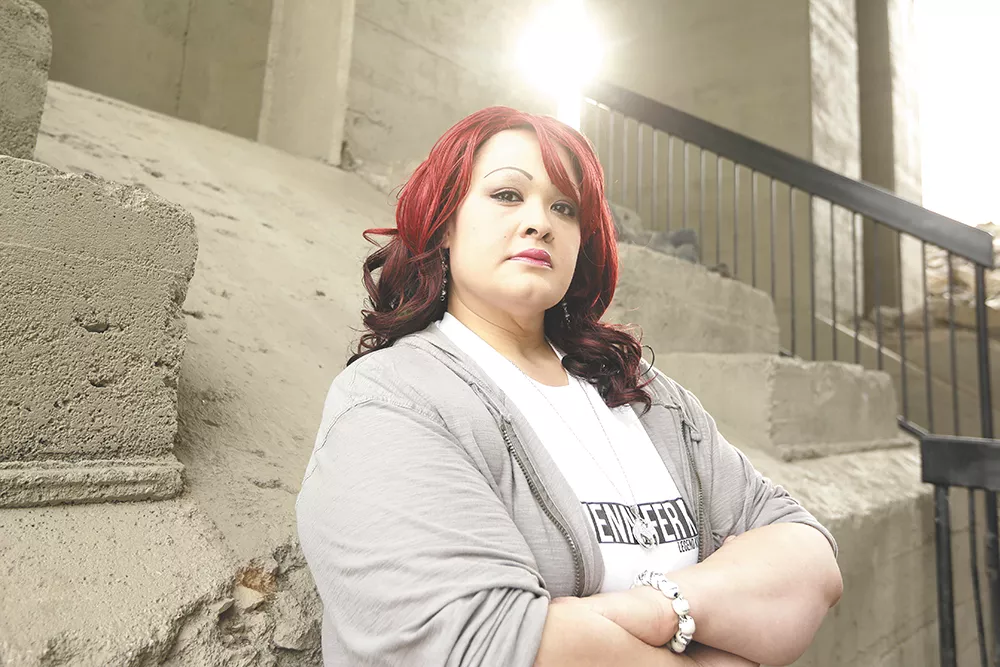 Music was the thing she was good at, she says.
"By junior high, I'd been blackballed from all local talent shows," says the 37-year-old grandmother. "I just kept winning."
Her booming, sultry vocals continued to get her in with some of Spokane's best acts. Eventually landing with blues crew Big Mumbo (which would later reform as Stepbrothers) in 2007, she was lauded by the Inland Empire Blues Society as best female performer and best female vocalist multiple years running. In 2012, she beat out 150 contestants at Northern Quest Resort & Casino for a chance to try out for the short-lived Simon Cowell vehicle The X Factor, eventually making it to the producer's round during the Florida auditions. But the blues didn't always satisfy in a way that hip-hop could. Although she is sitting in with Stepbrothers this weekend for the Coeur d'Alene Blues Festival, she isn't with a band anymore.
Today, barely touching her latte at Coeur Coffee, the Inland Empire Blues Society Hall of Famer is quick to point out that she's been rapping since 1990; it's just that no one took that part of her seriously. The same year she went looking for renown with Cowell, she decided to take her hip-hop/R&B music to the next level.
Diel "World" Elliott wasn't impressed the first time he saw Kemple performing on the Hop! stage in 2014. But the manager for rapper Dalima saw that she had heart. When asked for advice that night, he gave it to her straight.
"I told her, 'You need to change your image. When you're onstage, you look like someone's mom and you just got done cooking,'" Elliott says while on tour last week.
The next week, she sent him photos of her new street-style performance look. He approved.
"She takes to my advice. She thanks me," Elliott says. "I'm not trying to get anything out of her, other than help her be the artist she wants to be."
Since then, he's taken her under his wing, and even brought her down to Sacramento for a series of shows earlier this year. He says her recently released sophomore album Ugly, produced by Firing Squad Studioz in the Tri-Cities, proves how much she's improved. Her rhymes have gotten faster and her lyrics more personal, but there is still room to grow.
Although many of her mentors are Juggalos, or are at least affiliated with that scene — she's made a track with Twisted Insane, opened for Rittz and is invited to chill with Tech N9ne every time he comes to town — her hip-hop sound is more old-school inspired. She gets angry, sure, but she doesn't rap about murder and steers clear of the clown makeup.
Tri-Cities producer Jason "Z Brainsick" Zarate says that after watching Kemple perform at the now-defunct Carr's Corner, he had to get her in his studio, even if her style wasn't his norm. He then worked on her past two albums.
"There's just something about making music with people you know for a fact are going to write and record something dope every time they approach a mic," Zarate says via email.
"Ugly" describes how Kemple has felt throughout her tumultuous past.
"I've been beaten down my whole life," Kemple says. "I've seen death. I've lived in fear."
She and her ex-husband were both jailed for domestic abuse, and while she and her two children got out of the situation, her self-esteem was low. She used to have asthma so serious she often couldn't grasp for air, and was in and out of the emergency room.
"It all had to do with my weight," Kemple admits.
A little more than a year ago, she got serious about slimming down. She started walking everywhere, cutting the carbohydrates and hitting the gym. She's now lost more than 170 pounds.
"I was over 400 at my heaviest. I realized I didn't want to be buried in a piano crate, and that was the way I was headed," Kemple says. "I'm now the skinniest I've ever been in my life."
She's finally found a man who treats her well, who believes in her music. She says she can be herself on stage, now that she can move around more freely.
The music of hip-hop legends like Queen Latifah and Missy Elliott still speak to her. These are real women with curves, who made it by being true to their own self-image.
"Bitches ruin this for the rest of us, sleeping around to get ahead," she says. "People like Nicki Minaj and Iggy Azalea, they think they're cute, but they're a bad example to other women."
She sometimes wonders when she'll burst into the spotlight. She wants to know when it will be her turn.
"It's the underdogs that make the world go round," she says. "I don't think I'm too old. If I just keep pushing and keep working, something might happen for me. I am in the making." ♦
Coeur d'Alene Blues Festival feat. Stepbrothers with Jennifer Kemple and more • Sat, March 19, at 4:30 pm • $35 • all-ages • Coeur d'Alene Resort Convention Center • 115 S. 2nd St., Coeur d'Alene • cdaresort.com • 208-765-4000