On that night in 2014, like so often in his life, Brian Standow is caught in the middle, watching a standoff that's one hair-trigger away from disaster.
By sheer chance, Standow is blockaded on the Sullivan Road exit of Interstate 90. He looks at the highway across from him and sees a suicidal veteran named Jedadiah Zillmer standing in front of an open car door, facing a line of Spokane County Sheriff's cars.
Standow's 14-year-old daughter starts recording it on her cell phone.
"He's moving down," his daughter says as Zillmer sinks to his knees. "Maybe he's praying?"
And then, without warning, 17 shots ring out in the span of three seconds. The veteran's body flops violently to the ground.
"He's dead," Standow is heard saying on the video.
Over the next four years, Standow, the former Spokane County Republican Party state committeeman, would be witness to one chaotic controversy after another — and what he did with what he saw would have major consequences.
He was one of those who told Spokane County Sheriff Ozzie Knezovich that his political rival — Scott Maclay — wanted to kill him. He was the only one to warn the sheriff that the local GOP chair had planned to host a white supremacist. And, now, he's telling me about the local Republican Party's constant infighting, over everything from finances to a lawsuit to a Marriott Rewards program.
Several local Republicans warn me that Standow's not exactly a hero: They say that he's an untrustworthy gossip, a backstabber more focused on revenge than revelation. Standow shares with me a steady stream of emails, documents, text messages and recordings in an effort to back up his story.
Standow says, amid all of this, his goal had been to bring the Republican Party together, to push it toward more transparency. Yet even before the word went out that he was talking to the Inlander, most of the bridges he'd built were burning, fires lit by fallout from what he witnessed and who he told.
"I'M GOING TO KILL HIM"
In the wake of witnessing the Zillmer shooting, Standow is horrified.
"If the tape was any less blurry, officers would be in the jail today," Standow says. "I truly believe that."
He uploads the video to YouTube. He gives it the title, "Spokane Cops Murder Veteran 2014 Spokane Valley," referring to it as a "public execution."
That video quickly earns him the interest of his former real-estate agent, a motorcycle club leader with a broad Joker grin: Scott Maclay. Maclay has long hated Knezovich and, for years, has waded into nearly every public controversy involving the sheriff. Standow says Maclay took him to Rattlesnakes Motorcycle Club meetings and introduced him to his "posse."
Standow says Maclay wanted to use the video as a political weapon against the sheriff.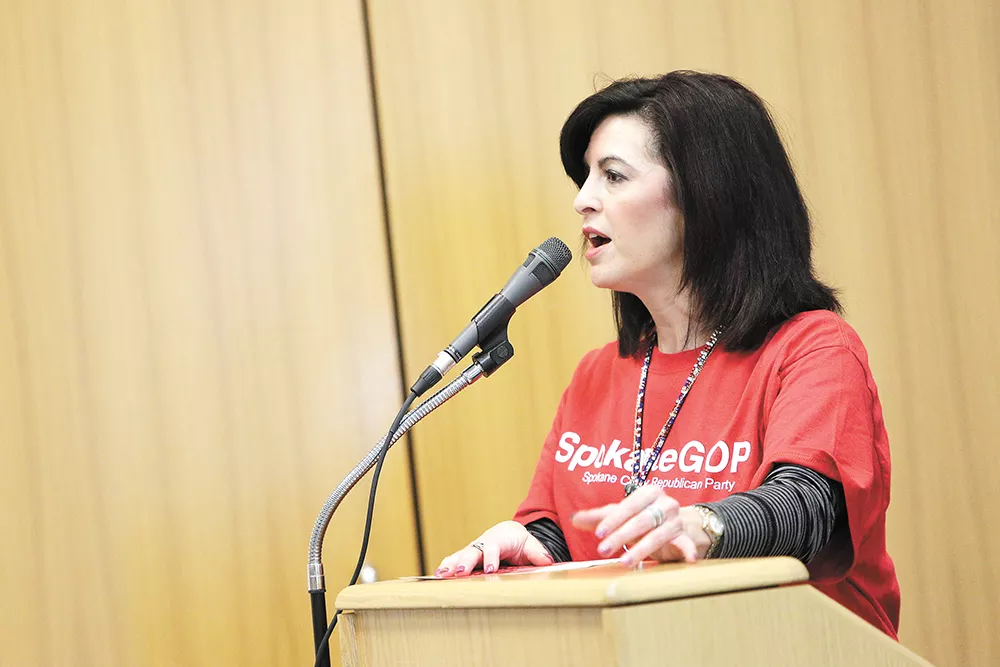 But Standow ends up talking to Knezovich at length, too. He says Knezovich argues that while what had happened to Zillmer was horrible and tragic, it wasn't illegal. Standow begins to develop sympathy for the sheriff's perspective, for the pressure he and his deputies are under.
After Standow is arrested on a domestic violence charge in August of 2016, he meets with Knezovich, pleading with him to look into his case. Knezovich says he talked with the prosecutor, the prosecutor agreed the case against Standow was weak, and the case was later dropped.
Standow comes to see Knezovich as a mentor, a leader worth admiring. Eventually he's forced to make a choice: the sheriff, or the sheriff's tormentor? Standow says he was sitting in Maclay's Jeep Grand Cherokee when he heard the motorcycle club leader threaten to kill the sheriff.
"He was spouting off about Ozzie: 'Brian, if I can't beat him, I'm going to kill him. He's hurting too many people,'" Standow recounts. "[Maclay] truly believes he's this archangel of doom to right the wrongs."
Standow says a comment Maclay made to him at Daley's Cheap Shots in Spokane Valley worried him even further.
"He says, 'If a deputy shows up, I'll leave my keys on the counter, [you] take my Jeep and get out of here,'" Standow recalls. "There's a gun under the seat.'"
Standow's wife, Katrina, says she remembers Standow coming home from a meeting with Maclay and telling her that Maclay "wanted Ozzie dead."
Standow decides to reach out to Knezovich to warn him about Maclay's alleged threat.
"Is he a double agent?" Knezovich recalls thinking. "Is he trying to play both sides."
But this isn't the first time Knezovich had heard his life was in danger. The sheriff shows me a handful of messages from late 2016, all from different people worried Maclay would do something violent.
Within 24 hours after warning the sheriff, Standow says, he's contacted by two members of the FBI's Joint Terrorism Task Force. But to date, no charges have been filed as a result of the investigation, a point often cited by Maclay and his allies.
I reached out to Maclay by text message for comment. Maclay — who has since changed his name to DumpOzzie Dot Com as he mounts an electoral challenge to the sheriff — initially refused to directly answer yes-or-no questions about whether he ever said he would kill Knezovich if he lost. But he explicitly says he denies anything Standow says, including any threats, calling Standow a "liar, a paid informant and a known Ozlican Supporter."
Maclay also calls me a "murderer" and says I would have to "give an account" for the blood on my hands for not being more suspicious of a "corrupt and murderous" sheriff.
"Your sins in this will search you out," Maclay writes to me. "Please, quote me accordingly."
INFIGHTING AND INCITING
Meanwhile, the fight between Knezovich and Maclay wasn't the only long-running conflict Standow had waded into.
Enthusiastic about Trump, Standow had joined the local Republican Party. But he quickly discovered that the party was dominated by infighting between roughly two factions: On one side, you have the establishment Republicans, like state committeewoman Beva Miles, the sort who celebrate cops and tax cuts and praise Knezovich.
On the other, you have the local Liberty Caucus Republicans, like Northwest Grassroots co-founder Cecily Wright and controversial state Rep. Matt Shea. It's a movement aligned with libertarians, John Birchers, militias and self-described constitutionalists and patriots. They hate Knezovich.
That's the side that took Standow under their wing, handing him political support. Wright and her husband, John Charleston, start mentoring him.
Standow says he was invited to exclusive strategy meetings held by Shea, the kind where phones are banned and the meetings are held in undisclosed locations. He rose in the party quickly. A former manager for Best Buy, Circuit City and Gateway, Standow became tech chair. Later, he corralled enough votes to become state committeeman.
"I thought about it — 'if I was a Democratic mole, man, the damage I could have done to this party,'" Standow says.
Instead, Standow says he was a "driving force to try to unify the factions." Standow says he sat down for breakfasts with a slew of Republican candidates from across the spectrum, pushing them to agree to an internal detente. No Republican-on-Republican attacks.
Standow even floated the idea of Knezovich and Shea making a show of unity by standing together in a video to promote Second Amendment rights. It didn't happen. The meetings with Knezovich, Standow says, eventually made him suspect in the eyes of Shea and some of his allies. To them, Knezovich is a Democrat and a traitor.
But Miles, the party's state committeewoman, says Standow was like a "bull in a china shop," unfamiliar with the factions' complicated history of grievances.
"I could put two of them in the room and they'd stab each other in the back the next morning," Standow says about the factions. "It's like Spy vs. Spy. They're always determined to get each other."
The internal battles weren't just over ideology: They were over transparency and financial responsibility. Spokane Republican Party district leaders asked for bank statements in 2017, Miles says, but were rebuffed by the leadership. The party was long overdue for its bylaw-mandated twice-yearly audit. But the audits didn't happen at all that year. And then, in the fall of 2017, the county GOP is hit with a campaign finance lawsuit alleging "fifty-seven apparent violations of various provisions of Washington's campaign finance law."
When Standow received the email informing the party of the lawsuit threat, he forwarded it to Wright and tipped off Miles before informing Stephanie Cates, the chair of the party. He says he was worried party leaders would try to bury it.
Cates wasn't happy. "Should have been forwarded to me and me only," Cates later writes to Standow.
Combine the settlement, legal fees, and the legal retainer and the bill tops $11,300 — among the party's biggest expenditures of the year. But it's kept quiet. Cates says there wasn't a formal announcement, leaving it up to district leaders to communicate the news to the party.
"I didn't think an email blast was appropriate," Cates says. "I didn't think we needed to shout to the rest of the world."
Even today, several of the precinct committee officers called by the Inlander had only a vague idea the party had been sued.
"[The party leaders'] reasoning is they didn't want to make us look bad," Miles says. "For the love of God, what do you think it looks like now?"
In April 2018, Miles pushed the board to "freeze all assets and expenditures" for a month, create an audit committee and conduct a full-scale audit of the party finances. Cates, exhausted and stretched thin with work, resigned as chair at the same meeting.
But the controversy over Cates' tenure wasn't over. The board discovered that Cates had taken a slew of Marriott Rewards points, accumulated for the Spokane GOP's big spending at the Davenport Grand for the 2017 Lincoln Day Dinner, without telling anyone.
Some board members were furious. Leonard Christian, candidate for county assessor, wanted to call the police.
Instead, the controversy was handled internally. Cates says she used about $300 worth of the rewards points for two nights at Marriott hotels on the west side on party business. Cates remains unapologetic, pointing to the thousands of dollars she'd personally donated to the party.
"For anyone to suggest that I personally profited from being the chair of the GOP is laughable," Cates says. "I gave four years of my life to the party at great personal cost. ... The only decision I regret is not thoroughly vetting Brian Standow."
THE ALLSUP HEADS-UP
This summer, the party was beginning to put all that messy past behind them. In a show of unity, members of the establishment wing of the party, like Miles and Knezovich, had agreed to set aside their differences to support Wright, of the Liberty Caucus wing, for party chair. Wright's background in banking was a major asset, Miles says. Their finances were on solid ground.
But then, at the 2018 Lincoln Day Dinner, white supremacist James Allsup shows up, a guest of his girlfriend, Abigail Osborne, herself a district leader within the Spokane GOP.
Just a few days later, the news breaks that Allsup has been elected to a precinct committee officer position in Whitman County. The party scrambles to distance themselves. Wright sends out a message — ghost-written by Rep. Cathy McMorris Rodgers' team, according to Wright's husband — condemning the alt-right figure.
But in July, word starts to get around that Wright and John Charleston's conservative group, the Northwest Grassroots, was going to be hosting a secret, special guest for their July 11 movie night. At a gathering of Republicans at Jack & Dan's Bar and Grill days before the event, Standow begins needling Charleston, trying to get him to spill the beans.
"He likes to know everything," Charleston says. "So he can be a bee buzzing around and telling everything."
Standow makes a guess: It's James Allsup, isn't it? Finally, Charleston admits it. It's Allsup.
Standow tells one person about it: Knezovich.
"I thought, if anyone could have stopped them, I thought Ozzie could have called them and put an end to it," Standow says.
That didn't happen. And when, two weeks after the movie night, media outlets report that Wright had hosted and defended a white supremacist, all hell breaks loose.
When the Spokesman-Review reveals that Standow was the one who alerted Knezovich, Standow says, it shatters the party's fragile new sense of unity. It destroys his relationship with Wright and Charleston. The Liberty Caucus crowd is furious.
"They crucified me for telling Ozzie," Standow says. "They believe this is all Ozzie's fault."
Wright resigns. Several other party leaders, like longtime Knezovich critic Vitaliy Maksimov and Abigail Osborne, now Allsup's fiancee, resign for other reasons. Standow resigns shortly after.
"It proved impossible being friends with both sides of the factions," Standow lamented in his resignation letter.
And in the ensuing Facebook fights that explode across the local GOP, Standow makes another public admission: He was the one who'd told Knezovich about the alleged threat from Maclay.
In a series of text messages, Maclay confronts Standow, comparing him to some of his other enemies who've spoken with the sheriff, like his ex-wife.
"Is the Sheriff playing you just like these other whack jobs?" Maclay writes to Standow. "What makes you think you're special? You now have no political future. Just like all of them Brian."
Standow adds an alarm to his house, concerned for his family's safety. Already, Standow's reputation is under attack from Maclay's allies. He knows they might not only dredge up the dismissed domestic violence charges, but also his bankruptcy, a brief divorce filing and medication-linked mental health breakdowns.
For many of his former political allies, Standow isn't seen as a whistleblower fighting for transparency. He's a warhound or a shit-stirring saboteur.
"During this time of year, with the white supremacist stuff fresh in people's minds, we might as well hand the election to [McMorris Rodgers' opponent] Lisa Brown," Miles wrote to Standow after learning he'd spoken to the Inlander. "I won't air dirty laundry to the whole world."
But Standow says he was just sick of all the games, all the infighting and cover-up and conflict. Maybe the party will have to lose seats, he muses, before it can truly unite.
"I got caught up in a shooting. Got caught up with the patriot group. Got caught up in conflict with the establishment," Standow says. "All because I wanted to do what I thought was right." ♦