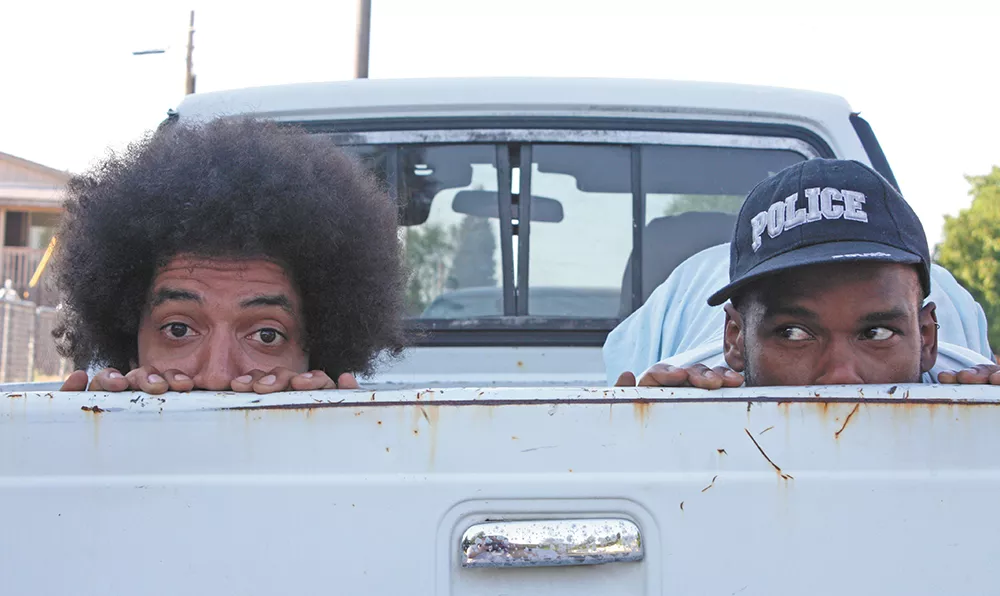 Take it from the Smokes: Two's company, but three's a crowd.
The local lo-fi/hard rock band began as a three-piece but downsized to the duo of Matt Slater (drums) and Himes Alexander (vocals/guitar) after their former singer went to Florida to look up a girl he met online.
But the duo, which came together last September, says they're better off without him, as they've added a level of musicality that wasn't present before.
"As it changed, it became more focused, more musically articulate," Slater says. "Himes can sing for real, and the original singer, he couldn't really sing."
Slater and Alexander, cousins who first jammed together as middle schoolers — "That was terrible," Slater says — grew up in Spokane but only came together as the Smokes after both moved back from living in the Midwest (Slater) and on the East Coast (Alexander).
The pair soon releases their debut EP, Black, which they recorded with Mirror Mirror's Jason Lee Campbell and will release through Wiener Records, a subsidiary of California-based Burger Records.
"The whole idea behind it was when you end up back in the place where you grew up, and it's been awhile, it can inspire some emotion," Slater says. "It's based off of that idea, trying to zap the frustration a bit, but also harness it and try to do something productive with it."
"We write all the songs together so we get to figure out a feeling or emotion, something behind the song, then we articulate it," Alexander adds.
The duo began recording in February and hoped to have Black out sooner, but faced delays waiting for people to return emails and outsourcing some of the work.
"On one hand, the process was a little overwhelming," said Alexander, who has previously sung with local acts Real Life Rockaz and Flying Spiders. "But on the other hand, it's a comforting level of control to have."
"When you just have two people in the band, we know everything that's going on," Slater says. "When you bring somebody else in, it gets complicated."
The delay ended up being a blessing in disguise, though, as it gave Slater and Alexander plenty of time to work on the Smokes' debut album, which the duo plans to record with a friend in Seattle just three days after the EP release show this weekend.
"We're ready to get that stuff recorded, get on the road and, I guess, become huge stars," Slater says with a laugh. ♦
The Smokes EP release show with Haunted Tubes • Sat, July 11, at 10 pm • Free • 21+ • Mootsy's • 406 W. Sprague • 838-1570