If you've been watching the HBO series Gonzaga: March to Madness, you saw Eric McClellan perhaps rescue his team — seemingly lost, following one blown game after another — from missing the NCAA Tournament.
"None of us are having fun right now," McClellan told his team after a rough practice following their Feb. 20 home loss to St. Mary's. "I refuse to go out like that. We all got some growing up to do."
And they did grow up, with McClellan leading the way. This month in Las Vegas, Gonzaga picked up critical wins over Portland, BYU and Saint Mary's to capture the West Coast Conference Tournament title and accompanying automatic bid into the NCAA Tournament. McClellan, a senior, scored 61 points over those games while shooting 50 percent from the field. That production came on top of his usual exceptional defensive output.
Still, he was left off the all-tournament team. Kyle Wiltjer, who took home tournament MVP honors, had something to say about that after the Zags' 85-75 victory over St. Mary's in the championship game.
"My good friend over here, Eric McClellan, this guy's defending his ass off, hitting shots," Wiltjer said. "This is the real MVP over here."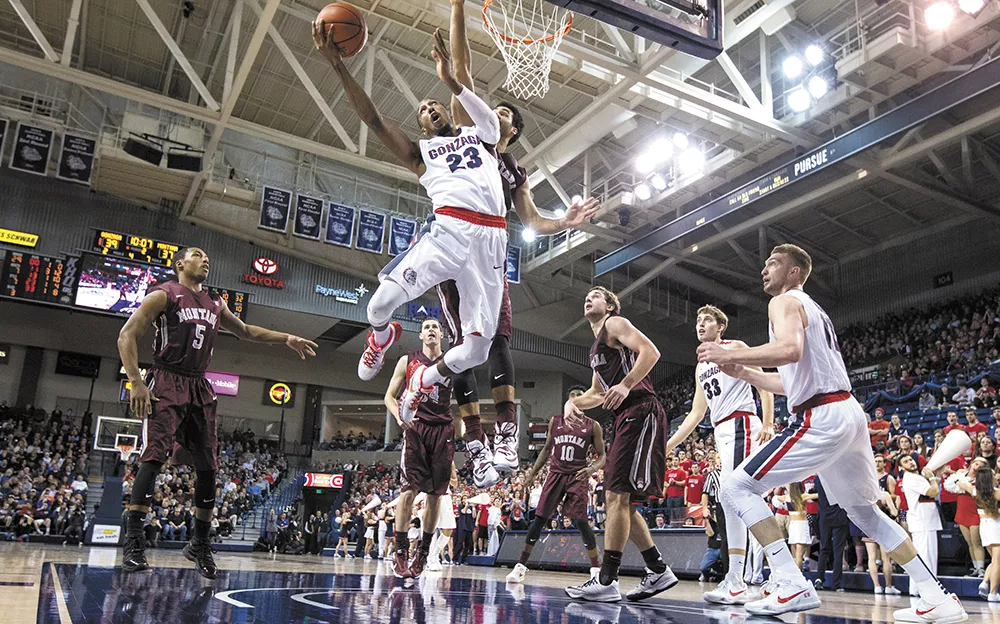 McClellan's presence has been invaluable for the Zags down the stretch this season. Facing a potential end to their now-18-year streak of NCAA Tournament appearances, this Gonzaga team was unlike any we had seen in recent memory. A program long known since the days of John Stockton for being a prolific producer of high-level guards was suddenly bereft of quality at that position.
"When we dropped those games (against Arizona and UCLA) at home early in December, of course everybody was talking about the guard play," head coach Mark Few said.
People are still talking about the guard play. But what was once negative has now become positive, as McClellan, Josh Perkins and Kyle Dranginis form one of the nation's top-10 3-point-percentage defenses.
A backcourt renaissance has taken place over the past few weeks, in large part due to McClellan. His presence can't be taken for granted, because his path to Gonzaga was far from easy. So when McClellan told his teammates to grow up at that practice, his words carried some extra weight. McClellan, after all, is perhaps the team's expert on growing up.
The first stop of his college career was Tulsa, where he played as a freshman for the Golden Hurricane, before transferring to Vanderbilt. As a sophomore with the Commodores, McClellan was in the middle of a productive season when a theft charge led to his dismissal from the team.
That's when Gonzaga came calling, and after an extensive vetting process, the university took a risk on McClellan as a student-athlete.
With the Zags playing their best basketball of the season, that risk seems to have paid off. This rejuvenated backcourt has 11th-seeded Gonzaga entering their opening NCAA game against 6th-seed Seton Hall as the early favorite in the eyes of Las Vegas oddsmakers. McClellan will be called upon to help stop the Pirates' sophomore star, Isaiah Whitehead (18.4 points and 5.0 assists per game). It's a perfect March matchup: Whitehead, the Big East Tournament's Most Outstanding Player, against McClellan, the WCC Defensive Player of the Year.
But for McClellan, basketball is about more than awards.
"This isn't about basketball," McClellan tweeted in response to his dismissal from Vanderbilt, "this is about how I progress as a man. I've made decisions that I'm going to have to live with."
Well, it's come full circle; progress as a man led to progress on the basketball court. He and the Zags should be happy about their decisions. In the end, Gonzaga helping save McClellan resulted in the guard helping save Gonzaga's season. ♦