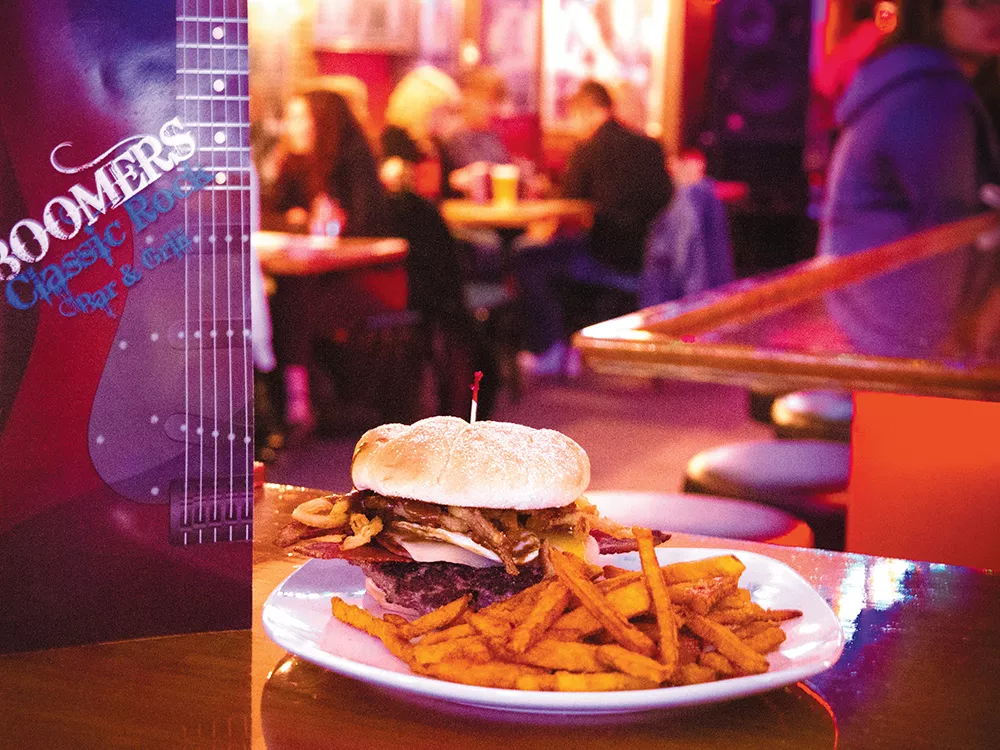 Two things about Boomers Classic Rock Bar & Grill that you need to forget: it's in a shopping center strip mall surrounded by grassy, empty lots; its next-door neighbor is an unrelated dive bar by the name of the Cum Inn. Once you've forgotten this, you're free to enjoy the kind of place that according to co-owner Drew Blackwell "has live music and good food and drinks all in one spot, so you don't have to really hop around to a lot of different places. Everything you are looking for is right here."
The bands play classic rock on weekends. The food on the menu is classic bar and grill — steaks, burgers, onion rings. The burgers are made from Angus beef and formed into patties on site. The result is a juicy, full-textured burger ready to be slathered in any number of condiments, meats and vegetables. The best seller is the Frankenstein ($12.50) a burger decked out in fried Spam, fried egg, deep-fried onion, chipotle brown gravy and (says the menu) an ambulance. The Patty Benatar, Mr. Mojo Rising and Sublime burger each come with their own signature extras.
Dave Blackwell, Drew's father, fellow co-owner and cook, enjoys the steaks much more than the burgers. The tender 12-ounce Angus center-cut sirloin ($17) and the steak Caesar salad ($13) have a strong following among the local dining crowd.
But I was here for the classics. The Easy Rider ($9) arrives draped in chili and bedazzled with purple onion and cheddar cheese. The Watchtower ($7), a pillar of onion rings, was crisp, light and had just the right amount of translucent onion in each bite to leave me reaching for another slug of Mudslinger Ale. The tap also features Kokanee, Irish Death, Ninkasi Total Domination IPA and Budweiser. Drew Blackwell is responsible for the bar's signature Bloody Mary, cream-soda martinis and Key Lime Pie shots.
Some things to remember: You can't choose your neighbors; a secret menu on Wednesdays features California-style burritos; a patio will soon be available; jerk chicken wings should be on the menu shortly. Perhaps classic reggae will follow.
Boomers Classic Rock Bar and Grill • 18219 E. Appleway Ave., Spokane Valley • Open Tues-Fri, 4 pm-2 am; Sat, 5 pm-2 am • 368-9847