Step inside the new Retro Donuts shop on the Newport Highway, and your definition of "retro" immediately is challenged.
For one, the space is overwhelmingly shiny and new, and very bright thanks to the tall windows, even on a cloudy day. It's also pristine, thanks to the fact the equipment is all new and the shop just opened in mid-October. Then there's the music, personally curated by owner Jon Fine; during my visit, I heard '80s stalwarts INXS and a-ha, and Fine says there's some modern stuff like Tame Impala in the mix as well.
"We have no predetermined definition of 'retro,'" Fine says, explaining that for some customers, the retro might refer to the classic Old-Fashioneds or cake donuts on the menu, while for others it might be the font of the logo, or the music they hear.
Fine's music fandom reveals itself on the menu, too, with sections of donuts labeled as "classics," "covers" or "New Wave." On my visit, I mixed up old-school and New Wave with a classic cake donut covered in blueberry frosting ($1.75) alongside a New Wave maple bar delivered with a slice of peppered bacon on top ($2.55). Both were delicious, and definitely a step up from grocery store fare. Add a cup of the shop's three-bean Four Seasons coffee blend brewed pour-over-style and made specifically for Retro Donuts, and you have one sweet feast.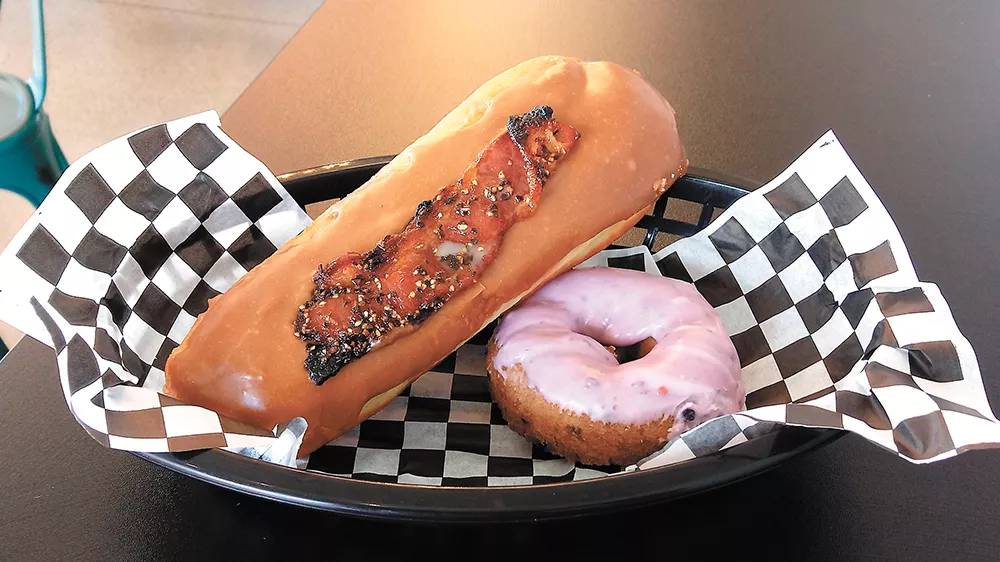 Elsewhere on the menu, you'll find an array of teas and juices as well as breakfast staples like oatmeal, desserts like ice cream sandwiches made out of donuts called Arctic Circles, and Gigis — donut dough filled with egg, cheese, Canadian bacon and white gravy, and available only on weekends.
Fine came up with the idea for Retro Donuts after years in marketing, and he hopes to expand the Retro Donuts idea throughout the area. "I know how to create markets, I guess," Fine says, "and be creative."
That creativity came into play abruptly after he was laid off from his job at the Spokane Club in the spring. He decided quickly he wanted to start his own business and started researching. "I didn't have a job, so I dedicated hundreds, and now thousands, of hours researching, going to the Westside, talking to experts." He knew he wanted to build a new brand from scratch, not simply open a franchise of an existing business, and he managed to get the doors open less than 100 days after getting his Retro Donuts trademark registered.
Judging by how busy his first Retro Donuts has been since opening — selling 10,800 donuts in the first nine days — it's clear the research is paying off so far. And he has long-term plans for more donut shops and perhaps some other food joints under the "Retro" banner.
"It's been amazing. We expected some interest. We've done some billboards, Facebooked like crazy," Fine says.
"I had never made a donut in my life. I know how to make donuts now." ♦
Retro Donuts • 10925 N. Newport Hwy., Suite 1 • Open Tue-Sat, 6 am-3 pm; Sun, 7 am-1 pm • Facebook: Retro Donuts • 315-9502