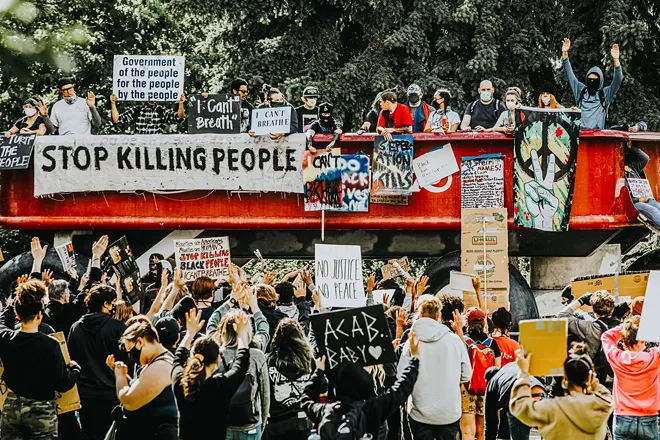 Thousands of people gathered in downtown Spokane Sunday afternoon to protest the police killing of George Floyd, a black Minnesota man who died after a police officer knelt on his neck for nearly 9 minutes. They gathered to express their anger at yet another unjust killing of an unarmed black man at the hands of police. They gathered to call out injustices against minorities in Spokane. They gathered to share their fears that they or their children could be next. They gathered to say, "This needs to stop."
Many of the people surrounding the speakers near the Red Wagon in Riverfront Park were black men and women with their own stories of being unjustly targeted, harassed, pulled over, or followed due to the color of their skin. Many were Native Americans who, like African Americans in Spokane, are disproportionately contacted by police, jailed and killed in officer-involved shootings.
Mothers of children of color held signs saying, "My son could be next." Some Latinx attendees held another, "Tu lucha es mi lucha." Your fight is my fight.
Speakers like Jermaine Williams took turns leading call-and-repeat chants with the crowd:
"Black lives matter." Black lives matter.
"You are me." You are me.
"When they kill you, they kill me." When they kill you, they kill me.
The protesters in Spokane and more than 100 other cities across the country weren't just there to share righteous anger at the killing of 46-year-old Floyd, who died while being arrested on suspicion of using a fake $20 bill. His death is just the latest injustice in a seemingly endless record of them.
Floyd told officers, "I can't breathe." So did Eric Garner, a 43-year-old black father in New York, who was choked by police and died in 2014, when officers suspected he might be selling single cigarettes out of packs illegally. Just months later that year, Tamir Rice, a 12-year-old black boy playing with a BB gun at a park, was shot by officers within two seconds of their arrival. The protest was for them, too.
It was for 25-year-old Ahmaud Arbery, a black man who was shot dead by white men while jogging in February. It was for Emmett Till, a 14-year-old black boy who was lynched in 1955 after a white woman said he whistled at her. It was also for Otto Zehm, a developmentally disabled white man who was killed by Spokane police officers in 2006. And for Jerome Alford, a black man killed during a confrontation with Spokane police a year after that. And for the people of color who've experienced disproportionate use of force at the hands of officers and deputies.
"We are here to say no more," Devon Wilson, the Spokane NAACP Criminal Justice Committee chair, told the crowd near the Red Wagon. "No more. Never again."
The thousands then turned and marched to the Spokane County Courthouse, where they peacefully confronted a line of officers in tactical riot gear, who were reportedly there to protect the historic courthouse, officials said the next day.
Between scattered shouts of "His name was George Floyd" and "F—- the police," others chanted, "There is no riot here, why are you in riot gear?"
For hours, the crowd pushed in closer, as two police lines retreated back into the courtyard of the Public Safety Building, the air tense, but with both protesters and police trying to keep their sides calm.
One young man of color went up to each officer along the line, stood in front of them and said to each, "Eye to eye, I wanna let you know I love you and I appreciate you. Thank you for your service. Please don't kill my people."
But the moment the overall tension finally eased came when officers listened to the pleas of people of color, who asked them repeatedly to acknowledge why the protest was happening, to take a knee. While the gesture was short-lived, several officers did take a knee for a moment, and the shift in mood near the courtyard was immediate, with many protesters leaving the area to go home soon after.
"Thank you! That's all we wanted!" one person shouted before turning to go.
But the day of peaceful protest and show of restraint by police who'd been screamed at and had some water bottles lobbed their way soon turned into a frenzied night of tear gas, rubber bullets and flash-bangs downtown as a small group of looters and vandals prompted the city to say every protester remaining after 5 pm was participating in a "riot."
CHAOTIC NIGHT
It started with a small group of marchers who headed back downtown after the courthouse event was mostly over.
Or maybe it started when a small group of people broke into the Nike store and people looted the retailer before scattering, faced with screams to stop from protesters trying to keep the peace.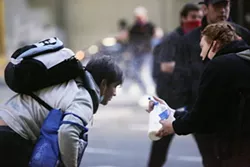 Or maybe it started when police launched tear gas at a small group of people standing in Riverfront Park a while later, holding their hands above their heads in the warm evening sun as they shouted at the officers from hundreds of feet away.
Ask Spokane Police Chief Craig Meidl, or Spokane County Sheriff Ozzie Knezovich, and it was out-of-town antifascists who started the looting and rioting and forced officials to announce that anyone remaining downtown after about 5 pm was rioting. With announcements made over loudspeakers that people needed to leave downtown, anyone remaining was warned they could face tear gas and other "less lethal" crowd-control measures, Meidl says.
But a small group of about 100 people who remained near the west end of Riverfront Park around 6 pm couldn't hear what police were announcing over the loudspeaker across the street. As a police helicopter hovered over the scene, drowning out the speaker, people repeatedly shouted, "We can't hear you!" About 30 seconds later, tear gas canisters were shot across the street and the crowd ran away, letting the gas clear before slowly returning.
As was seen in other cities across America over the weekend, the crowds of protesters that remained downtown into the night were agitated when police started firing tear gas at them.
"We're allowed to peacefully protest," they said, as they kept returning to stand in the road and on the grass near the ice ribbon across from the downtown mall.
"Hands up, don't shoot!" they said after several more volleys of tear gas and rubber bullets came bouncing down Spokane Falls Boulevard.
Meidl says there were clear agitators setting up with milk to use to ease the pain of tear gas from very early on in the day. Indeed, some young protesters came prepared with spray bottles of a mixture of milk and milk of magnesia. But other young protesters showed up with milk later in the night once tear gas was already deployed, offering first aid and water bottles, walking around to each person to ask, "Are you OK?"
While the standoff at the edge of the park continued, another large group of protesters remained near the STA Plaza at Howard and Riverside. As traffic continued to flow down Riverside, officers lined up across the crosswalk on the other side of the street and announced that people needed to leave the area. Just before 8 pm, a text alert had gone out to people in the area letting them know Mayor Nadine Woodward had issued a curfew for the downtown core in effect through 5 am Monday, June 1. Anyone remaining, the officers continued to announce, was rioting and should leave.
Officers fired tear gas canisters and flash-bangs as cars were still rolling down the street. The crowd scattered, running down different blocks before regrouping a block further up on Howard and Sprague. As more tear gas pushed the crowd back, a few agitators broke windows in an empty storefront and at Garland Resale Boutique, and later at Wells Fargo. In both instances, those breaking the windows were quickly told to stop and chased down by other protesters who were trying to keep things peaceful.
The crowds continued to get smaller as the night wore on, but a few straggling small groups were still checking in with each other with warnings to "stay safe" just after 10 pm, as militant, armed groups of men who were not with officers took it upon themselves to break the curfew and patrol the streets.
But for all the broken glass and vandalism by the group that was separate from the actual George Floyd protest, by Monday morning, the downtown core was clean. Crowds from the earlier protest came to clean up the damage to the city they were protesting to hold accountable and make better.
As city leaders recapped what happened and spoke of plans should more protests happen, Spokane City Councilwoman Betsy Wilkerson echoed the true message of the protest and rally Sunday afternoon: the systemic and generational mistreatment of people of color needs to end.
"My grandparents, my parents and I have seen rallies and protests all my life. And nothing is different," Wilkerson says. "So I'm challenging everybody, what will tomorrow bring? Don't loot. Don't destroy property, but please, keep protesting."