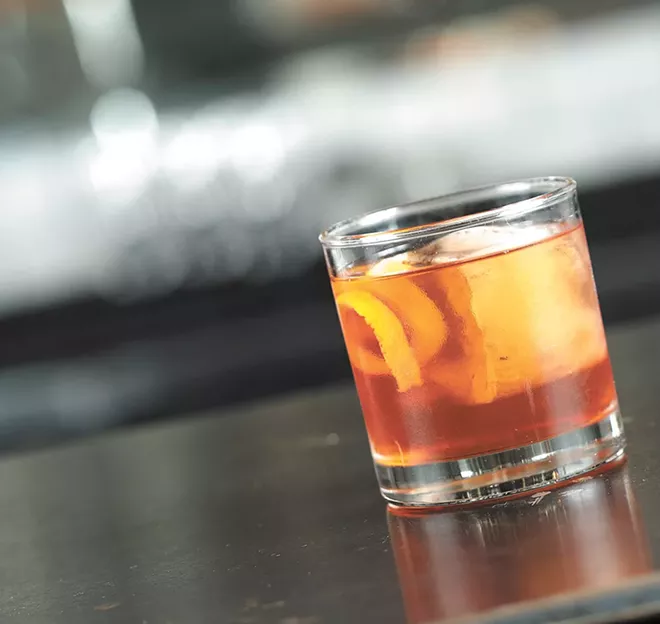 I love whiskey. I'm not an expert. I don't care about visiting distilleries or debating the merits of Irish versus Scotch, or whether American bourbon should even be part of the discussion (although I will contend that most Canadian whiskey is terrible). Just give me a glass of some smooth Bulleit rye (or Jameson, or Laphroaig) and one cube (or less) and I'm a pretty happy camper.
In an effort to expand my horizons and take advantage of the booming craft-cocktail opportunities in Spokane, I set out to sample some whiskey drinks that go beyond my usual.
The 65th Street
Durkin's Liquor Bar, 415 W. Main, durkinsliquorbar.com
Not familiar with The 65th Street? Neither was I until Durkin's bartender Danielle McGillis recommended the off-the-menu cocktail, a drink that lands somewhere between an Old Fashioned and a Manhattan, as something whiskey lovers might enjoy. The 65th Street is simple in terms of ingredients, but packs a punch because there's nary a nonalcoholic addition to the bunch, unless you count the orange slice garnish. The mix of "hot" rye (i.e. potent, as in the 100 proof Rittenhouse rye in the one I sampled) with the bitter-leaning aperitif Aperol, some dry vermouth and Zaya rum, bringing the sweetness in lieu of sugar or simple syrup, makes for a delicious combination — and one you won't need too many of to catch a serious buzz.
Cablegram
Hogwash Whiskey Den, 304 W. Pacific, drinkhogwash.com
The array of options at Hogwash would be daunting if you didn't know that these folks know how to make everything whiskey-related delicious, whether you're having a Prohibition-era classic or a more modern concoction. The Cablegram, a blend of rye whiskey, ginger, lime and soda served in a tall Collins glass, is a simple, delicious choice for the dog days of summer. I don't love ginger, but I have no complaints here, and it's easy to imagine sipping on these nightly as the temperatures hover above 90 — even though Hogwash is delightfully cool, literally, at all hours.
Whiskey Sour
Prohibition Gastropub, 1914 N. Monroe, Facebook: Prohibition Gastropub Spokane
My memories of whiskey sours are a little cloudy, and not because of the whiskey. A poor, bastardized version of the drink was one of the first things I ordered after turning 21, and I haven't had many occasions since to revisit this particular cocktail, even as I learned to love whiskey and bourbon. I've been missing out, if this delicious concoction put together by Prohibition chef/owner John Leonetti is any indication. I used Bulleit rye as my preferred base, and Leonetti shook the hell out of the mix of lemon, simple syrup and egg white. The result was a frothy wonder balanced perfectly between sweet and sour.
Old Fashioned
The Wandering Table, 1242 W. Summit Pkwy, thewanderingtable.com
Not only is the Old Fashioned a classic go-to for whiskey lovers, it's always fun to order at different spots to see what unique spins different establishments bring to the party. I can't even imagine what a "bad" Old Fashioned would taste like, but I can say the Wandering Table has one of the tastiest in town. Their barrel-aged Four Roses bourbon is oh-so-smooth, and the atypical additions of Solerno blood orange liqueur and Bordeaux cherries aged in bourbon with vanilla beans make their Old Fashioned worth seeking out. That brûléed orange slice? Consider it either dessert, or a tiny bite to hold you over while you wait for your next Old Fashioned to arrive.
The Smokey Robinson
Garageland, 230 W. Riverside, Facebook: Garageland Spokane
One of the risks of ordering random cocktails based only on the fact they contain whiskey is getting a disturbingly dainty glass of some concoction that may taste great, but look ridiculous — at least in the hand of a slovenly cat like myself. The Smokey Robinson at Garageland is anything but dainty, served up in a Hurricane glass (complete with paper umbrella) and holding a surprisingly delicious blend of bourbon, peach, lemon, ginger beer and cardamom. Yes, cardamom, the spice with a slew of medicinal properties common in Indian and Thai food. In the Smokey Robinson, perhaps it helps stave off a hangover from the potent and delicious cocktail that is not for the faint-hearted (or light-weighted). ♦