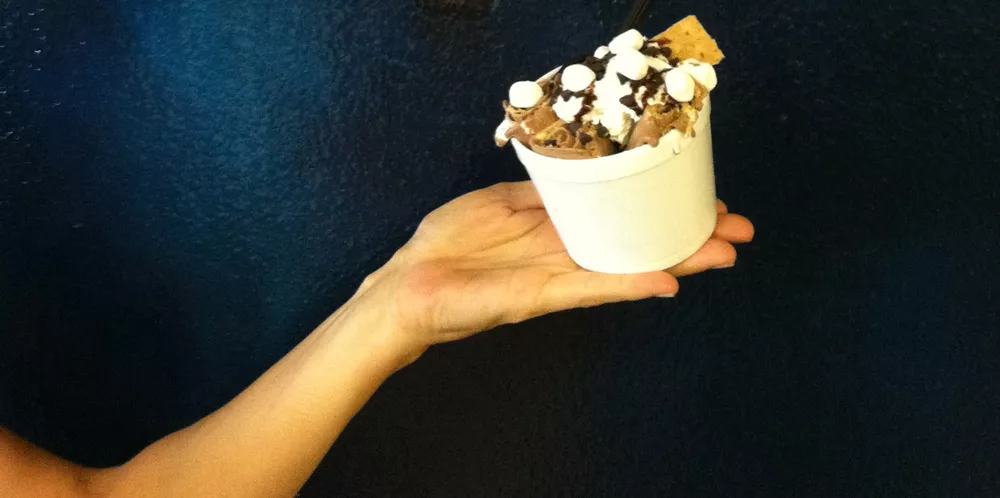 At 15 degrees below zero, things freeze really fast. Milk, for example, turns icy as it solidifies, which is the premise for Freezia, a new ice cream shop in Post Falls.
"I wanted to find a way to make the freshest product possible and get it — beginning to end — to the customer," says owner Shawn Carr, who was inspired to make his first batch of ice cream after picking huckleberries. He spent a few years trying different commercially available machines and experimenting with recipes making traditional ice cream.
Then Carr discovered rolled ice cream, which originated in Thailand and debuted in places like New York, Los Angeles, Houston, and Philadelphia in recent years. It involves putting liquid — Carr uses a flavored milk-cream base, as well as almond milk for dairy-free orders — on a very, very, very cold metal plate. Spreading and lifting the mixture allows you to incorporate other things — chopped-up fruit, cookies or caramel syrup — and adds an airiness to the mix. To finish, pieces of the near-frozen sheet are rolled up into loose spirals. The result is something akin to gelato, yet with the added taste and texture of whatever flavorings you've chosen.
For example, you can order Freezia ice cream one of two ways: signature bowls ($7) like Cheesecake Galore — vanilla ice cream, fruit, cheesecake, chocolate chips, chocolate sauce and whipped cream — have predetermined combinations of flavors, or you can design your own ($6.50-$7.25).
To create your own, start with a base ice cream: vanilla, chocolate, green matcha tea, or vanilla almond milk. Decide upon one of nearly a dozen flavors, such as mint Oreo, Butterfinger or strawberry. Add toppings like candy — Reese's Pieces, Sour Patch Kids, Gummy Bears — cookies, or sauces.
The process is labor-intensive, but Carr says they're averaging less than two minutes for each order. Plus you get to watch your ice cream made, so it's dessert... and a show.♦
Freezia • 112 E. Seltice Way, Post Falls • Open Mon-Sat, 11 am-10 pm; Sun, 11 am-9 pm • Facebook: Freezia • 208-457-3704
---
The Steam Plant Fires Up the Grill
Here in the Northwest, we call it a barbecue and not a "cookout" or a "grill out" or anything else. It's basically a party, typically outdoors with a lot of meat. Or meat alternatives. We're OK with that around here.
Above all, a barbecue is a chance to celebrate, which is what you can do at the Steam Plant's Blacktop BBQ on Saturday, July 23, from 5 to 10 pm. The free event is aimed at making use of the Steam Plant's open-air breezeway beneath the iconic building's defunct smokestacks. Local barbecue joint Outlaw BBQ provides brisket, pulled pork and ribs. For entertainment, there's live music from Milonga and Karma's Circle. The beer, naturally, is provided by the Steam Plant Brewing Co.
The Steam Plant also hosts rooftop happy hours on July 28, Aug. 25 and Sept. 29 from 5 to 8 pm; all three also feature live music. On Aug. 20, the venue will host an all-day (3 pm to 2 am) block party featuring a lineup of local and regional music on two stages, a marketplace, food trucks and more. Tickets are $10. See more at steamplantsummerseries.com.
— MIKE BOOKEY