ETHAN CLARDY
I have not finished any books recently. Over the summer I did happen to read a good chunk of a higher education textbook on higher ed theories, which I would say are pretty interesting.
Why were you reading that book?
I was reading it to gain more knowledge in the field.
---
ABEBAYE BEKELE
The most recent book I've read is Things Fall Apart and it was awesome because I got to see African culture, African heritage in a cool and different way and [author Chinua Achebe] wasn't criticizing them. He was just showing how they lived and I appreciated that.
---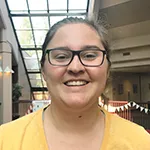 AMBER VAN BRUNT
The most recent book that I read was called The Ferryman.
What did you think of it?
I really enjoyed it because it has a lot of complex emotions and family drama it gets at, so I really liked it.
---
SHAUN FISHER
I unfortunately have not read any books recently.
Why is that?
Being a math major you don't really get many opportunities to read books, at least that are not assigned. I'm not really one to read for pleasure and it doesn't necessarily interest me.
---
ENIOLA FATADE
The last book I read was We Should All be Feminists by Chimamanda Ngozi Adichie and she was just talking about things she faced back in her country Nigeria, which I am also from, and how it was patriarchal and what she faced as a woman. It's a really short book, but I believe it packs a punch.
---
INTERVIEWS BY MICHAELA MULLIGAN,
9/6/2018, WHITWORTH UNIVERSITY